November 10, 2014. Stephen Carey checking in as the new owner of Mixed Spirit. We'll stand by for reports and pictures
Hi

Just for your records I have bought the S&S24 Falcon Mixed Spirit. I intend to renovate her somewhat. It will be kept in Stillwater Auckland :))

Steve

Welcome Aboard, Steve!!
December 9, 2015. Steve posted on the Forum

Hi all


Steve here owner of Mixed Spirit. Just an update she is now on the hard and being prepped for anti fowl and painting. I have been to work on the inside and it has been in a big mess I'm afraid it's going to be a gut out job. I will send pictures real soon. Does anybody know if we can still get stern hatch covers mine has gone. Also I need a plan of the interior to restart. I quite like some of the more purpose built modern interiors if anyone has one I would be very grateful The inside will need a good steam clean after I have stripped it all. That should be a nice job. Not lol.

Any other help and suggestions as ever gratefully appreciated.


Steve

***************************
March 2, 2016. We go the following update from Steve down under
Hi Ron

Just an update - my Falcon is on the hard and, by the time I get home from Wellington to Auckland, it should all be painted and Anti Fouled, ready to go back in the water. I still have no rear locker cover and can't find the proper dimensions for it. Any ideas? (Webmaster Reply - Nope, but I'll bet a hand made varnished teak of mahagony cover would look great)


Steve

There's a lot that happened between the picture above and the picture on the right.

Someday, Steve will have to tell us all about it.

She still has her good luck 'burgees'....

Stay Tuned
Postscript: Steve followed up to your webmaster's suggestion regarding the rear hatch (edited)
Tilde is a Falcon 24 also moored up in Wellington. I was chatting to its owner, Tim, who has graciously said I can measure up the hatch and floor. I just have to pick a time we are both about

Stay tuned
May 19, 2016. Steve sent in a progress report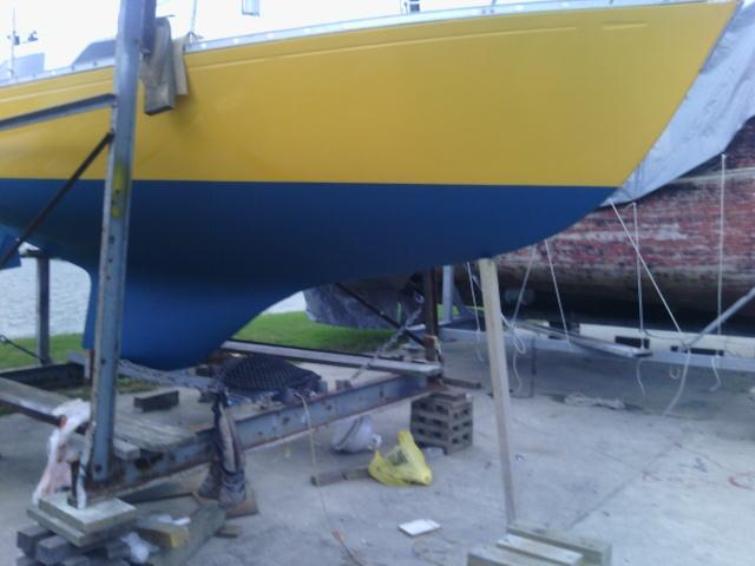 "Getting There"
Postscript: I have stripped out the inside - just a big clean up and paint inside and new toilet system. Led lights through out (all easily accessible) then going to build a new, up to date, space saving interior. Will keep you posted. Sorry it took so long but it was in a bad way and has cost me $5000 so far but I love her lol
**********************************
**************************************************
This is what we had on Mixed Spirit before Steve Carey checked in.
June 5, 2013. This boat was listed FOR SALE on Trade Me
Sparkman & Stephens 24
Asking price: $2,200, Listed: Tue 4 Jun, 4:20 pm Listing #: 600586853

A real bargin!!! Falcon 24ft keeler solid fibreglass. Needs doing up. Long shaft 8 hp evinrude.
Excellent rough water boat.
Warkworth, Auckland, New Zealand
********************************************************