December 8, 2008. Les Bailey checked with the news that he has bought Mandalay. His email (minor edits) is below. We first heard from Kapt. Krusty on the Forum where he was inquiring about a furlling genny. Stay tuned for more info.
Ron;
November this year, I bought a 24' Dolpin from Thunderbird Marina in North Vancouver B.C. The hull is in good shape, every thing else will need lots of TLC.I am looking forward to spring, rolling up my shirt sleeves and getting at it!

I've discouvered your website and find it fasinating as well as very helpful. The boat is now at the govt. dock at Gibsons Landing. (not far from Vancouver.)

Thanks,

Les Bailey (Kapt. Krusty)
*******************
We first found out about this boat when Dick Galland, former owner of Kestrel told us of this boat for sale at Thunderbird Marina in North Vancouver. This boat was initially listed as Dolphin 25 but it is one of ours. The ad and pictures were at:
www.thunderbirdmarine.com/boat-info.php?ID=3022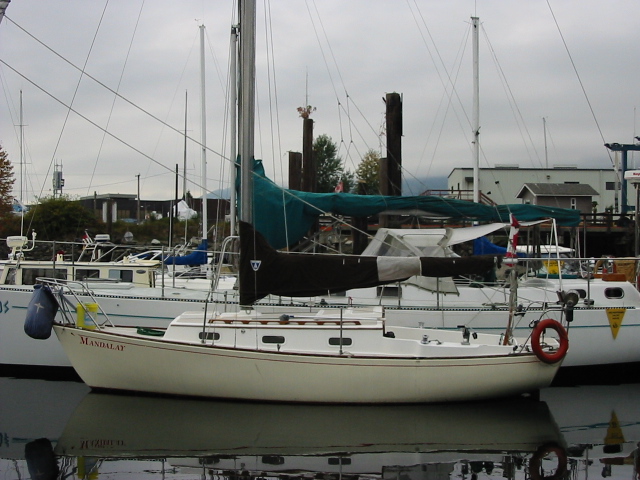 Ad Listing from Thunderbird Marine
Year:

1977

Price:

$9,900 CAD Price Reduced $3995 CAD

Host Office:

North Vancouver

Location:

Mosquito Creek

Hull Material:

Fiberglass

Engine/Fuel Type:

Gas

Listing #:

3022

Designer:

Sparkman & Stephens

Colour:

White

LOA:

25'

Beam:

7'8"

Displacement:

4520

Draft:

3'-5'

Info:

Updated

Comments: Updated

A cozy sloop with gracious lines. Vendor lost interest and stripped it of the engine and accessories before abandoning it to us. A great little boat in need of a few essentials. WE WANT IT OFF THE DOCK AND WILL LOOK AT ALL "AS IS WHERE IS OFFERS"
************************
June 21, 2012. We got the following post on the Forum http://dolphin24.org/forum/forum_posts.asp?TID=192&PID=640#640 .
Hi

I am new to the forum and a new partner in Mandalay #276 Pacific. Owner is Les Bailey. I am heading for the travel lift tomorrow to do the bottom and try to get the center board unstuck. I will have many questions as time goes on. I find the wood work down below terrible. I wonder if the previous owner did some if of it.

Are there any pictures of the cabinetry on the board any where. I have just found this site and have not really looked. Webmaster Note: Two good examples http://dolphin24.org/thankful.html; http://dolphin24.org/seminole.html

I am very happy to find such a good site. My last boat was an Islander 36 and their site was very helpful so I was pleased to find one for the
Dolphin 24.

More to follow.

Charles (Stephens)

********************************************