September 6, 2009 Victor Mazzela (Heaven) is going to sew/finish his new 150% genoa from cloth and materials provided by Sailrite. This company will make you a complete sail, or ship you everything you need, including a how-to video, to build your own sail. To go to their website click here. They have a database that includes both the O'Day Dolphin and the Yankee Dolphin sail specs.
This is an interesting way to go if you are out to save some money, and are a real DIY kind of person.
This is Victor's email (edited and exerpted) on this subject - and we look forward to his email after the project is over.
I just ordered the sail kit for my boat. I went with the 4.4 oz dacron. I 'll let you know when I receive the kit. Their estimate is less than 10 days to get it out to me - my main sail took more than 2 months from FX sails. The price should be complete down to the sailbag. I was going to use my old sail bag but for another $12 I figured what the hell.. so the price is $526 with shipping. I think that's pretty good. I looked at the Sailkit videos on their website. They made it look easy..

I attached a copy of the invoice so you can see the details of the sail. If you want you could post it for any others to use for comparison. Sailrite would also finish the sail if I wanted them to. The labor would have added another $480 or so to the cost.

The sail will have 14 swedish snaps instead of hanks.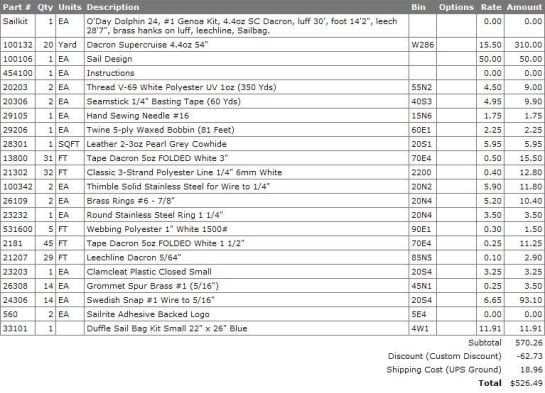 Click here for the direct link to the quote page for the O'Day Dolphin (Main, Jib, Genoa, Drifter, Asymmetric Spinnaker)
Click here for the direct link to the quote page for the Yankee Dolphin (Main, Jib, Genoa, Spinnaker)
Webmaster Note: There are many variables in ordering/building a sail. The Sailrite system uses computer algorithms to calculate certain dimensions. Your local sailmaker may use the same data, but also may take actual measurements on your boat, and may also help with initial set up of block leads/positioning and trimming of the new sail. There are plusses to working with a local sailmaker who hopefully knows your type of boat, and may make/suggest adjustments to your sail design by taking into consideration prevailing local conditions or other factors, ie., a flatter or fuller main and/or longer battens on your mainsail; a loose foot, or a flattening reef; cunninghan grommets, a deck sweeper genoa or a high clew genoa; heavier or lighter weight cloth; might propose a 'reefable' genoa with a second tack grommet to reduce the luff length and a 2nd higher clew; perhaps a flatter or fuller luff entry; suggest/provide telltales on both the leach and in the draft and or luff, sail numbers (and an arcing Dolphin logo?), a second set of reef points, and more. Many of these considerations are more apt to interest a racing sailor, but better sailing performance is of interest to all sailors. Unfortunately, all these plusses, considerations and services will cost you more money....
The basic quality of the sailcloth is important and this company gives you choices that include quality products. The quality of the workmanship is also key - the sailmaker, you, control that perhaps most important variable.
For more information on the S&S sail plan, specifications and more, click here
***********************
September 18, 20 09 Victor sent in the following emails (consolidated and edited) and photo of the hardware package he received from Sailrite.
Hi Ron

I just received the sail kit for my boat..My wife has told me that this is to be a "winter project", that "we have a lot to do".. I always wonder about her use of "we".lol..

Most of it looks pretty straight forward .. the hardest part looks like the clew head and tack rings..there is even leather material that need to be on these areas for chafe protection..and stress reduction.

It looks like the actual sail should be easy..just baste and sew.. the finish work looks like the challange.

All of the hardware looks to be top notch..all labled in indivedual bags as to what they are..Here is a picture of the sail hardware..note the coins to show size of the rings and snaps.

Vic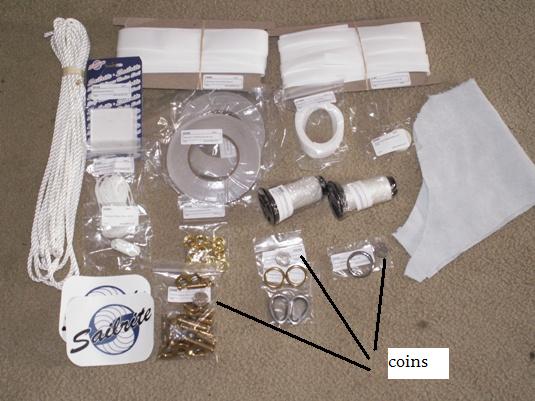 *************************
The info exchanged regarding Victor's sail questions and his response to my questions especially about the low cost is interesting. Not many of us have gone so far as to 'make' our own sails. Sailrite is a sailmaker that will provide you the precut sail cloth and you sew and finish the sail. Victor's comments on this subject are incorporated in the Technical Section - Making Your Own Sails. Click here to go there.
i found a company called Sailrite. They have kits which are sails cut and plotted and all I have to do is sew them together. It comes with everything including the thread. The cost (for the 150% genoa) is less than $500 using the 4oz dacron. This is the link to that product:

http://www.sailritesails.com/KitCost.aspx?BoatName=O'DAY+DOLPHIN&SailName=GENOA&SailArea=206.42&Description=0&ID=4189

I made a new bridge cover for my '72 Luhrs for less than 150$. I bought extra material for a new main sail cover, but haven't made it yet.. That's why the main isn't on the boat...lol. I take it off until I can find the time to make the cover - right now it's under my bed...hoping to use it this weekend.
Your webmaster was not aware of this company and these options. My initial advice to Victor regarding weight of sail cloth follows:
My advice on buying sails is to check with the major sailmakers (who depends on where you are located) and ask them for a quote for a 150% genoa for a Dolphin 24, and their recommendation on weight of sailcloth. In the process you will get an 'education'. The quotes you are getting are pretty low (they are all offering great deals these days) but these are quite low (At the time I did not know that Victor was the sailmaker!!).

The sailcloth weight depends a lot on the typical conditions in which you sail - heavier cloth, smaller sails for heavier breezes. There are high tech materials that will give you the same or better strength, and lighter weight, but there can be problems with longevity (as well as high cost). My recommendation is to stay with standard Dacron
Following up on these comments, if you have checked the 'options available' list on the above link, the cost can go up substantially with this approach, but no question money can be saved. We have incorporated this information in an expanded Sails Information page in the Technical Section. Thanks to Victor for bringing this to our attention - to say nothing of bringing Heaven!
***************************************
March 18 and March 20, 2010
Victor checked in with a couple of updates and picture of his self made # 2 Genoa (minor edits and consolidated)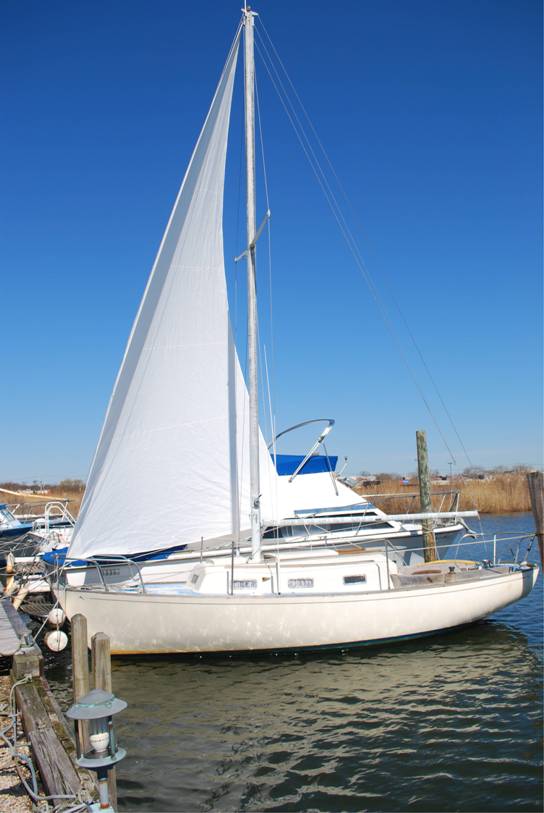 A long winter is coming to a close..been busy making the #2 genoa for my 24. I still need to put on forestay hanks and finish boltrope - but once the head was complete I just had to hoist and see who saluted...lol, it really wasn't complicated at all - although I did have to send it to the local sail maker to put the sail in one piece.

The directions said to sew it in sections and then add corner patches. Well, it went together perfect until I had the bottom three panels w/ patches and the rest with the head patches - leaving it to be sewn at the #3 and #4 seam. It was just to bulky to sew evenly . I took it to my local sailmaker in Amityville, a real nice guy. He sewed it up and charged me $10. He looked the sail over and said it looks real nice, but he did say the cloth was rather light..

My sewing machine did have a little trouble going through the corner patches as there are 6 layers to go through.. but it did the job..

I really don't keep track of how long I work on the sail..it really didn't seem like that much time. I would guess less than 40 hours...although the bolt rope is sewn in by hand. I've sewn in about 2 feet and looking down the sail and saying only 28 more feet to go...lol, that is going to take quite a while..I'm using a hand stitcher and that is making the process much quicker. Sailrite included just a hand needle in their package, but it was impossible to push throught the bolt rope. I'm not sure how much the hand stitcher cost, I found it in my basement, but I think they are less than 20$.

Hope all is well with you..

Smooth sailing

Victor Mazzella

********************