April 9, 2009 A recent exchange of emails with Halsey McGowan (Elizabeth) on location of jib sheet leads and jib/genoa track resulted in this contribution to our technical library. If and when we get input from others we will put it up here.
Marionette sails with 4 jibs - a light #3, 170% genoa; a heavier #2 140% reefable genoa – a real workhorse; a small working jib – practically useless when trying to point but nice close reaching; and a heavy blade sail used in a strong breeze.
This is Marionette's #2 genoa, racing short handed. Racing short handed (2-3) vs racing with a full crew (4-5) presents different sail selection choices. Weight on the rail and changing headsails are isues. This 140% sail is a good all around compromise - its reefable!

This is

Marionette's

blade, close reaching in a breeze.

This sail was an Atlantic jib, a heavy cloth sail with short battens that is 7/8 hoist on the forestay, sheets inside the shrouds and tacks without touching the front of the mast or the top of the cabin. This sail is so stiff it cannot be bagged - it is rolled ( a hassle)
The following pictures are of our bronze T- tracks. I use Garhauer SS ball bearing snap shackle blocks with shock cord tails and plastic clip hooks I clip to the life line - not shown.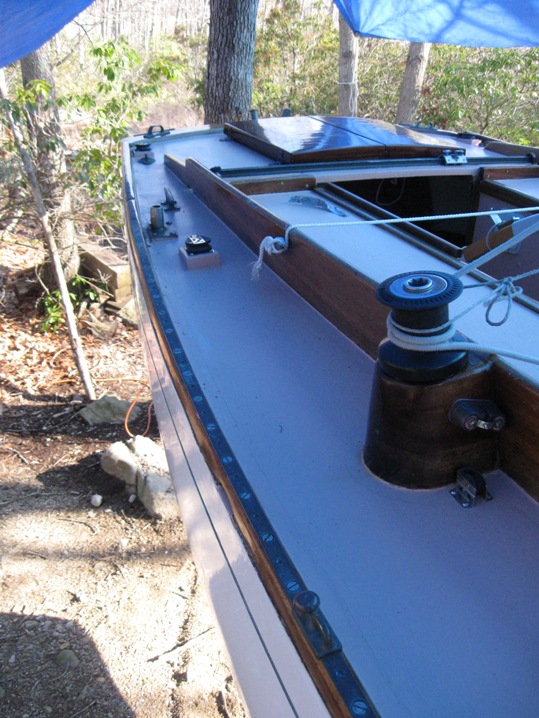 This length track works fine for our 140% and 170% jibs sheeted in hard outside the shrouds going up wind. It would be better if this track were moved forward a foot, or extended forward at least a foot, maybe even all the way to the shroud. Reason, when the 140 is eased you want to move the lead forward to get a better trim, and more forward the more you reach. I have a couple of track slide padeyes on each side.
If this track were longer and reached all the way to the shroud when broad reaching or running, you can use the vang as a preventer by bringing the mast end vang shackle down to a padeye on the track - and you can adjust where you want that lead. What I do now for this is I tie a short rope loop through the bottom of the shroud turnbuckle and rig the Vang's snap shackle to it. I also use this loop to shackle my spinnaker twing line blocks.

One issue is bending a long bronze T-track. Another is the cost - long bronze T track is expensive. Check out the used marine parts stores.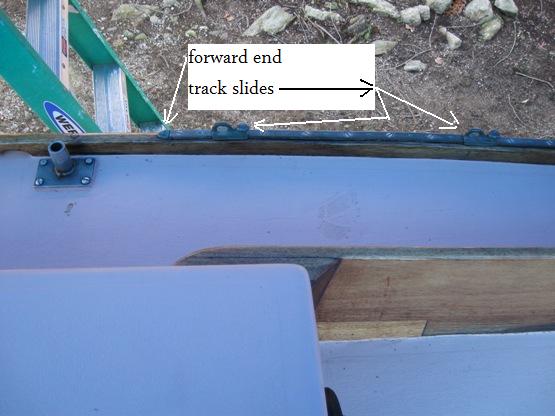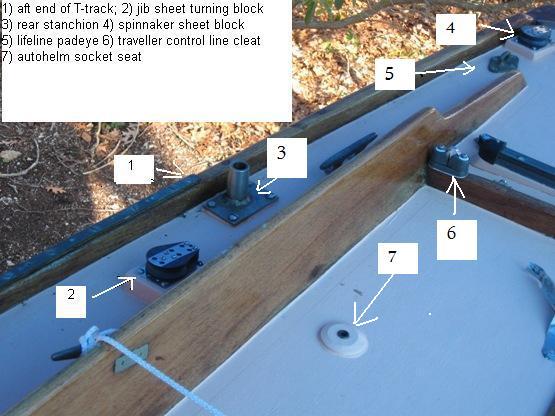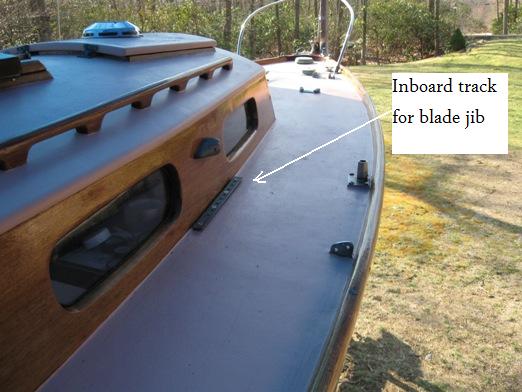 The inboard track made a big difference in our ability to point with the blade sail. For reaching I can sheet the sail back to the outboard track and run a short line from the inboard track to the clew as a barber hauler. Not perfect but not bad.
I'll have to remember to take pictures of my set ups in actual use. Some of this depends on your particular sails, ie a high or low clue. It is good to have a system that can adapt to just about any trimming needs.
***************************
May 14, 2014. Giles Grimston sent in an email requesting comments regarding his possibly installing inboard genoa tracks on his Falcon 24, Summer Wine. His Falcon has a slotted track mounted on the toe rail. Here is his email - edited
Dear Ron

Until now I have clipped my jib/genoa fairlead onto the toe rail which has holes every 3". Tedious to move. I have just acquired a pair of slightly curved aluminum tracks with cars which I am "tempted" to screw into the deck. These are 150cm long and can go from the winch to the chain plate.

Questions
1. Don't do it.
2. Position from the toe rail out to as far inboard as possible.
3. Doesn't matter.

Kind regards
Giles
Your webmaster's reply edited (other imput solicited)
Hi Giles

Your question had me looking through other websites - one I found interesting was http://www.boatdesign.net/forums/sailboats/moving-jib-tracks-pros-vs-cons-31483.html. The comments there regarding the type of deck (solid glass or cored) are important. More holes generally mean more potential for leaks. I think your Falcon has a balsa cored deck which presents some additional challenges? more holes, potential for leaks into the core is not good. Is the cored deck stiff enough to take point loads? Maybe need reinforcement below besides just a bunch of washers? Check out this channel type backing plate from the Boat Design.net website

A perfectionist, crew driven, racing skipper would want adjustable sliding blocks so maybe a system with leads back to the cockpit would be neat - more holes/strings......

All that said I have a wood deck and I put a short track in close to the cabin in line with the mast and close to the main bulkhead - see above. It would have been better mounted on the outside edge of the cabin top but that's wood too and...... somehow I feel better not having it on the cabin. Rational is that I only really need inboard sheeting when beating in a breeze with my blade jib - its clew passes just inside the foretriangle - does not hit the mast when tacking. The rest of the time I accept crew wisecracks and accept the somewhat wider sheeting angle and sheet to the track on top of the toe rail with my overlapping jibs. This is discussed ad nauseam at the top of this page. Also, its a hassle to have a big overlapping jib sheeted inside the shrouds

My argument is that being slightly outboard and pointing a bit lower gives me more than enough speed to make up for the pointing loss. This is at boat speeds below theoretical hull speed, 5.7 knots for a Dolphin/Falcon. My theory is that anytime a well sailed Dolphin with decent sails is sailing in a breeze that does not drive her at hull speed, she performs at a higher % of her max than most other boats - this because of her underwater shape. Or in other words she is making time on her rating vs other boats on their rating - a winning situation. Once the breeze is strong enough to drive her, and other boats, at or above her theoretical hull speed the other boats start to make up on her. Here on Long Island Sound, where breezes tend to be light, vs Buzzards Bay where they tend to be heavy, the Dolphin has a well deserved reputation as a good light air boat.

In my experience Dolphins do not like a chop (breeze 13+) to weather - heeling starts and sail area starts to be reduced - unless extra crew aboard hiking to keep her on her feet. Things go downhill from there. I could go on but I would need a beer to get into high gear.

These rationales are so highly subjective. All one needs is some rationale to justify what one decides to do - procrastination is always acceptable - studying, ie., testing using temporary in hauler systems, etc. A lot of holes with nighttime specters of leaks, puddles, stains, rotted wood can upset a good nights sleep...

Ron

ps Giles has subsequently advised Procrastination is his new middle name!

**********************
February 21, 2016. Scott Henry, Amaya, Yankee #95 sent in a picture of his new inboard tracks

jib track/blocks from Garhauer Marine

Click on the photo for a larger image
************************
April 24, 2017. Toney Edwards (with whom your webmaster has been in touch over the past several months regarding his interest in joining the Dolphin owner community) suggested the following article in the May issue of Sail Magazine -
http://www.sailmagazine.com/diy/sails/sail-trim-rigging-adjustable-sheet-leads/
might be of interest to Dolphin owners. This is essentially a barber hauler type system allowing more precise control of jib trim from the cockpit. Click the link above to check it out.
***************************