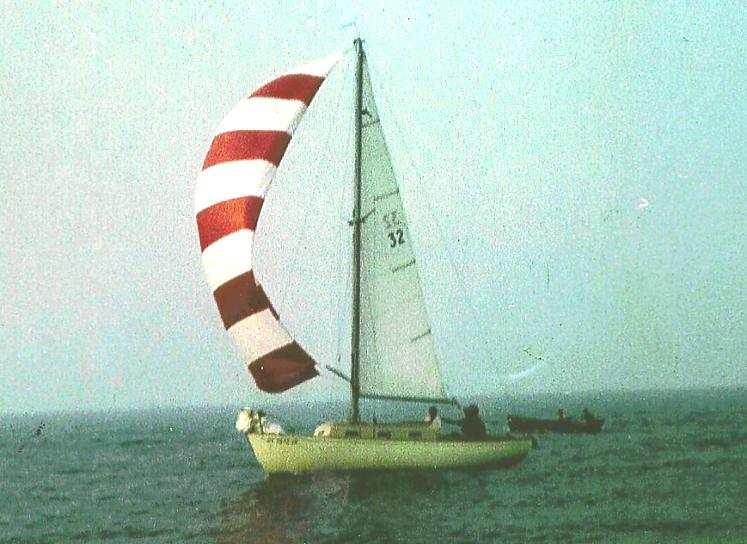 This 1960's era photo received from Bob Fellows on April 23, 2012.
May 19, 2011. Doug Berg (Black Dolphin) sent in the following email (edited). We had no knowledge of this boat. Stay tuned.
Hi Ron

We had another Dolphin in the Town of Huntington when we had our Dolphin. It belonged to Ed Fellows. He and Dad became life long friends and it was the Dolphin that brought them together. Ed now lives in Florida and he's probably about 92 or so. But he purchased a damaged Dolphin (burned in fire in Browns Marine boat fire). He purchased it from James "Cappy" Wilkes who got the boat from Browns Marine but didn't have the time to repair it. "Cappy" is the gentlemen that was the Scout Master that Dad gave a rejected Dolphin deck to with all the teak and left overs that Lunn had at the time since Lunn was no longer building the Dolphin) Ed on the other hand was a shop teacher in the Huntington school district and did a beautiful restoration of the boat with a co-owner, Bob Valentine, who was an airline pilot. This Dolphin was a Lunn Dolphin for sure and it's name back then was "Half Mine" ..... hence the co-owner status. But I don't know the hull number.

Ed's daughter lives up in Maine I think... and if you want I'll see if I can contact her and get a sail or hull number if you want.

Doug
Doug - Are you kidding? We are standing by
************************
April 2, 2012. It may take a while but eventually we get there. Last night we spoke with both Nancy and Robert, Ed Fellows 'kids'. They have pictures ( coming) and maybe even the hull # buried in some files
***************************
April 14, 2012. Bob Fellows checked in and has been busy with a newly acquired house and boat - but will look through the old boxes and files. We are standing by.
***********************
May 9, 2012. Don Fellows, the 3rd Fellows 'kid" has been in touch. He sent in a DVD containing an old 30 minute, 8mm film documenting the restoration of Half Mine. This is a 'story' for our Stories section which will develop in coming days. Your webmaster needs to finds the time and technology to digitally print pictures and, with the help of the kids, appropriately sub title them. We'll kick this off here with a peek ahead the launch celebration.
For more on this restoration go to Stories, Half Mine Restoration, by clicking here.
September 10, 2012. In response to a number of follow up questions Jo Anne (Valentine) Powell sent in a couple of sub title corrections for the Restoration page, and the following comment (excerpted)
Bob and Ed were an amazing partnership; both, having gone to Oswego Normal School for Industrial Arts, could do anything! Since Bob was a Pan American Captain, their schedules were very different which was ideal in sharing the use of the boat.

It's really too bad neither is here to answer your questions. They both would have loved to see the website

Jo Anne (Valentine) Powell

ps We called her the Half Mine, but she was technically the Half Mine II (always used "the" in front of Half Mine). The original Half Mine was a 28' (plus bow sprit) wooden boat (presumably sold when Bob & Ed bought the Dolphin).

ps Can we keep "the" with a small t - or too much trouble? Dad never said Half Mine - it was always the Half Mine.
Some still outstanding questions - Where is the Half Mine today? What is her hull #? What is the significance of the number 32 on her mainsail?
We'll keep calling her "Half Mine"...., or maybe "the Half Mine"....then there still is that Half Mine II" transom photo up above.....I wish we could find her and she could speak for herself. We'll take this matter to the next board meeting.
*********************************************