The discussions for this thread include the following:

Posted: 07 Jan 2012 at 11:41am
Happy New Year Everybody

When we took our dolphin out of the water for winter storage, we noticed the bottom of the rudder is unseated. I have a good photo of the issue but I can't figure out how to post a photo on this forum. Please advise so I can get some advice. Thanks.

Mike


Posted: 07 Jan 2012 at 7:37pm
Hi Mike
Send me a copy of the picture and I'll get it up - see below

What's the situation at the rudder head? Is the tiller/rudder head connection the way its supposed to be?
Marionette's rudder post has a 'shoulder' molded on to it that would prevent the rudder from rising too high in the rudder post shaft and getting unseated. Does your rudder post have one? Is it 'crushed"?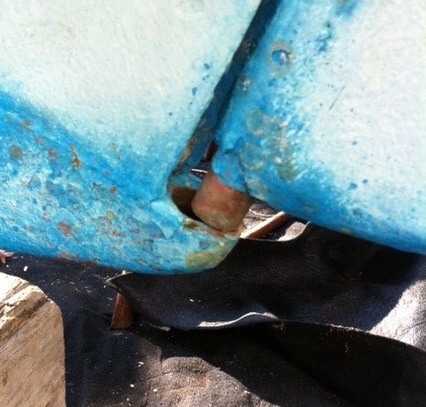 We are following this post on our Technical Section at http://dolphin24.org/rudder_post_heel_fitting.html

Ron


Posted: 29 Feb 2012 at 5:49pm
The rudder is fixed. For an undetermined reason, the nut at the base of the tiller was very loose. One person pushed the shaft down from above while the second person (me) guided the bottom of the shaft into the slot. The nut was tightened. The tech said everything, including the packing, seems fine.