August 30, 2007. Tim sent in the following pictures and (edited) email. Brigadoon recently made a long trip from her old home in San Diego to her new home in Illinois. In these pictures Brigadoon is in her old slip at San Diego YC.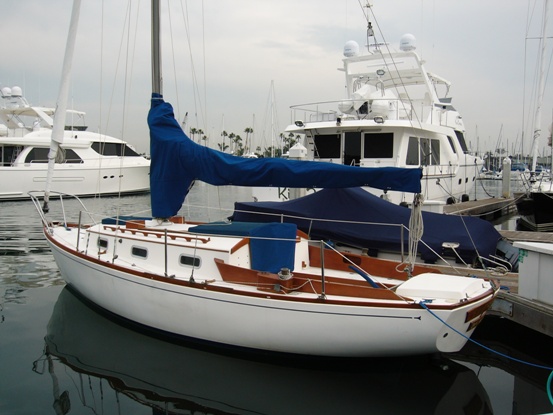 Hello, Ron,

I'm the current owner of Yankee Dolphin #102, named Brigadoon. This boat is a 1968 model. This boat has been in my family since the summer of 1979. Before that it had only two other owners and was berthed in Dana Point. Several people have lived aboard her and it was raced in Dana Point in the mid `70's. It is absolutely loaded with racing and cruising gear. The interior has custom cabinet work with dolphin cutouts in the door panels. It even has a built-in wine cellar. Until earlier this year the boat resided on `C' dock at the San Diego Yacht Club. I have inherited it and it now resides on Carlyle Lake, Illinois. These pictures are from 2005.

Please add me to the register. The website looks great! Let me know how I can contribute.

Tim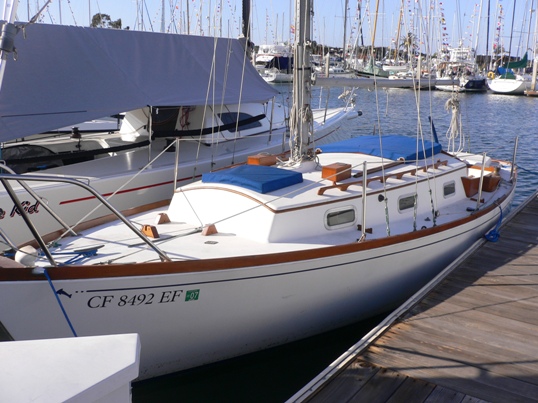 ***************************************
We received the following email back in February, 2008. Somehow it slipped through the cracks in getting up on Brigadoon's page.
2/20/2008


Just found your website. Walt and Marty Crichlow were the original owners of "Brigadoon". We bought her new in 1968, sailed and loved her, lived aboard for 2 years with 2 cats, an old english sheepdog, and a 2 month old son, until we moved ashore around 1972, when we sold her to a friend, who kept her at Dana Pont.

We now own a 1979 Erickson MkII 35 ft , also named "Brigadoon". For years we have looked for our old boat, with dreams of having her back again. So glad to find that she is well cared for and in beautiful shape. Hope her new owner is happy with her. Walt did all of the custom cabinetry, including the wine cellar, and name boards. We would like to contact Tim Busse to hear how our old boat is doing, please forward this email to Tim and ask him to contact us. Thanks.

marta crichlow
*******************
On October 6, 2008 we received the following email and 2 photos of Brigadoon sailing on Lake Carlyle
Hi Ron

As promised here are some photos of Yankee Dolphin 102 taken yesterday at Carlyle Lake, Illinois. Brigadoon has been sailed quite a bit this summer and we have maybe 4-5 more weeks in the season before we need to put her away for the winter.

Best wishes!

Tim Busse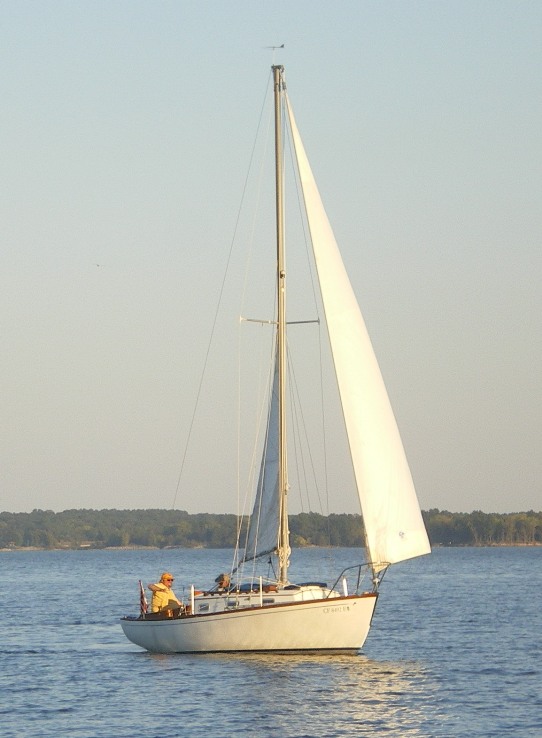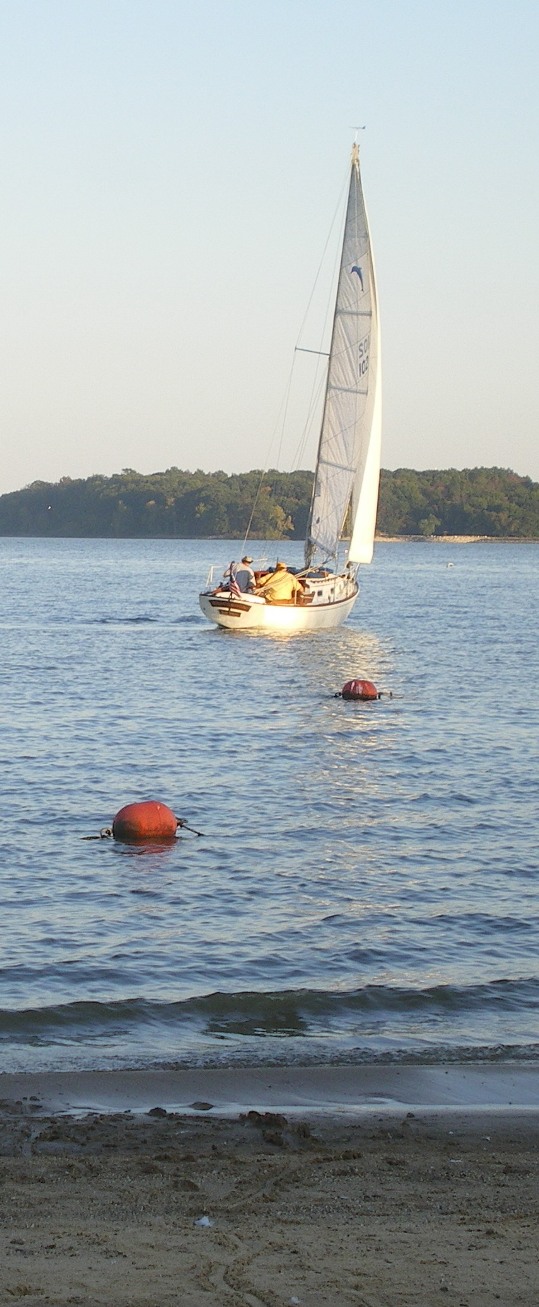 **********************
April 29, 2009. Darrell Nicholson, the editor of Practical Sailor, emailed your webmaster the other day asking for a few photos of Dolphin 24s that are representative, one of which he might be able to use in an upcoming article in their "Practical Boat Buying" section. After a difficult, soul searching effort I came up with 3 (Marionette was not one of them!!) that I sent him. I just received my copy of the May issue and there on the back cover was this: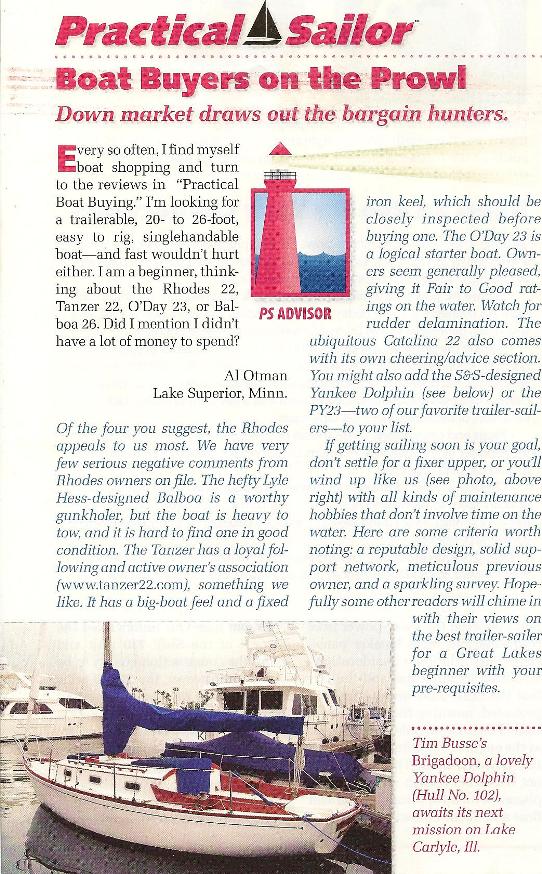 The magazine picture was good, this scan is poor, but the same picture is above, and is spectacular!
********************************
June 14, 2009. The Crichlow's keep a close eye on their old boat. Marta is a Practical Sailor reader and did not miss the above article. Here is her letter to the Editor that appeared in the June issue.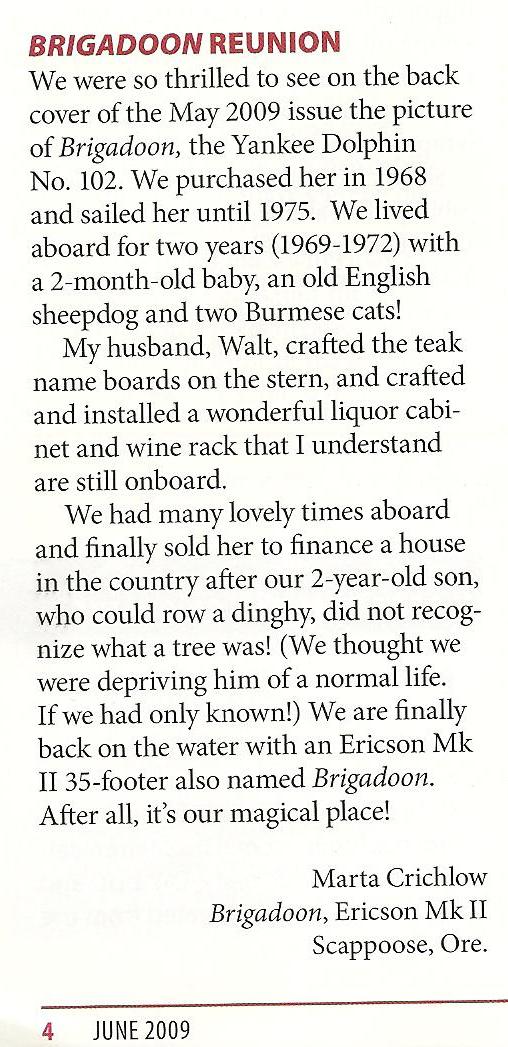 ***************
February 27, 2011. Brigadoon is on Facebook - here's the link
http://www.facebook.com/?ref=home#!/pages/Yankee-Dolphin-102-Brigadoon/202366387628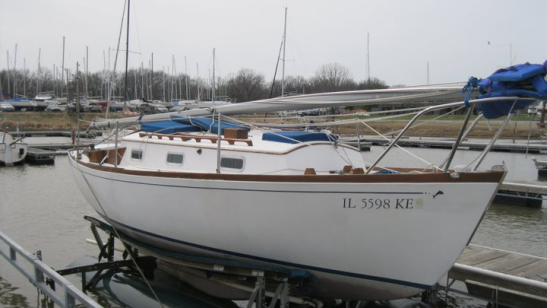 May 6, 2011 - This is one of the pictures from the Facebook link - Bridadoon ready to launch April 11, 2011
***************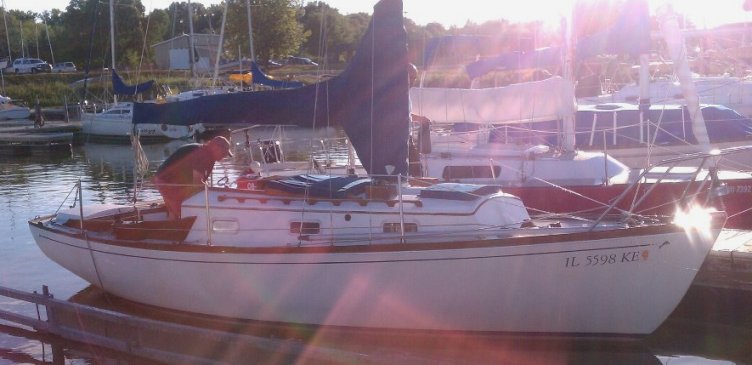 August 6, 2012 - another Facebook photo - nice sunlight effect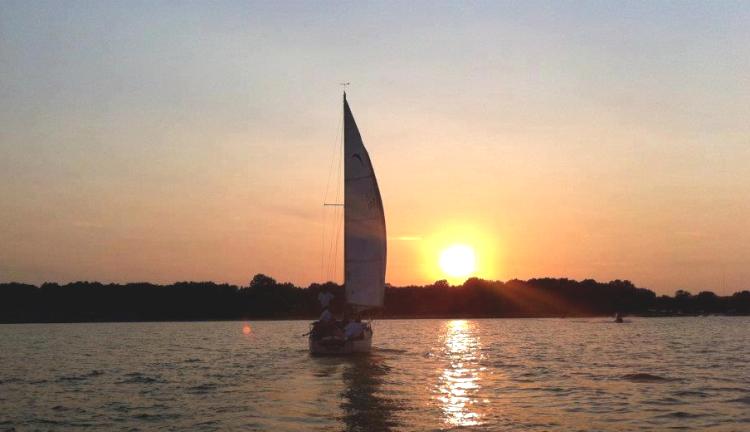 October 9, 2012 - and still another Facebook photo, Brigadoon at sunset
*********************************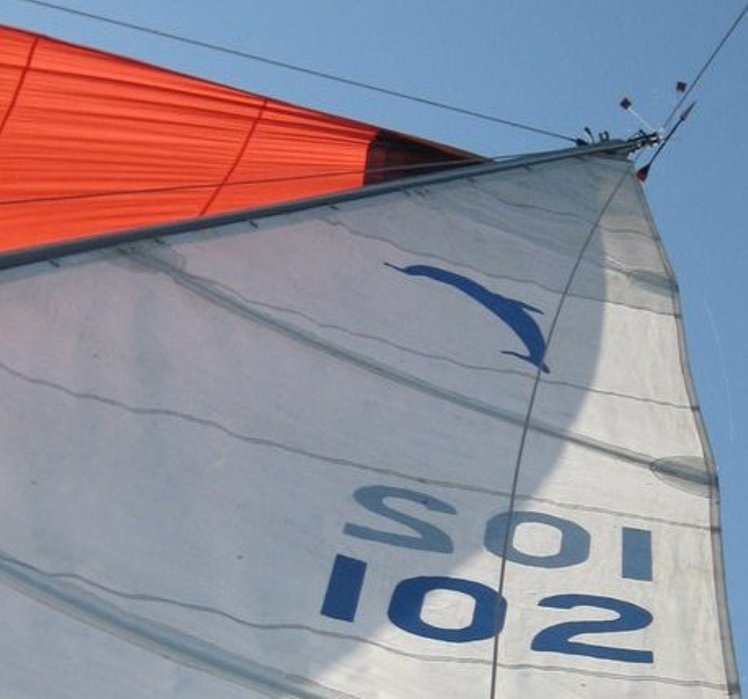 February 21, 2013 - OK, one more, Tim's new profile picture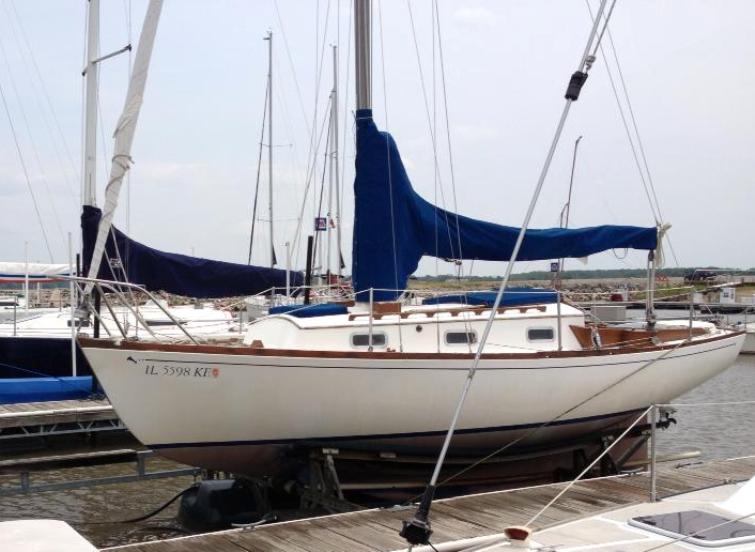 May 28, 2013 Brigadoon's Hydro Hoist - beats scrubbing the bottom! Tim likes to go fast!
**************************************
December 3, 2014. Brigadoon is on Facebook again - Its end of season time. We picked up a couple of photos that appear below. Click here to see several more.
************************************
May 24, 2015 - Its the start of the season and Brigadoon is in Facebook, again https://www.facebook.com/photo.php?fbid=10204427539350113&set=p.10204427539350113&type=1&theater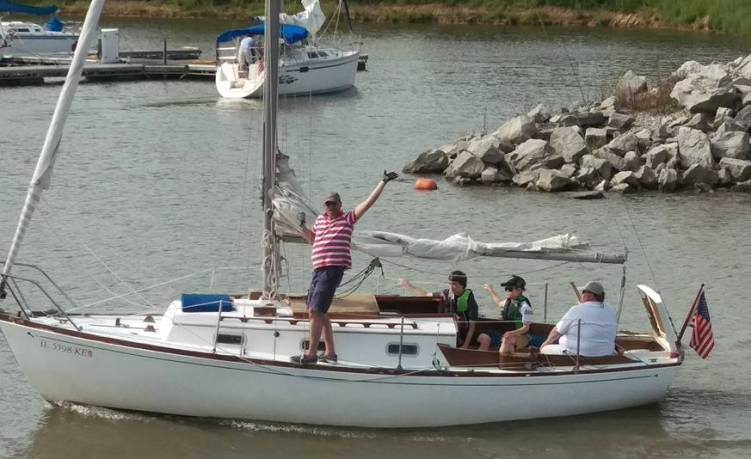 ***************************
November 25, 2016. We got a short update from Tim - its been a quiet year for Brigadoon, not so quiet for Tim and his family.
Happy Thanksgiving, Ron!

Sorry to report no Dolphin news here. Brigadoon only left her slip Memorial Day this year as my year was subsumed with care for my 85 year old father, Brigadoon's third owner. Come Spring I will have her hauled for a new bottom and necessary teak work.

Meanwhile, hope we both have a short winter!

Tim

**********************
| | |
| --- | --- |
| January 12, 2019 A couple of 'file' photos from Tim Busse and Brigadoon's Facebook page | |
January 14, 2019 Postscript - One more from Tim's Facebook page - Brigadoon sailing in her San Diego waters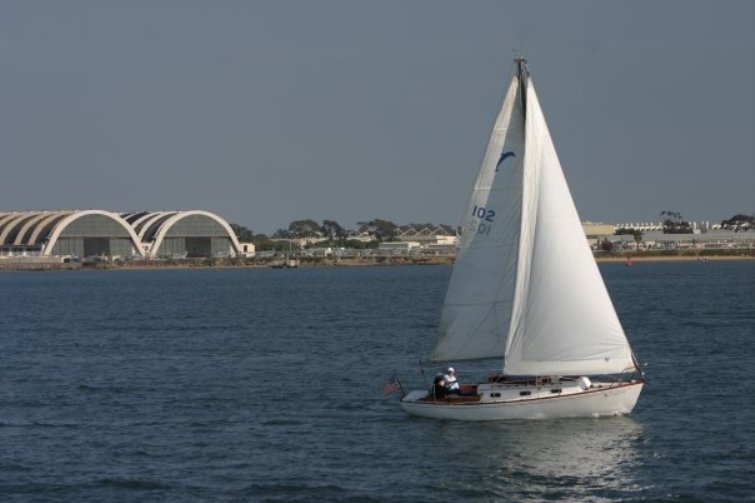 *********************************
January 18, 2019. The Dolphin Island - a Facebook post from Tim - click here to go there
***********************
March 17, 2019 - Coming up on 10 years ago - a Facebook post with the kids on the beach and Brigadoon on Lake Carlyle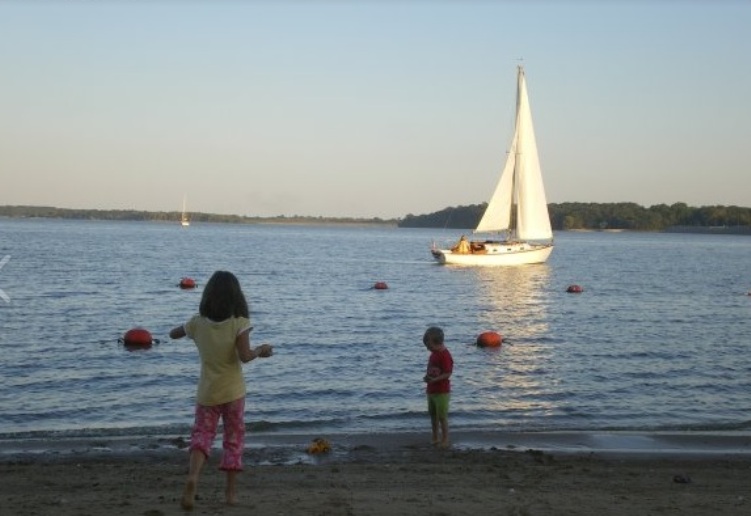 **********************************
February 6, 2020. Spotted on Facebook this morning - Tim takes a look back at Brigadoon's life on the West Coast.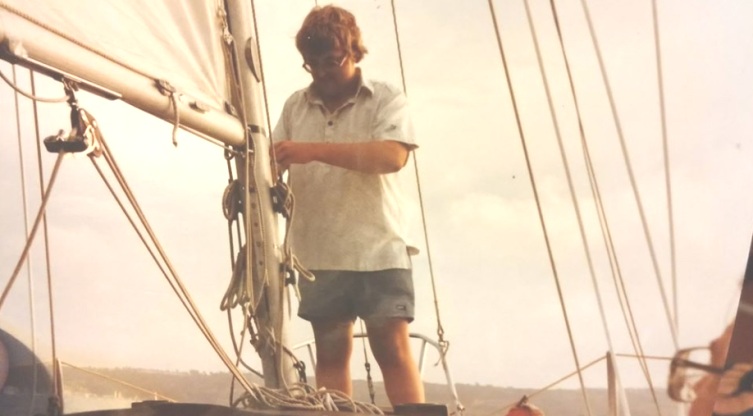 "This is me, 1979 or 1980, in San Diego on our family's Yankee Dolphin, Brigadoon"
*************************
June 16, 2020 In over the transom the following email from former owner Fred Perez
Hello Ron,

I ran across the article on Brigadoon and I thought that I would add to the history of that wonderful yacht. I purchased Brigadoon from Walt and Marta when she was in Redondo Beach, CA. We sailed it to Dana Point where at the time I had three children and a wife.

We sailed her until about 1980 when I bought Redline, a Santa Cruz 27 from Hobie Alter. Brigadoon was then sold to the father and son team from San Diego, CA.I am now almost eighty three years old and was in the process of getting half hull models of my Santa Cruz 27, Redline and my Santa Cruz 33, Vandal made.

When I thought it would also be fitting if I had a full scale model of Brigadoon and found the images of Brigadoon. What a wonderful surprise.There is so much more to the story. As an example I lost touch with Walt and Marta and did not realize that they had purchased another boat. Walt and were engineers working at a valve company in Irvine, CA at that time.

Cheers

Fred Perez

Postscript Note From Tim Awesome! Thank you!


**********************************
August 18, 2020 - Spotted on Facebook, a 2013 'memory'....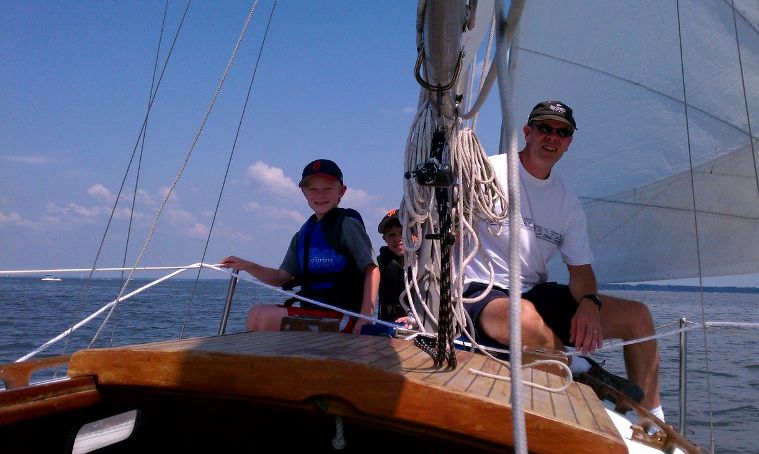 *****************************