Ron,

My name is Joe Powel. I am a former owner of Yankee Yachts Dolphin 24, hull number 128. After first discovering your website the other day, I found a request for information concerning "what she was up to in the first 25 years of her life!" at http://www.dolphin24.org/128.html. The following is from Annetta's log:

Sparkman & Stephens Dolphin 24, Built by Yankee Yachts, hull #128, 1969
Original (I think) owner lived in Sandwich, MA, Boat's name was HELENIE and was stored in Bucky Barlow's Boat Yard,, 18 Wings Neck Rd, Pocasset, MA. The original topsides were black. Photo at left was taken in the boat yard when we purchased her.

Webmaster Note: Barlow's Boat Yard is no stranger to Dolphins. On a 2008 cruise to Maine Marionette stopped there to visit with Tern (click here to go to her page). Also, Kestrel, #110 was there.
Purchased by Joseph B. Powel Jr., West Bolton, VT , 1978. My family and I sailed her in Long Island Sound, around the Statue of Liberty, and up the Hudson River and Champlain Canal to Lake Champlain. Our Dolphin's name was ANNETTA and was stored at Shelburne Shipyard and moored within sight of the bridge keeper's shack inside The Gut between North and South Hero Islands, Lake Champlain, VT. (right across the channel from Mooney Bay Marina - photo at top of page).

While I owned her, I overhauled the Vire engine, added the three ventilators, the two triangular holding tanks in the bow, the inboard fuel tank, painted the topsides green, & added a storm jib to her inventory. (It got lots of use). My wife made the curtains seen in the photo labeled "a man's work is never done..." and many other niceties. We still have a bag made from the curtain fabric excess.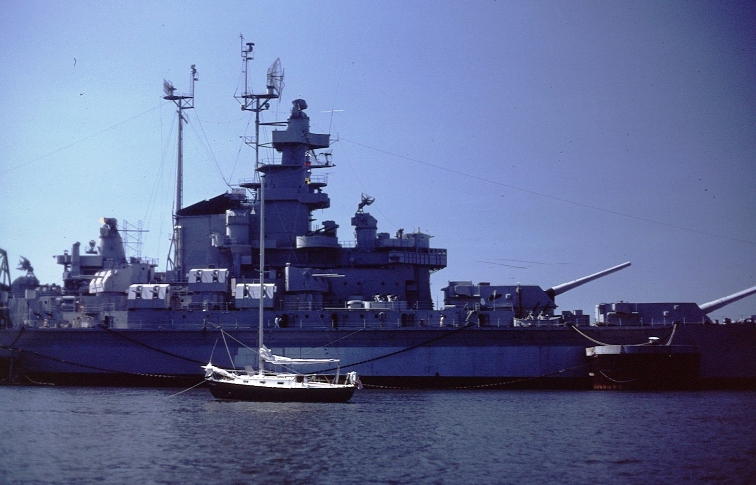 Keeper - Anetta next to Battleship USS Massachusetts
Purchased by Ronald Peck, Burlington VT 1982

After that, I lost track of her until discovering this website. I hope this Information is useful. You may feel free to quote the above and use it any way you wish.

The following is my interpretation of information given in http://www.dolphin24.org/128.html and is subject to error.

Purchased by Bill Kelting (Tue, Aug 25, 2009 minus 12 years) 1997

Purchased by Don Moore (Delphinus) 2009 - Click here to go to Delphinus

Purchased by Alan Folsom 2011

I would love to see her again to renew an old friendship. Could you please tell me her current name and location? You have a great website here, Ron. I wish it had been available when I was sailing. Keep up the good work!

Joe Powel
ps A note about Barlow's Boat Yard...When we were there, Bucky was still running the yard. All boats were moved around in their cradles on LOG ROLLERS using a single winch (once powered by steam). The last time I was there several years ago, his daughter was running the yard but he was still living in the house on the same property.