October 11, 2013. Jerry Slaughter introduces us to a new ROWDY project - Portlights, ok windows
Hi Ron

About the window frames, I pulled the windows last week and was able to save 6 of the trim rings. They are thin aluminum things that I am considering having chrome plated. I wire brushed the rings which made them look decent if you didn't stand too close.

For inside trim I will probably use mahogany. I cut some pattern pieces in hardboard and will try to finish the rings with my router and a pattern cutting bit. I'm thinking they should be about 1/2 inch thick so they will not appear to obtrusive in the small cabin. We will see how that goes.

I just traced one of the metal frames onto 1/4 inch hardboard, cut the frame pattern in half and cut the patterns out with a band saw, carefully. I marked the screw holes and will pre-drill a couple of them so they can be screwed to the raw stock without creating extra holes in the wood. I plan on varnishing the inside rings.

One thing I should emphasize is the need to be extra careful removing the old rings from the boat. The are especially fragile and will break if you look at them hard. One of my 6 cracked at a screw hole but I should be able to glue it up (fingers crossed). I've included a couple of photos of the ring and pattern.

Jerry
*****************************
October 14, 2013 Plan B

I've gone to plan B for the window frames. I cut out five of them on my band saw and will shape them with a drum and belt sander. Then I will round over the edges with a router. Once that is all done I'll try to set nuts flush with the trim and epoxy them in place.

Of course there is always a plan C if something goes amiss.

Jerry
************************************
October 20, 2013.
Hi Ron,
I thought I would give you a preview of windows-to-come. If the fastening works out they should look pretty good and they will mellow the mass of white on the cabin sides and top.
Jerry
********************************
October 29, 2013. Jerry has cut out the portlights, and a couple of Dolphins that may end up above the compression post on the main bulkhead suporting the mast step.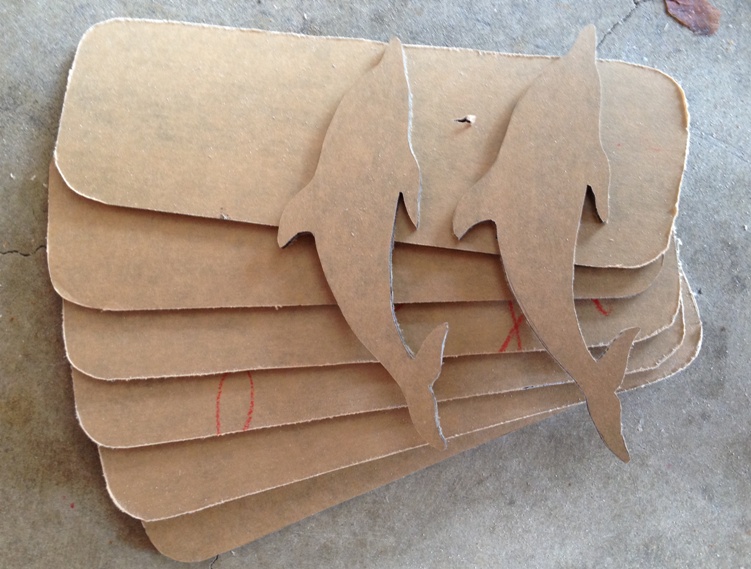 .
Stay tuned
November 5, 2013 - Portlight frames plated
Hi Ron,
I got my window frames from the chrome plater today. The cost was a reasonable $20 bucks each and they will look good from 5-10 feet away. I must warn anyone who is considering this step that every blemish, in the frames, broadcasts through the platting. This is, in my humble opinion, acceptable and I look forward to mounting them on the boat.
Jerry

Looking pretty good from 1500 miles away too

**************************
December 30, 2013. We have the following update from Jerry (excerpted). Photo to follow
Hi Ron,


I got out to the boat for a few hours today. Not much is going on, it has been a bit chilly and of course the seasonal stuff kinda slows boat work. I decided to dry fit one of the portholes to see if there were going to be any hiccups doing that task. I'm using #8 oval head SS screws, 3/4 inch long, for the frames rather than through bolting them. I was concerned that the screw would go through or split the mahogany inner frames but that didn't happen on window #1. There are a couple of frames that are thinner so I'll have to wait to see if the project is deemed a success.

Jerry
*****************************************
March 3, 2014. Portlight update (excerpted - for the rest of Jerry's update click here to go to ROWDY's home page)
Hi Ron,


Well I finally got around to putting the glass and porthole frames back on ROWDY. I also got the prop shaft back in the boat and would have gotten it hooked up but a cold front blew through around midday and the temp dropped like a rock and I, as hardy as I am, scampered home where it was warm.

I took some photos of the portholes but realized that ROWDY is in a corrugated metal shed and the corrugations reflect in the chrome plating, making the photos look a little strange.

Jerry

Paint job is looking good too!

Click on the above pictures for a large view