May 31, 2016. Mike Yates checked in as the new owner of #271. Click here to go to Tuuli
Fair Winds Tim
Welcome Aboard Mike
**********************************************
************************************************************
April 25, 2011. We first found out about this boat when Tim signed up for the Newsletter back on March 19, 2011. We knew we had a newly found Dolphin here but we did not know where she was so, according to the rules, we had not yet found her. She is now officially our 176th newly found Dolphin - click to see that list.
Tim has now sent in some pictures and the following email (minor edits). Tim bought her in May 2007, and she carries the name Phinn from the prior owner - soon to get a name change. Her transom ID # 2427177 indicates she was built in July, 1977. Webmaster Note: A system of boat identification numbers became law in the early 197o's. Many readers, no doubt, will want to refresh their knowledge of builder's numbers and nameplates, and may do so by clicking here.
Here's Tim's email.
Sorry I have not gotten back to you sooner, I have been working on the boat in all my spare time getting ready for this season. The name Phinn was on the boat when I bought it in Cayuga, NY. I do not have any history of this boat and I will be renaming it as Phinn proved very unlucky since its broken away twice. This year she got a major overhaul with a barrier coat, all West System epoxy repairs from grounding, hull painted, bright work coated, all deck fittings rebedded, wiring repaired.

As you can see from the photos I have attached she is ready to go back into the water. She will be sailing in Skaneateles Lake in upstate New York. I am very impressed with your website and it as been very helpful and I would love to know any history about my boat from previous owners because it is rigged out for some serious racing. I will let you know my decision on the new name soon.

Regards,

Tim McNally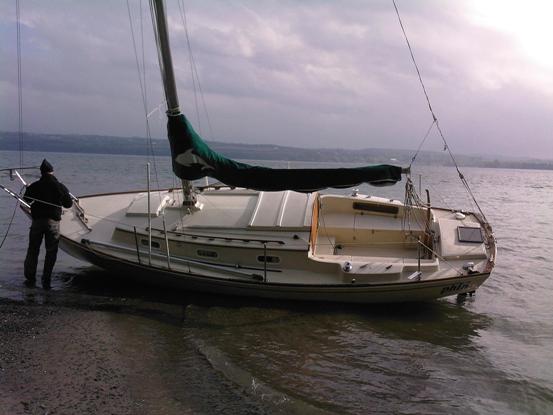 This rather unfortunate photo is really a pretty good shot of a nice boat. We'll replace it here with a new, more appropriate one of #271 after she is re-launched. Tim reports that she came loose from her mooring diring a nasty Spring blow - the mooring tipped over and fouled/broke the turnbuckle.
**************************
April 15, 2016. We got an interesting email from former owner Stu Polhamus. He bought #271 new in 1977 and sold her to a buyer in Connecticut in 1981. And Stu is interested in getting another Dolphin!
Stay Tuned
September 23, 2016. Click here for Stu Polhamus' report on his Het Loo, Pacific Dolphin #271
*******************************