January 23, 2016. Winston checked in with his Magic, Yankee #199. This is a 'newly found' Dolphin, our 224th (click here to go to that page). Below are his emails, consolidated and edited)
Ron

I found your Dolphin.org website after seeing a Dolphin listed for $35,000 in Annapolis (Webmaster Note: - that price will get a Dolphin owner's attention but she's a beauty!! and an inspiration to all of us - Equinox - take a look) and the listing said for more information to check Dolphin.org. I have owned Yankee Yachts Dolphin 24 "Magic" #199 since 1989. It is currently under repair after a serious leak I couldn't find until I took the toe rail off and found the teak under the starboard genoa track was cracked. I have been very slow getting it back together but I am hopeful this is the year for her to get back in the water.

I found the owners of #199 previous to John and Lana Fields from whom I bought the boat. They bought the boat from Dick and Laura Smock then of Urbana, Illinois. Dick and Laura bought the boat in Annapolis (E Snader could be the owner they bought it from) and they pulled it home with a "Ford Car". Laura said the boat drove the car as much as the car towed the boat over some of the mountain roads between Annapolis and Urbana.

The snow continues here in Kentucky. I am spending a day at home from work and have enjoyed talking to Lana Fields and Dick and Laura.

Thanks for the encouragement by asking for more information.


Win (Winston C. Dunwell)
We will stand by for pictures and stories about what Magic has been up to this past quarter century. We here in southern New England are huddled down against coming the snow storm. Unfortunately, the arrival is on a weekend so no time off from work....
Welcome Aboard Win!
*****************************************************
January 6, 2019 Its been a while but here's Magic's picture and Win's response to our follow up (minor edits)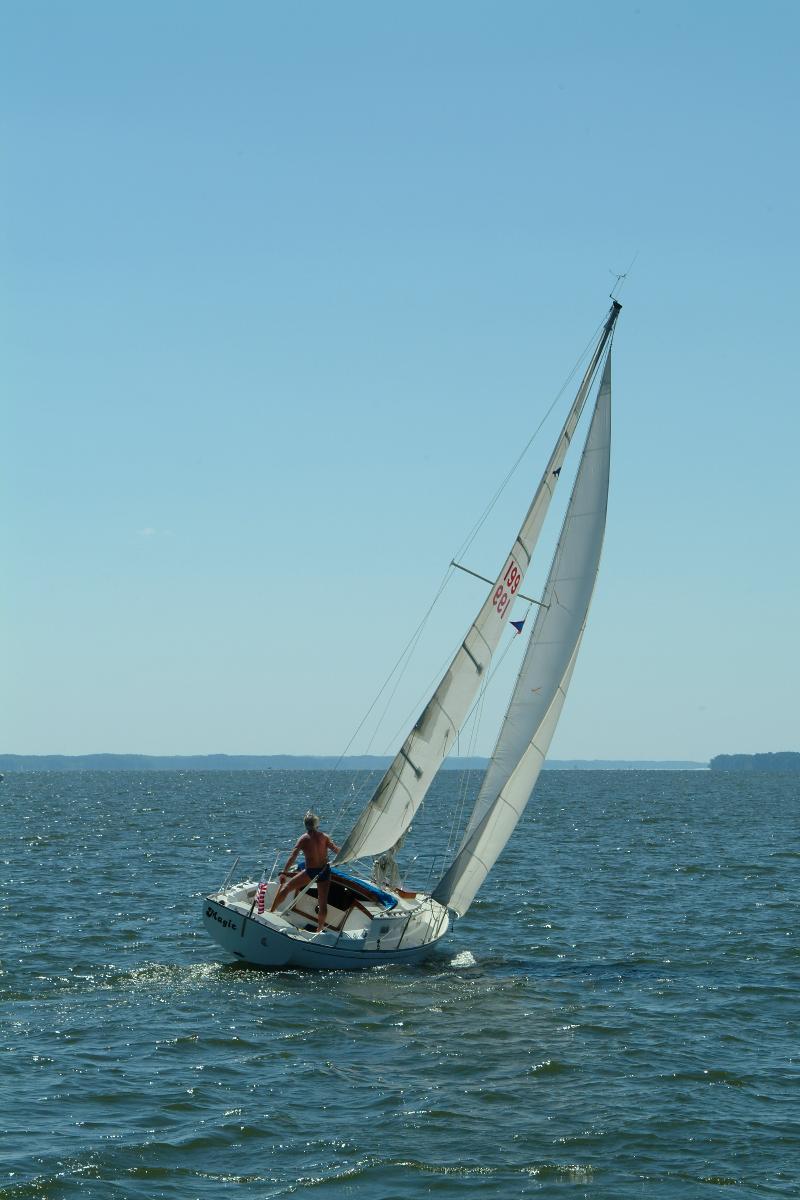 Ron

Here is some text on Yankee Yachts Dolphin #199. I have to gather some more images and I will start on that.

Previous owners Dick and Laura Smock did a major overall one winter - took the deck parts off and the toerail. Previous owners, John and Lana Fields, replaced the mast brace and added a 70% headsail to the sail inventory. They painted the deck with one-part epoxy. They also installed a holding tank and sealed the thru hulls.

I bought Magic from John and Lana Fields in 1989 in pristine condition and have owned it since.

The mainsail was replaced with a North sail in the 90s and a new 150% was purchased in 2014. The hull has had two blister jobs. I did the first with Interlux and ended up with small shotgun blisters 10 years later. Following 4 years storage in a heated and air-conditioned shop the shotgun blisters were repaired and sealed with West System by Cody of Lighthouse Landing, Grand Rivers, KY.

All deck hardware was taken off to search for significant leaks. The leaks were found to be a split teak toe-rail under the genoa track on both the port and starboard sides. It seems the screw/bolt caulking was inadequate or failed. All interior cushions and covers were badly stained. My wife Jan threw all away the foam keeping the covers as templates. New cushions cabin and cockpit were made by Dickey Reese of Sew and Sew Marine in the fall of 2018.

After years passed, in 2018 I started the process of finishing deck preparation. As of January 5, 2019, about 80% is sanded, and now needs cleaning. Time to paint the deck and put it back together. The worry - repairing, replacing and installing the bad/cracked toerail section, and getting it all back together.

I successfully raced the boat in non-spinnaker class from 1989 to 2004 - frequently single-handed. The spinnaker, the original, is mostly flown in light air while cruising on Kentucky Lake.

Win
Webmaster Note: Using Google maps website staff offers the following 'chart' in our continuing effort to familiarize readers with Dolphin sailing areas.

And

, there's another Dolphin sailing in these waters - Dave Rogers' Dorado based in Eddyville

just above Kuttawa

!

A

more detailed description of this interesting area is on Dorado's page - click here to go there.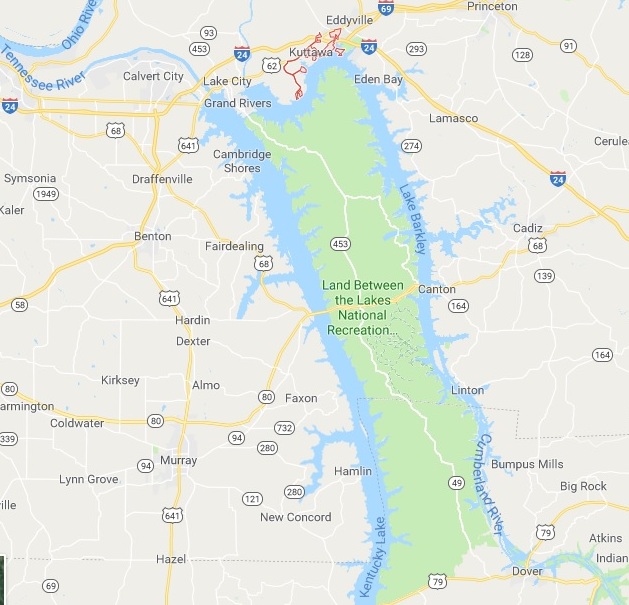 Click here for another more detailed image of this area
*************************
January 11, 2019
This close up of Magic just came in.
***********************