August 23, 2010 Paula reported Windswept was sold. We trust the new owner will be in touch soon. Below is her email, and some info regarding custom ss portlights that she still has. Update May 28, 2014 Paula advises these are no longer available, and click here to go to #245's new page.
Hi Ron

I sold her last week! Windswept's new owner is from Anchorage and she'll eventually be moored in Sitka. Thanks a mil for your help with the listing - couldn't have sold her so easily without your help.

I have another request. The new owner is not interested in the set of new portlights for the Dolphin. Would you be so kind as to list these for me? Photos and copy are below.

Thanks a lot,

Paula

Custom made port lights for a Yankee Dolphin

Set of six 5" x 12" venting stainless steel port lights, brand new, still in their original packing cases, manufactured by New Found Metals. They were made for #245, but the new owner wants to keep the original port lights intact. These port lights come with teak spacers and stainless screens. All hardware included, as well as lengths of butyl bedding. They are beautiful. New Found Metals website has more information including how to install. http://www.newfoundmetals.com/index.html

Paid $1727. Will sell for $1400 plus shipping.

Contact by email: redstepbox@earthlink.net

**************************
July 2, 2010. - Paula Gill told us of this boat back on September 24, 2009. It belonged to her partner who has past away. Originally, a friend was going to buy the boat but that deal fell through and now Paula wants to sell it. It has been out of the water and under cover for the past 7-8 years, and previously had been sailed in the Puget Sound area since 1998.
Mast, boom and rigging have been in storage. The cabin has been kept dry with heat and air circulation. Boat is sound; however, the hull and topsides, although cleaned, are due for a new coat of paint, and the teak trim needs attention.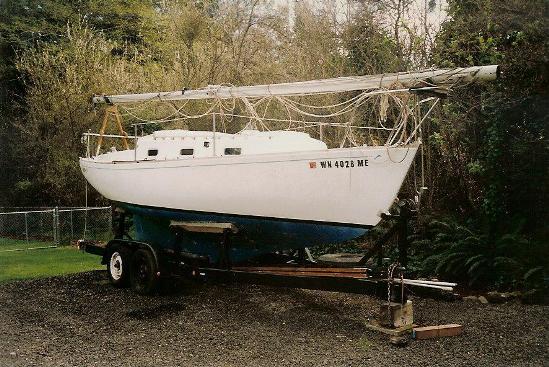 1998 photo, spars and rigging currently in storage
July 17, 2010. Here is the Revised Listing for the boat, and following, several pictures.
"Windswept"
Yankee Dolphin
Shoal draft, keel-centerboard, masthead sloop
Design Information:
Hull #245
Builder Yankee Yachts in Costa Mesa, CA
Year 1971
Length 24'-2"
Beam 7'-8"
Draft 2'-10" centerboard up; 5'-2" centerboard down
Displacement 4250 lbs.
Ballast 1750 lbs.
Length at water line 19'
Sail area with 100% lapper 297 sq. ft.
Hull:
All fiberglass construction; Old bottom paint stripped to fiberglass surface and painted with epoxy barrier coat in 1987
Spars:
Aluminum alloy mast and boom; Whisker pole- adjustable; Winch on mast
Sails and Winches:
Main by Hokansen, LA. stretched but useable. 2 reefs.; 2nd Main by Sobstad; 2 reefs; Storm Jib by Hokansen; Schaeffer roller furling gear; 100% Jib by Hokansen; roller furling; 120% Genoa by Dewitt; roller furling, sun protective strip; 160% Genoa by Ballas; 3/4 oz. radial head spinnaker by DeWitt; Lewmar #8 sheet winches, 4 handles; Complete spinnaker gear; Main sail cover- royal blue; Battens
Safety, Navigation, Anchoring and Related Items:
Bow and Stern pulpits with life lines; Navigation lights by Aqua-Signal; Horseshoe buoy and bracket; 2 anchors, each with chain and 3 strand nylon; Anchor bracket; Horn; 3 padlocks keyed alike; Davis folding boarding ladder; Forward air vent by Martex; VHF radio with mast head mounted antenna; Compass; 2 fire extinguishers (would need to be inspected and re-certified); Boat cushions
Outboard Motor:
Honda 10 hp, long shaft; owners manual and shop manual, model BF 100z; Morse single lever, shift and throttle remote control mounted in cockpit; Honda 3.6 gallon fuel tank; Tempo 6 gallon fuel tank; Spare propeller
Cabin Interior:
Galley with ice box, sink, water pump, 10 gallon water tank, water filter, teak cabinet; Alcohol stove; 2 reading lights in "V" berth; 3 cabin lights; Gimballed oil lamp; Portable toilet; Cabin cushions; Teak companionway boards; Acrylic companionway boards
Miscellaneous:
Tiller extension; 30 amp shore power plug (Marinco) ; Windscoop; Chart light; Mast raising and lowering equipment consisting of an A-Frame and 6 part tackle; Mast carrying cradles with mount on bow and stern pulpits
Trailer:
Custom built for this boat; Tandem axle, 7,000 lbs capacity; Surge brakes on front axle; Winch; Spare tire and wheel; Mount for load equalizing hitch bars. Tongue extension 13 ft. long permits launching and retrieving boat without backing tow vehicle into the water; Bearing buddies on all wheels
Disclaimer:
All of the above list was compiled by the previous owner in 1998. I have no reason to believe that the current inventory is any different than listed.
Additional Notes:
Boat has been trailered and under cover for the past 7-8 years in Bremerton Washington. Mast, boom and rigging have been in storage. The cabin has been kept dry with heat and air circulation. Boat is in good shape; however, the hull, although cleaned, is due for a new coat of paint, and the teak trim needs attention. Cushions need to be recovered.
Ask about other Windswept related items not included in this ad.
Price: $4500
Contact by email: redstepbox@earthlink.net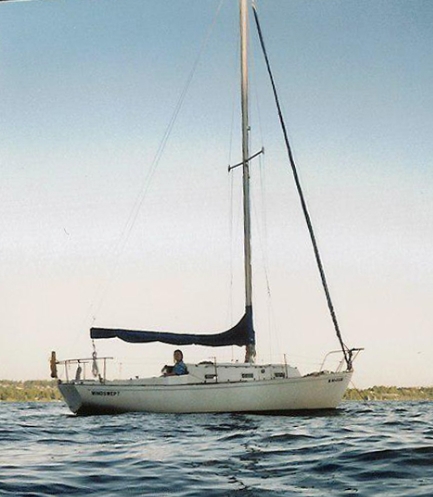 At anchor on Puget Sound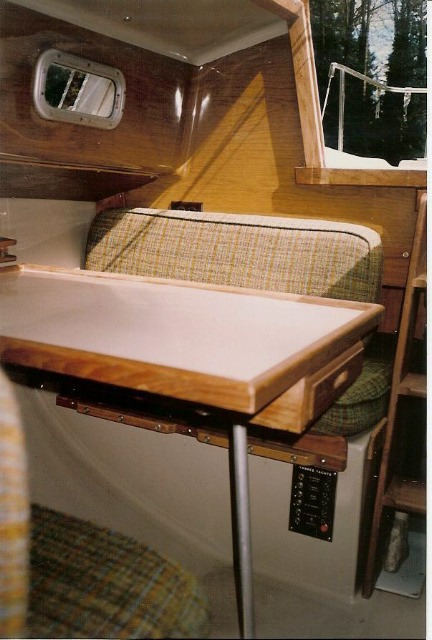 Dinette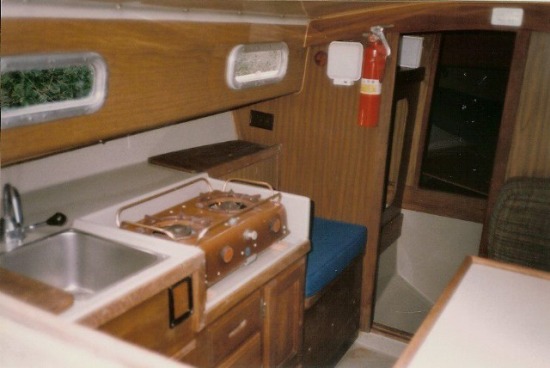 Galley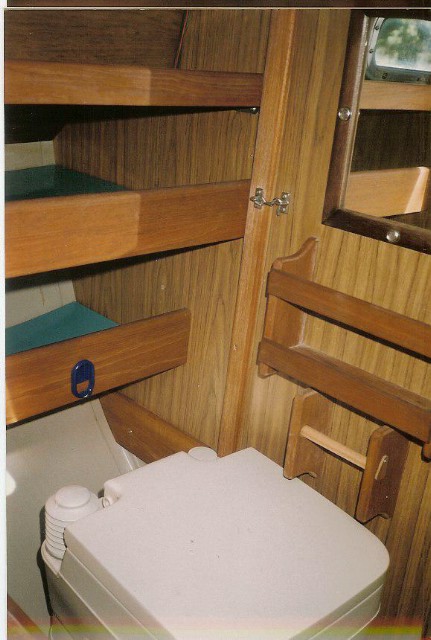 Head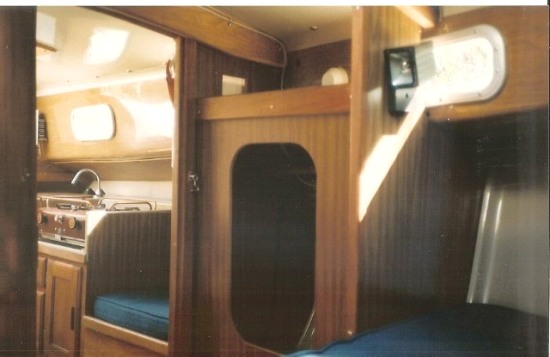 Head compartment locker/v-berth looking aft into main cabin
************************