February 28, 2021 This email just in over the transom. We're on the track to locate a previously unfound Dolphin! (minor edits)

Dear Ron,


I can fill in one Dolphin missing from your list. I owned US Yachts Dolphin #55 which I purchased from its original owner in December of 1972 in Rio Vista, CA (on the Sacramento River. I moved it to the city marina in SF until I moved East in Jan. 1997. Bought it for $4200 and sold it for $6000 through a broker, the only time I ever made a profit on a boat!

It was called Mahi Mahi originally but I renamed it WAYS. It had the Palmer 8 hp gasoline inboard. There were two mfg'rs labels, one said US Yachts and the other Lunn Laminates. (??)

Thanks for keeping the marque alive.

Dirk Lewis (OSC member) The Off Soundings Club - webmaster also a member)
Chester, Connecticut
This email , of course prompted a bunch of webmaster questions, including a pic request, and Dirk responded....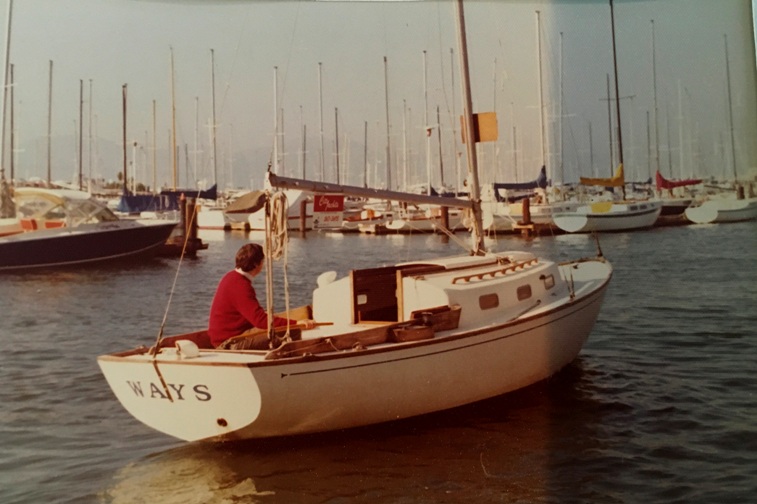 Hi Ron,

I sold #55 on 4/15/1977 when we moved East to Philadelphia. The selling broker was City Yachts, Foot of Laguna St., SF 94123. The selling owner was John Knox of Carmichael, CA. The bill of sale (12/19/1972) refers to Dolphin class mfg by Geo O'Day, hull #DO220.

A note attached to the bill of sale says the boat was originally called Quatrefoil and was built in the Fall of 1961 for Theodore Ryberg. Says it was on Lake Ontario, May of '62 to Oct '62 and May of '63 to Aug '63. Then on SF Bay from August, '63 to Mar '67 when it was sold to John Knox and name changed to Mahi Mahi.

I bought it on Dec. 19, 1972 and moved it to Marinship in Sausalito until my number came up for a slip at SF Marina Small Craft Harbor in 1974. Marina is across from the Safeway on the Marina green just East of Golden Gate YC and St. Francis YC.

We moved (my wife Jane & I) to Philly in early 1977 where I raced a Laser. Then to Duxbury, MA in 1979, took up Flying Scots. Finally moved to keelboats again when I realized I was never going to find the front of a one-design fleet!

Joined OSC several years after I moved to Chester in 1985 and went from a Norlin 33 (Moonburn) to a modified Holby Clearwater 36 (Touchstone) then went cruising with a Hallberg Rassy 39 (Cloudcover) and a Sabre 426 (Calamity Jane). My last sailboat was an Outbound 46 which I cruised from 2015 to the end of '19. The current Calamity Jane is a Sabre 45SE powerboat that I keep in Deep River which I expect will be my last.

Best regards,


Dirk
The Dolphin24.org staff has assigned a senior DFI living in San Francisco to do some checking and try and find out what happened to WAYS.
Stay Tuned