REPORTED SOLD August 20, 2016 - STANDING BY FOR THE NEW OWNER TO CHECK IN
August 12, 2016. Senior DFI Giles Grimston (ex Summer Wine) brought this to our attention. Vaura is FOR SALE.
Here is the Trade Me ad and details http://www.trademe.co.nz/a.aspx?id=1137504193
S&S 24 Falcon Keeler
Length: 7.32 Metres (24 Feet)
Year: 1985
Boat location: Tauranga, Bay of Plenty
Current bid: $2,800.00

Due to other commitments I am selling my very capable yacht. Ideal as a starter and very forgiving to sail Varua is ideal for weekends aboard or just plain fun sailing. Varua was refitted extensively in 2007 and has the following:

- Toilet with holding tank.
- Gas burner with all the crockery, cutlery etc needed.
- Well insulated chilly bin that needs a pack of ice to keep things cold for the weekend.
- Very good upholstery inside and outside.
- Electric anchor winch with good anchor and rode.
- Very good 9.9 Mercury Long Shaft with very little use. Motor purchased in 2013 reconditioned.
- Profurl roller reefing.
- Mylar sails by Doyle which need replacing if doing serious coastal but good enough for harbour duties and light sailing.
- Needs to be hauled and antifouled again.
- My Omokoroa swing mooring to use for free until end of Jan 2017.

********************************************

*****************************************************************************
May 3, 2016. Dennis Chionning is checking in and is looking for sails. Here is his email (minor edit)
Hi Ron,


I have a S&S Falcon 24 and I am looking for some sails for her. I bought "Varua" 2 years ago with Mylar racing sails and they are clapped. I do not race and feel she would be better off with a reasonable suit of sails. She has roller furling genoa so that could complicate things but I am rather desperate. If I need to go back to hanked on then so be it.

Hope to hear from you.


Kind regards,


Dennis
Webmaster Note: I suggested to Dennis he post a note on the Forum regarding his interest in sails - with contact info. If anyone would like to get in touch with Dennis let me know at RonBreault@Dolphin24.org and I'll let him know.
Welcome Aboard Dennis!
**************************************
***************************************************************
June 12, 2013. We have the following email from Donna and John Buck
Hi Ron,

We have sold our S&S 24' VARUA to a Mr Dennis Chionning of Tauranga New Zealand, so I've forwarded this link to him so he can register as the new owner.

I think he will take good care of her as he seems to be an experienced sailor who knows boats!

Thanks again,

Donna and John Buck

****************************************
Back on March 27, 2012 Donna and John Buck checked in as the new owners of Varua, a Falcon 24, Sail # K2576. We knew of this boat from a New Zealand Federation list we found online a few years ago. Here is their email (edited)
Hi Ron,

We now own the Varua, previous owner was Stuart Burge, a Falcon 24. We just got it about Xmas just gone, so we are still sailing around the Bay of Islands, New Zealand. An article was placed in the Opua Cruising Club's monthly newsletter by this fella from Hastings (Giles Grimston, Summer Wine), whose name I have conviently forgotten? We will ring him to see if he is online so don't worry if you don't have his email. He listed your website at the bottom of the article.

We look forward to your newsletters. Interesting to find out about the S&S 24s, Falcons and Dolphins, and any hints or advice re their restoration, etc... appreciated.

Regards,

Donna and John Buck

*****************************
On April 12, 2013. Giles Grimston (Summer Wine) saw the following ad on Trade Me and sent in the link http://www.trademe.co.nz/a.aspx?id=581714558. Check the link for more information and additional pictures. And on April 15 we go the following note from John and Donna (minor edit)
Hi Ron,

We are selling only because we want to go bigger, and do some coastal sailing, so we have already purchased another boat, a 30'er.

Varua is a great little boat to do some club sailing with or just enjoy the Bay of Islands waters, which we have for the last couple of years with her.

Cheers,

Donna and John Buck
Sparkman & Stephens Falcon 24
Asking price: $7,500; Listed: Thu 11 Apr, 11:39 am; Listing #: 581714558
GRP, self tailing winches, excellent rigging, clutches, 8hp Yamaha, kevlar Doyle sails,

squabs inside and out, cork cool store, fully working jabsco toilet, etc...
on mooring in Opua, come for a test sail,
this little boat sails beautifully, perfect for days aboard in the Bay of Islands,
sleeps 3 comfortably, also has 2 quarter berths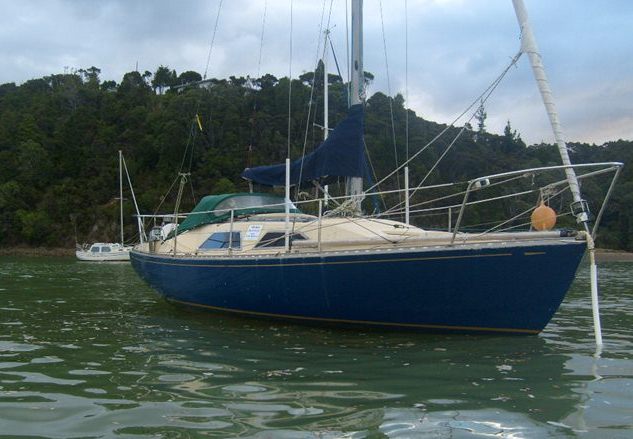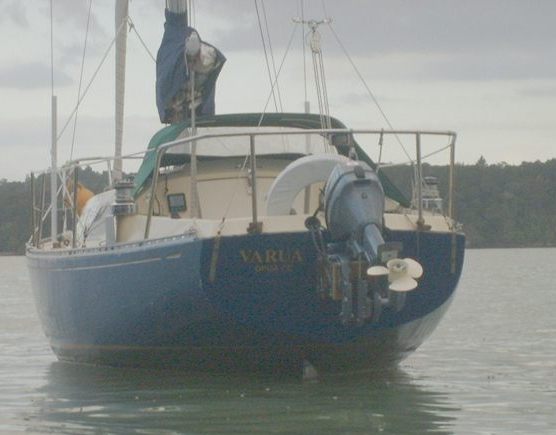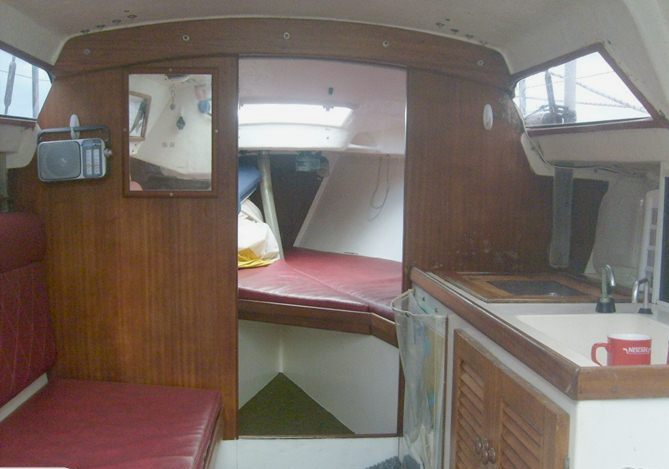 The end...of pictures here