May 15, 2010. Bob sent in the following email (minor edits) and 'before pictures' We'll reserve space at the top of this page for 'after' pictures.
Hi Ron,

I'm going to send you a batch of pictures, do what you wish with them. Just please note that I didn't let the boat get this way! I'm not the villain!

The glassed tube for the centerboard control line on my boat looks like it has been replaced with white dryer hose, the slinky kind of stuff, coated with white vinyl! Like I said, it is amazing the previous owner wasn't lost at sea. The board seems to go up and down without problem. The "string," is exactly what I describe, a piece of manilla twine. Will be replaced with SS wire. Yard guy thinks that some of the modern ropes, Spectra, for example would also work. I'm pondering. It'd have no corrosion issues...

(Webmaster note: Check out http://www.dolphin24.org/technical_cb%20winch.html)

You'll notice, barely, that the o/b is on a bracket on the transom. The motor well has been glassed over, apparently. Looks normal topsides, but no aperture on the bottom. Undecided what to do about that.

Head was a now illegal direct discharge, no holding tank. I think I'm just going to go with porta potty, and have the through hulls glassed. I think the only though hull I'll have will be sink discharge. Again, primarily day sailing.

Thanks for you reply, it is very encouraging to me to have someone to chime in and help with my education about these boats,

Bob

Note the aftermarket mid boom traveler hmmm.. tires?

************************
May 13, 2010 Bob advised us today that he has purchased Teaka. He has sent in the following report, minor edits. We're standing by for some pictures.
Hi Ron,

I've closed my deal on Teaka, hull 165. The boat is a "project boat," wanting for a lot. I was going to walk away from her, due the number of issues I could readily identify.

I flew from Texas to Hawaii to see this boat, so thought "what the heck, I've come this far, might as well go for a short sail since I'm here." Even though I wasn't going to buy her after seeing her. Big mistake.

The wind filled and she was off! What a great sailing little boat. I'd promised myself never to do another "project boat." But.as she cut through the swells and just kept on going, the very many visible defects just kept getting blurrier and blurrier until I could see nothing but a beautiful little ship cruising the Pacific waters, areas pretty as any I've ever sailed.

She is now on the hard getting a bottom job and who knows what else. All I know is that my disposable income is going to be taking a huge hit. There are swing keel issues, the board being attached with rope, and water enters hull. Her electrical system is a rat's nest of wires and cables, many of which are just wire or alligator clamped onto the battery terminals. Bilge pump is scary....not auto, no float. Immediate attention required as I will not be near her for 6 weeks or so. Hull was structurally good, but marred badly with tire marks.

I think, but am not sure, that she sports a shorter than most boom Webmaster Note: Maybe this boat was an early Wilmette Fleet boat? This fleet shortened the foot of their mains back in 1975, but many did not shorten their booms - see Celerity. Standing rigging appears original (yikes). Sheets of different sizes and material, couldn't tell you why. All exterior wood has been painted white, with some kind of substance. Someone didn't like bright work. Leaks from port lights, deck fittings need rebedding, stanchions missing, etc. No electronics, except inoperable VHF (OK with me), dime store compass (not OK) Sails were in OK shape, except for UV protection strip. Sail cover a mess and torn. Good Harken roller furler, with about a 110 up front. Needs a better o/b 2.5 hp is underwhelming, better suited for dingy - (inflatable stuffed in lazarette, owner never attempted to inflate. Not promising looking).

My first two questions are 1) is it common for other owners to take on water via swing keel slot, if so how much? (Webmaster Note: NO!! NONE!!) I'm guessing I'm taking 1/2 gallon a day. 2) anyone know if a Torqueedo electric might be viable. (Webmaster Note: A good question - lots of pros and cons. Probably needs a field test by someone willing to take the leap! Some info on this in our Technical Section - Click here to see it.) I'm giving it serious consideration as I will use her mostly for day sailing, close coastal. I could just hang the gas o/b on transom as a back up.

This boat will never be Bristol, but I think I can make her a nice senior citizen. She will live on Oahu's west coast.

Did I mention how well she sails? Wow!

I probably should have posted this somewhere else, but I am IT challenged and haven't figured out the Dolphin org site too well yet.

Thanks for maintaining the site, great info.

Bob Leahey

P.S. I don't think this is the other boat (KONO see below) that you referenced in the # 165 roster listing. Different state reg. numbers. Bottom different color, that boat had wood bright work. Other boat had hank on foresail, and looked in much better condition, with a trailer too. None of that is conclusive, but I'd bet against the two being the same boat. Just my 2 cents.
*************
December 15, 2009. We first heard about Teaka from Ric Stam on November 24 announcing he had purchased Yankee # 165 with more news to follow.The following is his email (minor edits)
The name of the boat is Teaka, hull # 165. The boat belonged to an army man that went to Iraq but did not come back. I bought the boat 3 weeks ago. I'm planning on fixing her up and sailing from Hawaii to Guam soon. I'll keep in touch.

Ric Stam
Stay Tuned
Webmaster Note: Could this boat have been Kono? Probably not. How many Dolphins can there be that have sailed out there??
*************************
July 6, 2010. Bob sent in the following email (minor edits) and pics. Cooler in Hawaii - looking at 100 degrees here in Connecticut - no sailing...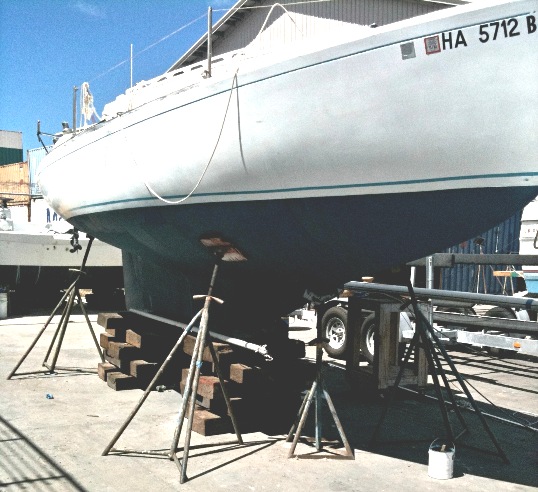 After - take a peak at Teaka's starboard side in earlier picture...
Hi Ron,

Hope you had a nice holiday weekend and were able to get a little sailing in! I see from the news it's been a tad warm in your part of the world! Cooler here, in Hawaii, but no sailing, still on the hard.

New bottom job, mast close to being finished with rebuild, standing rigging getting there, too. Still much to do, but hopefully things will start going faster now that I'm on island full time.

I've attached a couple of images...mostly to keep me motivated :-)

My motor well has been glassed over, I'm thinking of reopening it. I'm not sure that I like the transom mount, it keeps the engine a long reach away. I'd be interested in your or anyone elses thoughts....

Again, thanks for your site, I'm finding it more and more useful as I plod along!

Best,

Bob Leahey

p.s. Not a Dolphin...but can you imagine the maintenance?! Looks slow, too.

***********************
July 28, 2010 Bob sent in an update, and he has made his re-power decision (minor edits).
Hi Ron,

Just an update about Teaka. She is getting ready to be sailing again, hopefully by the end of this week. There is still lots to do, but I've got her "repowered," Non skid redone (Kiwi Grip, a product of which I'm very fond), new standing rigging, with the addition of external chain plates. Hope to step the mast tomorrow. I believe, hope, she is now seaworthy, if not the prettiest Dolphin in the world. That will take more time...and money!

I ended up with a 8 hp four stroke, long shaft, Mercury o/b that barely fit in the well. I will operate it as a "sail drive," and will not attempt to steer with the motor's tiller. The motor tiller does control transmission and throttle. It weighs just over 100 lbs. Attached is a picture, I'll try to send a few more in the next couple of days to illustrate the installation, etc.

I gave serious consideration to a Torqueedo electric motor, their big system, but it was very expensive, and I'd of had to add a lot of battery capacity to have a good cruising distance, so wieght savings began to be little to none, when 3-4 new batteries were factored into the equation. In the end, too, I was just too unfamilar with electric proplosion, and wasn't comfortable being the guinea pig on a 4,000 plus pound boat...closer to five thousand loaded up I'm sure.

This second picture is to illustrate the need for a sail loft here on Oahu! One would have thought Disney could pop for a new suite of sails!

Hope all is well on the east coast,

Bob
************************************
August 26, 2010. Bob sent in the following email (minor edits) and pictures.
Aloha Ron,

Just a quick update and a couple of photos.



Teaka, after many false starts, trials and tribulations, is floating on her lines. She appears to be seaworthy once more. Her bilge collects dust, rather than water!

The 8 hp Mercury outboard installed in the well was defective and had to be returned. The retailer did not have another long shaft, so I went with the 9.9 hp version. It is essentially the same motor with different carb jets, I'm told. When I next return to the boat, hopefully later today, I'll take a picture of the installation from the cockpit.





The tiller handle was too large, for the well, so some modification had to be made. It will be self evident in the following picture.


Teaka still needs a LOT of work. Much of it cosmetic (and expensive), I'm afraid. Much will have to wait. I'm a little tired of working on her, and am now ready to sail her for a change!

Still, from a good enough distance, she is looking pretty salty and has such a pleasing sheer, to my eyes anyway.

The sailing here is wonderful, with pretty constant 12- 17 knot trade winds. I hope you are having as nice sailing weather on the Atlantic coast!

Best Regards,

Bob Leahey

P.S. I visit the Dolphin site regularly for inspiration! Thanks for the continued effort!

***********************
October 15, 2010. Bob is making progress. Here is his latest email and a couple of pictures.
Hi Ron,

Just couple of pictures to show the progress being made with Teaka, hull 165. It is slow, but steady progress. I think, from an adequate distance anyway, she is starting to look like a Dolphin. The to do list never seems to shrink, but at least now I'm sailing her with some regularity. It seems we write so much more about our projects than our sailing! Probably no one wants to take the time to interrupt their sailing with writing. Conversely, I'd much rather type a note or two than sand paint off bright work...Not that the sanding is particularly news worthy or much to write about ;0).

Hope your enjoying a nice New England fall! Fall here in Hawaii, is, well, kind of like summer here in Hawaii, although the temps are dropping into the low 80's, for highs.

Best Regards,

Bob Leahey

***********************