March 10, 2013. Giles Grimston has been working for a while on a self steering system for his Falcon 24, Summer Wine. Back on November 9, 2011 he sent in the following pictures and commentary.
I copied this semi self steering gear from an old yachting magazine. If any one wants the blurb I am happy to provide it but in the meantime bits of shock-cord and pulleys costing NZ$2 and allows me onto the foredeck when single-handed, cheap and cheerful. They (the Falcon 24s) hardly need it as they are so easy to balance.

I have just fitted a Cunningham of sorts as we don't have a track and yes it works - 2 pulleys just to tighten the clew, 1 knot more. Very satisfying.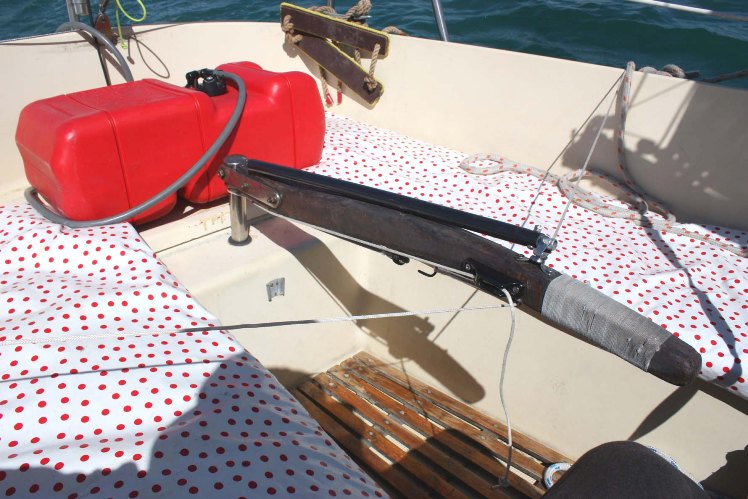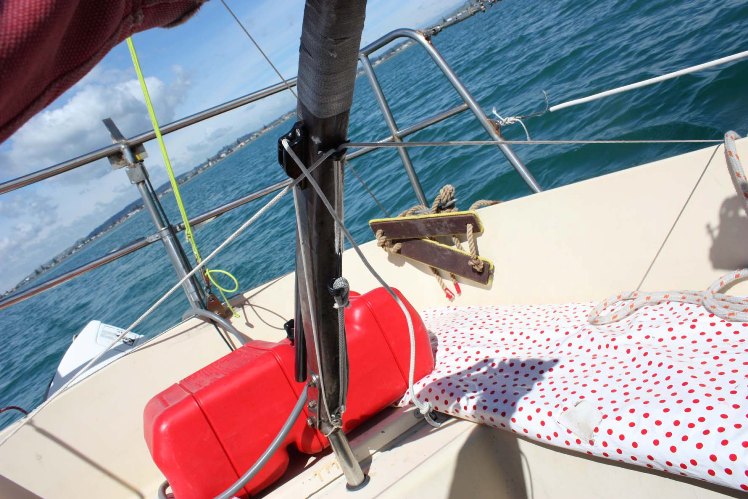 On February 2, 2013, Giles commented on the benefits of a clean bottom, and single handing with his 'new' self steering gear. Photos to follow. Minor edits
Hi Ron

Had a day to remember, 6.3 knots (GPS) wow and sitting between 5.9 and 6.2. for 3 hours odd. Started at 11 and finished at 5.

The wind got up in the afternoon and I had to revert to manual steering but before that with a cleanish bum, and the very odd white horse full main, and one up from genoa, self steered. (we got the clean bum part but "for odd white horse" - NZ translator needed...)

The self steering is great, the secret is the surgical tubing used in this set up. I forgot the camera. I copied the set up from this website http://blueanarchy.org/selfsteering/ - worked to the tee off the mainsheet. It worked for 3 hours at 5 knots mostly. I noticed constant course direction and wind helped. But not over canvassed as I was at 6 knots boat speed. I kept her between 120 and 65 odd degrees. When the wind gets up you really need to reduce sail otherwise the self steering cannot cope. I found the lighter the air the more elastic I needed to correct sooner.

I was doing 4 knots under my smallest jib, no main at the end! Wonderful.

I have to say it felt superb to be superfluous to requirements for $10 (surgical tubing) as she caned it along with only very minor adjustment. I was on the foredeck, hooked on, looking aft and finding it all rather splendid.

Kind regards

Giles

addendum/translator - Sorry my wife often says she needs to be telepathic with me. The "odd white horse" is blowing about 12 knots. The waves are just starting to break. I have a reacher, genoa, jib number 2 and tiny jib. My reacher is even bigger than my genoa. Sorry about my half cock message but in my exuberance I got carried away. Even today I have that post sail glow. Thank you

*******************************
March 10, 2013. We are still working on the photos part but here is a mock up and Giles' latest (minor edits)
Ho Ron

My dissertation for my PHD from the Heath Robinson academy of self steering gear. The latest and most effective yet.. I would have taken pics in situ but my daughter's camera was not charged!!! It worked a treat on a close and broad reach. Here is the link https://sites.google.com/site/crisflopt/navegacao/self-steerling page 14.

And here is a mock up (real pictures to follow)


8 Jib track fairlead; 9 Block to transfer sheet to the weather winch (missing in picture); 7 Cunning(ham) doohikkie that reduces the load and increases the sensitivity up and down (Came off the internet); 1 weather winch; 5 tiller; 0 adjustor camcleat for the weather helm or slide.

The surgical tubing on the left is added according to the wind speed. If you change tack you need another block between 0 and 5, or make another doohikkie but opposite.


The doohickkie


There is something very satisfying with this, it is so easy. There was a 2 metre swell and about 10kts of wind, pretty awful but she went very well with this set up.

Kind regards
Giles

********************************************
March 17, 2013. Giles has sent in a couple of pictures of his system in situ, plus a video on Windows Media Player, of the system in action - with sound affects! His email with minor edits
Hi Ron

As promised in situ. Worked well again but not great weather. I loaded a short video clip. It works!! proof... 

Kind regards

Giles


doohickie on port side set up

doohickie on starboard side set up
Click this link tiller movie for a short video (uses Windows Media Player) It will download and when finished click the button at the bottom left of your screen
***********************************************