March 19, 2017. Some things take a while. Today, we checked out that Ebay link and found out Sugar Bear was sold - 2 years ago Today!!. Anybody know what happened to her???
1969-Yankee-Dolphin
Item Sold
Item condition:Used
Ended: Mar 19, 2014 , 8:15PM
Winning bid:US $560.00
[ 15 bids ]
location:Norfolk, Virginia, United States
Seller: donationsales4u (121 )
**********************************************
March 15, 2014. Have to say it again - Sugar Bear moves fast. We got a tip from a website follower that Sugar Bear is up on Ebay. below is the link to the Ebay ad - followed by a great picture of Sugar Bear and some excerpts from the ad.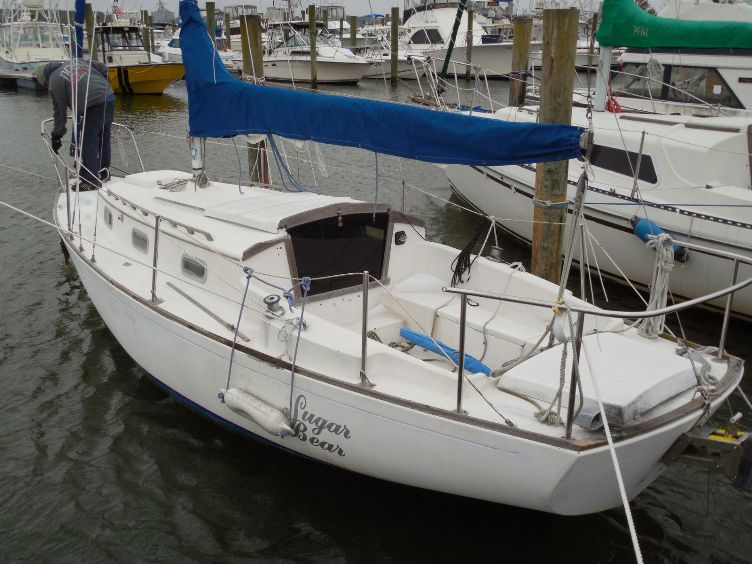 Click on picture for a larger view
1969 Yankee Dolphin Sailboat

Sparkman and Stevens designed this is a highly desirable boat. Nice little unit here, in VG condition for the age

No motor comes with this boat, it does have a nice motor mounting bracket on the stern

Decking in VG condition, Interior in Good shape, no soft spots were noted anywhere, Topside VG, no soft spots noted

Mast is solid, main sail in VG condition and has been covered to protect it from the elements. Barient winches

Sold with clear VA title and bill of sale

Located in Norfolk VA, secured marina and not available for viewing

*****************************
August 1, 2012. Sugar Bear moves fast. We heard from Jerry Krubach on May 10, 2011, checking in for his brother Jason, as her new owner. Since then, she has been sold twice! Jim Gregory bought her solely to get her 9.9hp outboard to put on his larger Cape Dory, then advertised her For Free on July 12, 2012. Caroline Johnson is her new owner and we are standing by for Caroline to check in.
Here is Jim's ad.

*****************************
Here is our record. On May 10, 2011 Jerry Kruback has advised that his brother, Jason, has bought Purnell Delly's Sugar Bear. For now the boat will be kept in Virginia Beach. We standing by for more information.
November 6, 2011. While we have not yet heard from Jerry or Jason we have the following file pictures of her interior from when Sugar Bear was for sale.
| | | |
| --- | --- | --- |
| | | |
| The nameplate | Very clean look | Just in case you missed - our lamp! |
*****************
April 20, 2011. Sugar Bear has been relisted For Sale on Craigslist. On February 12, 2011 DFI David Blakey brought this boat to our attention - she is a newly found Dolphin, our 173rd. Hopefully, Purnell Delly will check in soon. Here is the link to the updated ad and the text of the new ad. The old ad text is below
24' Cruising Sailboat - $2900 (Norfolk, Virginia)

http://norfolk.craigslist.org/boa/2336225940.html

Date: 2011-04-20, 9:41AM EDT
Reply to: sale-k7rym-2336225940@craigslist.org [Errors when replying to ads?]
________________________________________

24' Yankee Dolphin. Equipped with 9.9 Honda engine (only 50 hours use), Harken roller-furler, and Raytheon auto-helm. Installed marine head. Joy

*****************************

Text and pictures from previous ad
This is a genuine 24' cruising sailboat that I have sailed up the Chesapeake to Washington DC for a year, then sailed back to Norfolk/Virginia Beach. It is outfitted for comfortable two and three night trips. Last summer I anchored in Smithfield for the night, opposite Norfolk Waterside twice, have taken her up the Dismal Swamp Canal from Elizabeth City, and spent overnight anchorages in the lower Chesapeake and Potomac River. She is specifically rigged for ease of sailing by one or two people -- she has a $1000 Harken roller-furler, unusual for a boat of her size, so changes of sail from larger to smaller as the wind picks up don't have to be made -- all you need to do is roll up the sail. She has a new $600 Raytheon auto-helm that will steer the boat by the magnetic compass while you relax or trim the sails. Most importantly, I replaced the Evinrude with a new $2000 9.9 Honda outboard specifically made with a longer shaft to drive sailboats. This engine has 50 hours on it, from my use last summer. She has a head (toilet) for the ladies that works perfectly. I will take you on a test sail and provide receipts for what I've done to her. This is a perfect cruising sailboat for two or three nights out on the Bay in the summer. With her board up, she draws only 3'. She has new and comfortable blue vinyl cushions, inside and out, for sleeping. Finally, this is a "coffee table" design by the famed marine architects Sparkman and Stephens -- a Yankee Dolphin 24. I wish I could find a way to keep her. One of the photos below shows the boat underway but no one in the cockpit; that's because if you look closely, there is a gray "arm" attached to the tiller, which is the Raytheon auto-helm, steering the boat while I am up at the bow taking the picture. Another picture shows us on the Pasquotank River coming up from Elizabeth City NC and heading into the Dismal Swamp Canal...

This boat is priced to sell. I will take you on a test sail and provide receipts for what I've done to her