Spindrift, carrying sail # 18, was one of the many different boat photographs of S&S designs that were in the 3 panel centerpieces on the tables of the Sparkman & Stephens 75th Anniversary celebration dinner held at Mystic Seaport on July 10, 2004 (click here to go to it.)

This is a photo of the actual centerpiece that, magically, was on your webmaster's dinner table! Somehow, this centerpiece managed to find its way to your webmaster's home office bookcase. Sprindrift is a Peter Barlow photo that appeared in the "Best of the Best" book by Frank Kinney.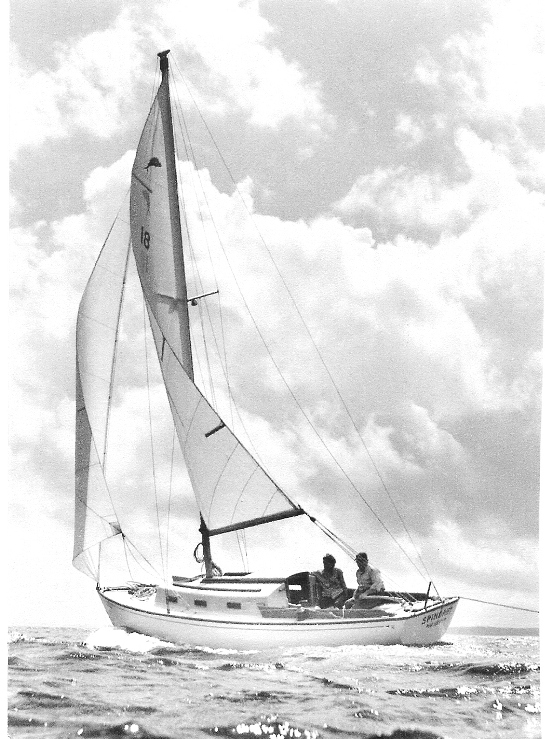 Its hard to make out the hailing port on her stern - its Port Jefferson (NY). Maybe someone will recognize the crew?
We need to track down the origins of this photograph and get Spindrift's story. We can't be certain that her sail # and hull # were the same but its a good bet.
Many thanks to S&S's Harry Morgan who tracked down Albert Schlatke, Spindrift's original owner. He found it in a rating certificate book - measured by Richard Carlson on June 16, 1962.
***************************
June 28, 2014. Somethings take a while. Your webmaster was checking out Canopache's home page and noticed a comment that former owner, and DFI, Eric Varty had made regarding Kevin McManus' (Canopache's new owner) unsuccessful efforts to buy back a Dolphin 24, Sail #18, that he had owned years ago. This of course required a staff meeting and reprimand for not properly following thru with this matter. It seems #18 is now in the Marblehead, Massachusetts area. Staff will redouble its efforts to contact Canopache's current owner Kevin McManus.
And we did!! Today we spoke with Kevin McManus who was in fact the former owner of #18. He did try to buy her back but current owner Mark Grady wanted to keep her so instead Kevin bought Eric Varty's Canopache. Kevin told me that he bought #18 in Branford, Connecticut around 1979. He vaguely recalls that her name was indeed Spindrift, and she had a white hull. He painted the hull green and named her Running Dog. We have a few more holes to fill in Spindrift's past and staff will continue work on this project.
Click here to go to Running Dog's home page.
ps If the reader is wondering why your webmaster was checking out Canopache's home page Stay Tuned for a developing story....Hint - there is a Port Jefferson connection.