Brilliant, owned by Mystic Seaport, is the 'vessel' used to carry you through this 7 minute video on Youtube of Olin Stephens' life in boats. An extraordinary voyage produced by Mystic Seaport. Click here to see the video.
A BRIEF HISTORY OF BRILLIANT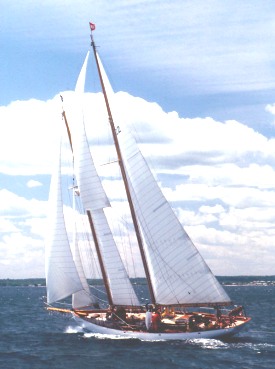 The schooner Brilliant has the reputation of being one of the highest quality wooden yachts ever built in the United States. Henry B. Nevins of City Island, New York were her builders and Olin Stephens her designer. She crossed the Atlantic in 1933, sailing from the Nantucket Lightship to Bishop's Rock in the record time of 15 days, one hour and 23 minutes. She has participated in several Bermuda races and transatlantic voyages. During World War II she served with the Coast Guard as a patrol picket vessel. After the war, Briggs Cunningham, bought her at auction, restored her, and in 1953 donated her to the Museum.
Brilliant is used by the Seaport as a sail training vessel to introduce young people to the arts of seamanship. If her slip is empty when you visit, it is because she is at sea doing teen or adult sail training. During her 2000 season she participated in Tall Ships 2000 Race Legs and other voyages on both sides of the Atlantic. She took first place in the Tall Ships Race from Halifax to Amsterdam.
BRILLIANT'S SPECIFICATIONS:
L/B/D: 61" 6" × 14' 8" × 9' Rig Height 81'
Displacement: 38.5 tons Engine Detroit Diesel 353
Hull: teak planks on oak frames Bunks 12
Designer: Olin Stephens Built: Henry B. Nevins, City Island, N.Y.; 1932.
For more information on Brilliant, click here