Someday, we are going to find Captain Dan and get Someday Arrived's story. He sold his boat to Simon Graves - Supernova - but that's another story.
February 12, 2009. And someday did arrive.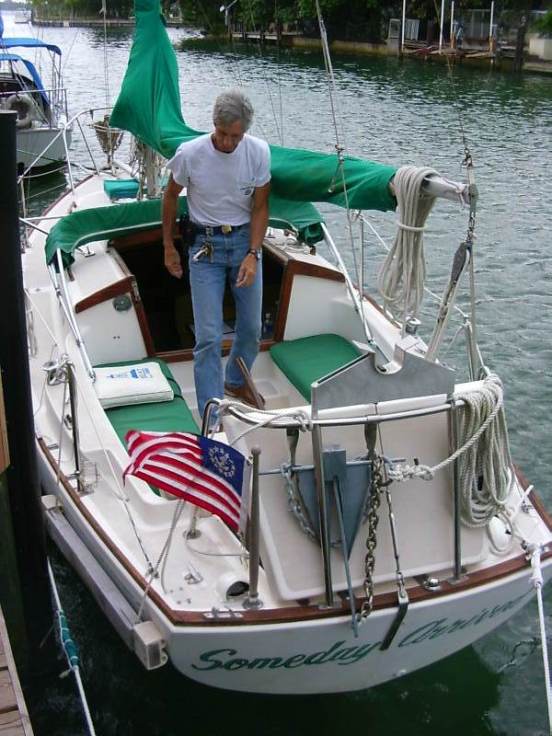 *******************
February 23, 2009 - Dan sent in the following email (edited) in response to some follow up questions from your webmaster.

Hi Ron
I bought the boat from Rod L. Stevens in Boca Raton in July of 1994. Rod was a real Mench. He felt that the boat needed a new coat of bottom paint and he ordered it done, and paid for it when we hauled the boat for the survey. Never forgot that, and I have "Passed it Along" to a buyer of my most recent boat.
Ron was a real enthusiast of the Dolphin. He had "T" shirts made with a picture of the boat on the shirt and gave them to guests. Classy guy! I still have mine.
The stern rail and "Mast Crutch" (see above picture) were part of a successful mast raising system I devised. There was a fellow that had come up with a telescoping mast that I could tell you about, but it was not installed on any Dolphin that I know of.
There were some things that were done differently in the Pacific Dolphin and not for the better I have heard. The mast support beam is one of the items that was weak. (anyone have more input on this?)
Stay in touch Ron, I would like to see your research.
Dan Levinson
Hull 156
*******************