This section is a hodgepodge of interesting Dolphin stuff, some of which may develop into a full fledged Story.
1. No Worries Yankee hull # 79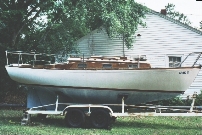 She has a fiberglass hull, otherwise all wood and needs work. She was in South Carolina and recently has a new owner whose taking her to Tennessee to continue her restoration. Her prior owner told us when he got her in 2005 from a friend's estate she had old charts from Florida and all over the Gulfof Mexico.
.