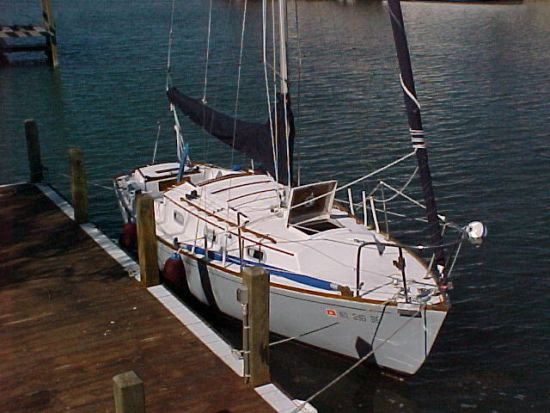 Frank Collias was interested in Dolphins, saw the notice in the For Sale section that she was for sale and contacted the the website with the following email:
May 31, 2008

Hello Ron,
You have put together a really nice site. I have only recently discovered Dolphin sailboats so I appreciate what you have put together.

I would like to talk to the Roberts in San Antonio about their boat but there is not contact info and I could not find their ad on Craiglist.

Would you please send me an email address or forward mine to them. (DONE!)

Thanks,
Frank Collias
Marietta, GA
On July 29, 2008 we received the following email from Frank
Hello Ron,
Well, I traveled to Corpus Christi this weekend to meet Steve Roberts and look at his Dolphin. Hurricane Dolly was a bit rough on her. For about two days the boat rubbed against a piling. The result was abrasion at the toe rail and fiberglass at the deck seam. There is a 3 inch opening at the seam of about 1/16 of an inch. We came to an agreement and I purchased the boat anyway...I feel confident that this issue can be effectively dealt with. So now I have a boat in Texas and have to get it back to Marietta, GA.

I am having a trailer put together for me but need measurements from the transom to bulkhead locations so that support pads may be appropriately placed. Do you have any accurate drawings from which I can take measurements? Or, do you have any information or experience on where to best place support pads on a Dolphin?

Thanks for putting me in contact with Steve and Lori. Steve met me at the boat and was gracious with his time in helping me understand the boat.

Regards,
Frank
Your webmaster must confess to a certain satisfaction in the role that the website played in this outcome!
********************************
August 15, 2013 We have the following update from Frank (minor edit).
Hello Ron,
It has been a long time since I have been in contact with you but my Dolphin is safe, dry, and awaiting my attention. When I first purchased her my plans were to be on the water within a few months. Life has a way of changing plans. However, I am pleased to say that I will now be starting her renovation and hope to be on the water by spring.

I plan to begin the restoration next week and will document everything pics and video for the site. I actually can not wait to begin.

Thanks,
Frank Collias
Marietta, GA.
*************************
*******************************************************
This is the history we have on Serendipity up until Frank bought her. Early in 2008 your webmaster saw an ad on Craig's List for a Dolphin in Corpus Christi, Tx. In a continuing effort to find homes for our Dolphins I contacted the Roberts and got the following email, edited. It turns out that we already had Serendipity in our database as a remnant from Jim Huxford's old Dolphin website. Steve sent in an email tpo Jim Huxford 8 years ago - see it at the bottom of this page!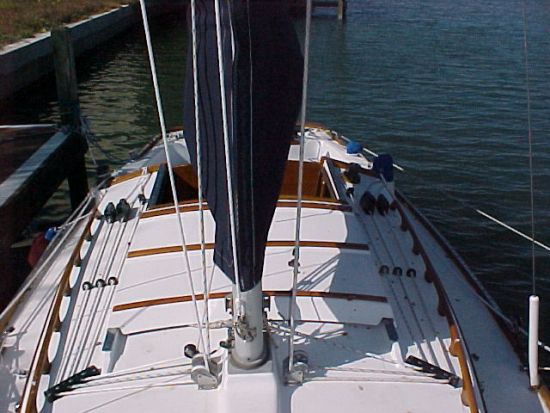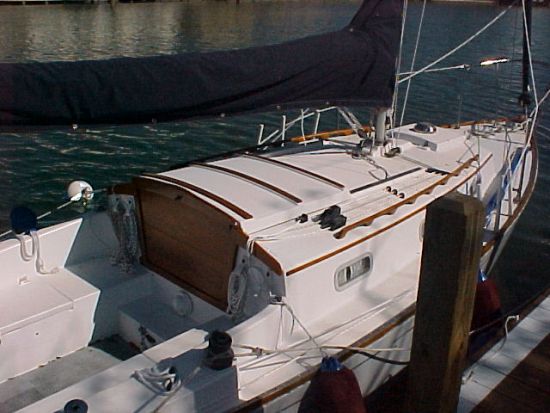 We got the following email from the Roberts
February 7, 2008

Hi Ron
Sorry for the delay in my response...have been out-of-town. We would love to have the boat on the Dolphin website. The boat name is "Serendipity"


I have pictures but they are from quite awhile back. With some clean-up, the pics show what it can look like. Since the boat is in Corpus Christi and we are now in San Antonio, I can not send you recent pics which would show the actual condition. It isn't bad, it just needs attention.

We would have brought the boat to a lake in San Antonio but could not find a trailer. Do you have any ideas on how we might find one for hauling purposes? Our first choice is to sell but need to move it soon either way.

Please let me know if there is anything else you need. Thanks for your help...

Lori and Steve Roberts
**********************
Details of the Craigs List Ad
Great boat needs a new home.
Made by Pacific (Yankee, webmaster correction) boats in 1971. Sparkman and Stephens design.
Full keel draws 2' 10" board up
All lines lead aft for single handing.
Roller furling.Harken.
New (5 hours) North Sails, both main and headsails
Needs bottom soon and a good cleaning. In the water in Corpus Christi TX
Sails beautifully and is always well behaved.
Interior very clean. Sleeps four and has flush head, new stainless
alcohol stove.
No trailer (universal will work). No motor but it's a sailboat.
Asking $3000 but worth much more. Will consider offers.
*******************************
Your webmaster found the following email on Jim Huxford's old site: When I found this back in 2007 I bet myself that Steve still has her.. (Webmaster note: As you can see from the above he did still have her!!)
Subject: Dolphin Brochure
Date: Tue, 22 Feb 2000 12:35:39 EST
From: Ccremedy@aol.com
To: jhuxford@apci.net

Jim,
Love the pages. I own "Serendipity" hull #179 ...for the second time.I sold her (reluctantly) to start up a business in 1998. I kept close track of her and this past Sunday I decided instead of the Beneteau 39 or the Pearson 35 I had a deposit on, I wanted my Dolphin back. She's at my dock on Padre Island behind my home so I'm able to sit on my deck each evening and admire those wonderful lines.

I originally bought her for $3500 in 1994, I then sold her for $5000 in '98, and bought her back for $6500.

The most recent owner added nothing but bird guano.

My Dolphin is home. I am whole again. I'll send pictures this weekend...she's beautiful.

Can I get a copy of the brochure? Thanks.

Steve Roberts
13534 Ducat Ct
Corpus Christi, TX 78418

************************