February 8, 2012. As a consequence of our efforts to better understand, and record, the history of the SS 24s and Falcon 24s built in New Zealand, we needed a better understanding of the company and men who built them.

The story starts more than 40 years ago and we are fortunate to have some of it in the words of those that were there at the time. We'll start with William Douglas Bremner (Doug), the man that knew Olin Stephens, and commissioned Sparkman & Stephens for the design of the SS 24. Doug passed away in 2006.

At left is a picture from the Sparkman & Stephen's files of Doug Bremner (on left) with Olin Stephens.

Kim McDell, Founder and Managing Director of McDell Marine, Ltd, has both sailed with and worked for Doug. He sent us the following (minor edits) on February 6, 2012
Hi Ron

Happy to contribute

Doug Bremner was a very successful and highly respected businessman whose main business interests were in carpets (Bremworth Carpets Ltd) and farming, and he was also Chairman of The New Zealand Wool Board for some years.

He was a passionate sailor and commissioned S & S to design him a 60ftr, named Ta'aroa, to take on the biggest and fastest fleet of A Class keelers in Auckland. In the late 60's he sold Bremworth to UEB, a large (by NZ standards) public company, and during his restraint of trade period bought a fledgling fibreglass production boatbuilding business called Marine Plastics Ltd who built boats under the brand of Sea Nymph.

His named the company Sea Nymph Ltd and proceed to develop the business into NZ's largest production builder.

Webmaster Note: Picture at left is the cover of the original Sea Nymph brochure for the S&S 24, at one point in history known as the Bremner 24 (see below). To see the complete brochure, click here

My association with Doug began in 1973 when his son Andrew invited me and my brother Terry McDell (we were sailors of some success and representing NZ, went on to win the world 18ft skiff title in 1974 and the World Half Ton Cup in 1977. (Terry was on the winning NZ team in Admirals Cup in 1987). to join the crew of Ta'aroa for the 1973 Auckland to Fiji Ocean race (1000 miles). This was Ta'aroa's first ocean race and we enjoyed a great race, winning and breaking the race record which stood for many years.

Webmaster Note: I hope Kim won't mind if we let Ta'aroa make an appearance here. And for more on this remarkable boat check out Sparkman & Stephens' President and Chief Designer, Bruce Johnson's comments on this boat by clicking here.

By this time the Sea Nymph business was going well and Doug was in search of a Financial Controller. Being an accountant, a keen sailor, and fresh from a great experience in the Fiji race, Doug called me and enticed me to join the team at Sea Nymph. This I did in mid 1973 and I, and the then manager Peter Gribble ran the company for Doug with great success. By 1975 it became apparent that the restraint of trade in the carpet business was over and Doug was pursuing new ventures in the carpet business, and reinvestment in the boat business was taking second fiddle. At this same time the NZ economy was on a downer, things were tough and the boat business was suffering so we said to Doug that we might move on.

To cut a long story short, Peter and I bought the company from Doug in mid 1975 and it became Sea Nymph Boats Ltd. With big mortgages and funding from Doug we were on our way with our OWN company. At that time we were building mainly small power boats with a few others like the SS24. By this time we had formed a strong relationship with Bruce Farr who had designed our 18 footers and we were starting to have some big international success. We immediately commissioned him to design for us a range of trailer yachts (Farr 5000, Farr 6000, Farr 7500, and Farr 740 Sport) and later on, some bigger yachts including the Farr 1020, Farr 1220 and Farr 940. From 1975 to 1987 we had a good run both locally and export with the power boats, trailer yachts and the bigger yachts and sold the company in 1987 to a public company Questar Ltd.

The share market crash came and went and Questar got into trouble. We bought back the yacht business (not the Sea Nymph power boat business) and named it McDell Marine Ltd. This we ran successfully through until last year. The last 15 years we formed strong relationships with Toyota in Japan and built 250 of their first power boat (28ft) and built 60 boats for Oyster in the UK (Oyster 53, Oyster LD43 and the Oyster 54). Unfortunately when the latest crunch came the orders from Oyster could not be maintained at the level we needed so we decided to close up shop while we were on top and go do some sailing.------- a short history!

Kim McDell

********************
We also heard from Doug Bates several times over the past few weeks. He was an associate of Doug Bremner from the carpet/flooring days, and also the owner of the first S&S 24, Sprite, K1395. He was with Doug Bremner in the early days and has added a lot to our knowledge and understanding of those times. He sent the following email to Giles Grimston (Summer Wine, Falcon 24) on February 6th, 2012 (minor edits)
Hi Giles

I owned the first SS24 called Sprite built by Sea Nymph at the East Tamaki factory under the control of A E Griffiths. Sprite proved a very fast little boat especially in the light weather and, sailing with my family, we won many races. She was also an excellent seaboat and we sailed her up the coast as far as Manganui and down to the Whitianga. Of course with a family of four young children we were short of space so two children slept underneath the cockpit seats.

After selling Bremworth Carpet Company Doug Bremner, under the name of W D Bremner Ltd, purchased the Sea Nymph Company at Glen Eden from Wilfred Hoelen who continued to work for us. Wilfred made fibreglass runabouts using a chopped gun layup and produced one boat per week. The boats were of a good quality and the firm had a very good name. Wilfred also purchased an SS24 and we often cruised together - see coming photo where we set off together for the Great Barrier Island with my elder son acting as forward hand for Wilfred and his wife, plus a a big Alsatian dog.

Sea Nymph subsequently ramped up production to twenty boats per week and built a new factory at Glen Eden. My job was finance controller and liaison between Wilfred and a new manufacturing facility at East Tamaki where the SS 24 was built. We were using the design and lay up specifications from Olin Stephens - who also designed Doug Bremner's sixty foot yacht Ta' aroa. The initial idea for the business was to build a small keelboat first before going on to bigger boats. Later we sold hulls and keels to De Joux who designed a new deck with much more headroom. Not to sure of the dates as I subsequently became involved in our start up of a carpet manufacturing company in Sydney, Australia, and later in Foxton, New Zealand.

Doug Bremner then decided to sell Sea Nymph to Kim McDell, a well known yachtsman who worked for us as an accountant and Peter Gribble who was our salesman.

I hope the above will add something to your archives, together with photos and clippings I am sending you. .Although the SS24 was not designed as a quarter- tonner, she came in under the rules so we raced her in one or two series.

Regards,

Doug Bates

**************************************
We also heard from Brian White who was the shop manager at Sea Nymph during the period when they were building the SS 24. He sent in a couple of short emails within past days regarding his recollections, in particular about the resin systems used. Those comments are below
Greetings

I was the mould shop manager at Sea Nymph during the period when they built the SS 24 (Falcon 24). These boats were built on contract to Ferris on Saturdays when we did the entire layup of the hulls and decks. As you probably know the hull was a split mould which was joined after the main layup was completed. My memory of the SS24 is that Sea Nymph built the decks and hulls and furniture. The boats were always built with Dulux gelcoat and resin. The resin was based on DCPD BASE which was quite unusual - but it was a high quality product and Ferris insisted on our using it.

When we were going to build the Farr 1020 we tracked down several SS 24s to look at their bottoms with regard to osmosis as at that time we were looking had at this problem hard at that time. We did not find any problems with osmosis which gave us some confidence in that particular gelcoat base resin.

Brian White

**************************
February 18, 2012. We received an old marked up copy of a sail plan from Dave Giddons, a New Zealand sailmaker. It appears to be a copy of the the original Dolphin 24 sail plan, dated April 15, 1959, and updated to version 1497-C1, the S&S 24. It has a penciled in notation "Bremner 24", possibly an early consideration for the name of the S&S 24.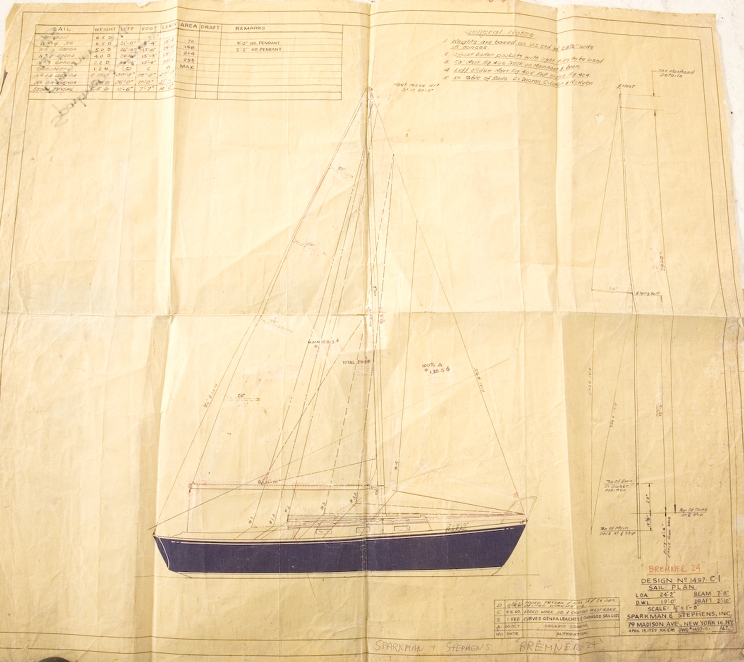 Note: Bremner 24; also note draft 2'10" - the Dolphin 24 draft, the S&S 24 draft is 4'2"
Stay tuned

Click here to go back to the New Zealand 'home page'
.