September 14, 2009. Carl checked in Our Knots, Yankee # 211. The following are his emails (minor edit) and pictures.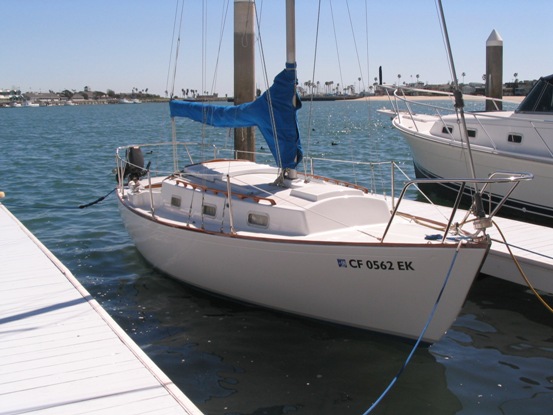 Ron:

I am the owner of Yankee Dolphin Hull #211 built in 1970. The boat is named Our Knots which I purchased in 2000 from Rob Arnott (thus the name). Prior to that, the boat was owned by Rob's father Bob. The boat is moored in Long Beach, CA in Alamitos Bay. I couldn't find a way to add this to the list on the website, but thought perhaps you could do it for me.

Best regards,

Carl Boller

*****************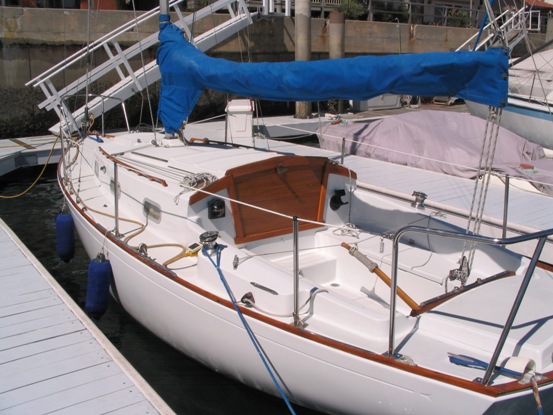 September 15, 2009
Ron:

Here are some pictures. I have done a fair amount of restoration on the exterior of the boat particularly in stripping and grinding paint out of the nonskid pattern on the deck, completely redoing the nonskid on the cabin top, spraying the topsides with LP and varnish work. Otherwise, I have no real history to provide at this point, but if I am able to dig something up I will forward it.

Best regards,

Carl

*******************
November 20, 2010 - So, you have been wondering about #211's name, Our Knots? Noting that we did not figure it out with the previous owner clue above, Carl sent in a short note - the previous owner's name was Rob Arnott, hence Our Knots.
Carl is a New Yorker but spends about 10 weeks a year in California, sailing almost every day when there.
******************
April 5, 2018. Its been a while since our last update but things are OK with Our Knots
Hi Ron:


Nothing has changed much except that we are spending more time in California so are sailing the boat more frequently. Otherwise nothing significant to report.


Thanks for the follow-up.


Carl

*******************************************