I was looking for a good reason for another newsletter and I got it this morning. Yankee Dolphin #172 (Segura?) is for sale under somewhat unusual circumstances and it needs to be sold by the end of this month. The details were put up on the Forum and in the What's new/Roster Sections but for those of you who don't religiously check the website every day here is the ad:
Hi

I just got a Yankee Dolphin 24, Hull #172 as a gift. The registration is current with 09 stickers. I was planning on living aboard and putting the boat in the mooring area here in Santa Barbara, CA, but now I am going back to Mexico and I won't be able to do it. It's still pretty dirty and needs new paint, rigging and centerboard. The hull is fine, no cracks. The mast is fine and she has old sails.

I spent about $200 in paper work and for a solar panel and cleaning gear and will practically give this boat away. Give me a call as soon as possible; I'm leaving for Mexico at the end of the month.

Rigo (805) 698 7617
I know some of you are looking for Dolphins and rather than give someone an unfair head start I thought this was the only way to be fair…. Go get her!
On other fronts, I have made the much postponed visit to the Blunt Library at Mystic Seaport to research old magazine articles and records on Dolphins but did not come up with much – a few leads that might produce some interesting tidbits of info in coming months.
I did identify 17 Dolphins that raced in the Off Soundings Club (OSC) in Class B2 in the 60s. They were pretty much the boat to beat in this 45-50 boat section. OSC runs 2 regattas a year – a Spring and Fall (2 races each) Series - with 150-200 boats in those days. It was loaded with big name sailors – Bob Bavier, Bus Mosbacher, Carleton Mitchell (with Finesterre), Richard Nye, to name a few. Shamon and Savilli were overall Class B2 annual winners in 1965 and 1968 respectively. Trina was overall Class B2 winner in 1957.
We still need more information about the builders Yankee and Pacific and related to that, the existence of an interesting gap in Dolphins built between 1972 and 1976. We also need information on the Canadian builder J.J. Taylor (Toronto)
The Down Under connection to S&S 24 and Falcon 24 fin keeled Dolphins has been an interesting development. At least 52 boats were built. It's surprising that we don't have one of these here in the US.
Jack Farley, the Historian for the 15 boat Wilmette, Illinois fleet promises his write up early in 2008.
We need to find out more about where Dolphins are cruising. Marionette is planning an extended Maine cruise in 2008. With our draft we can poke into holes that others can't go, or get a lot closer in than the big girls. This is info we can share.
Typing Dolphin 24 sailboat into Google's or Yahoo's search engine will bring the site up at or near the top of the page. We have not passed a million hits yet…I cleaned up a lot of the grammar, spelling and typos but need your continued help with these and other corrections. And I need your suggestions on how to make the site more interesting.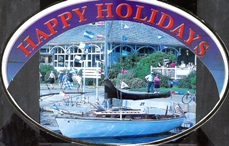 Finally, I'd like to thank you all for your support on this Dolphin website project and wish you and your families a great holiday and smooth sailing in 2008.
Ron Breault
Webmaster
Ps A New Year's resolution – I will get the audio of the Olin Stephens interview up on the site in 2008.