Patience, this will take some time. In anticipation of this voyage Dolphin24.org website technical staff did some research. This research was in our pending file, and then, unanticipated events intervened. Summer Wine eventually postponed completion of this voyage, but this research must get published lest it get lost. Click here to go to Summer Wine's page when Giles Grimston was her skipper.
Hawke's Bay is formed by the two headlands on the east coast of the North Island of New Zealand - Portland Island off Mahia Peninsula amd Cape Kidnappers east of Hastings. From Napier to the 'neck' at Mahia Beach is 50 nautical miles. Getting back safely from any voyage is goal # 1 and Summer Wine met that goal.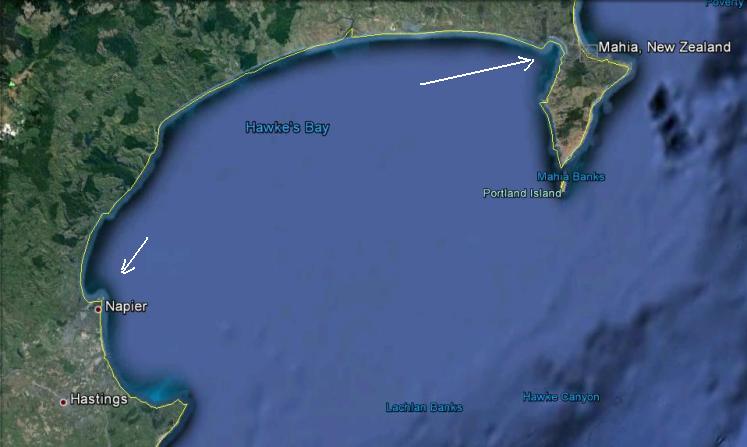 Cape Kidnappers was named after an attempt by local Māori to abduct a member of Captain James Cook's crew aboard HMS Endeavour, during a landfall there on 15 October 1769.

Cook described the cape as having steep white cliffs on either side, with two large rocks resembling hay stacks near the headland.

There is a good anchorage at Mahias Beach except when the wind is from the south.

This coast was surveyed in the 1850's by Commander B. Drury in H.M.S. Pandora, a Packet Brig built in 1833 Greenwich, England by Woolrich Dockyard and launched 04-July 1833, 90ft long, 29ft wide and of 319 tons.

This picture is a similar 2 masted packet brig named Jack.

Cape Kidnappers
Why is this important? Because the Mahia Peninsula has no natural shelter in bad weather, is a lee shore with southerly winds, and mariners need to take care.
So, this summer, Giles Grimston mused about a single handed crossing from Napier to Mahia Beach. Below an excerpt from a January 28, 2013 email
Hi Ron

I am getting a few boats together to try and do a 50 mile single handed across the bay to Mahia during the Feb full moon and exploring sheet fed self steering. I am advised that this best suits long keel boats by one grotty yachtie. Any thoughts? *** There are quite a few interesting articles online on main sheet and jib sheet feeds but no hull shape is mentioned.

Giles
***Webmaster Note: Marionette is hi tech - AutoHelm ST 1000 http://www.dolphin24.org/technical_custom_tiller_bracket.html
March 3, 2013. Giles sent in his report on Summer Wine's first attempt of the Hawke's Bay crossing. It remains a goal..
Hi Ron
We tried to get to Mahia, left at 6.30 with the sunrise. I refuse to motor for hours on end and by 12 we had made 13nm so with a cloud cover looming, decided to turn round as the place we were trying to get to has nothing but rocks.

23 knots of wind at about 1pm, reacher and full main, magical.

I sailed with one of your compatriots and, sadly for my liver, we got on famously and had a splendid day. I dread to think what the week-end would have degenerated into. He said if I thought Hawkes Bay was small town he spent time in Dodge City and regaled me from there. He did his time in Vietnam, great day.

The next full moon is Easter and we are considering early down payments to the Memsahibs of the house to get time off.

Will keep you posted.

Kind regards
Giles
Its just coffee....
The rest of Giles' life got in the way and he sold Summer Wine at the end of April, 2013
*********************************