August 3, 2013. Marionette's planned Maine cruise is off and the operative phrase is 'wait til next year'. A quick overnighter across Long Island Sound to Greenport and Shelter Island, while not exactly a 9 day cruise to Maine, helped ease the pain.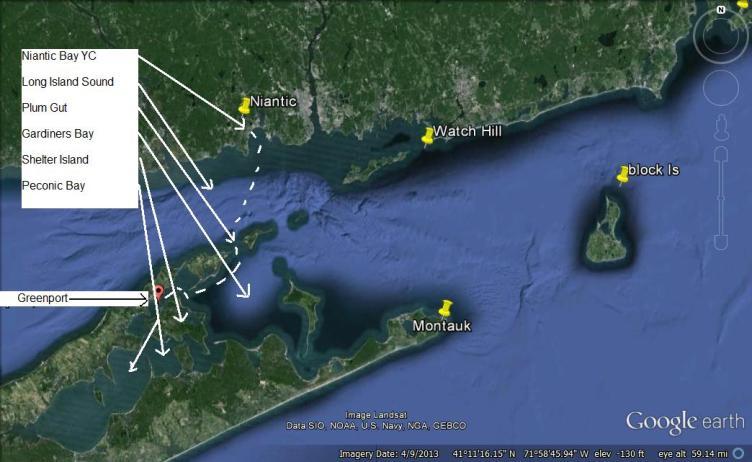 This trip is, roundtrip, about 30 miles - pretty much due South across Long Island Sound, through Plum Gut, into Gardinder's Bay along the south side of Orient Point, along Long Beach, around the north tip of Shelter Island and into Greenport, and then back.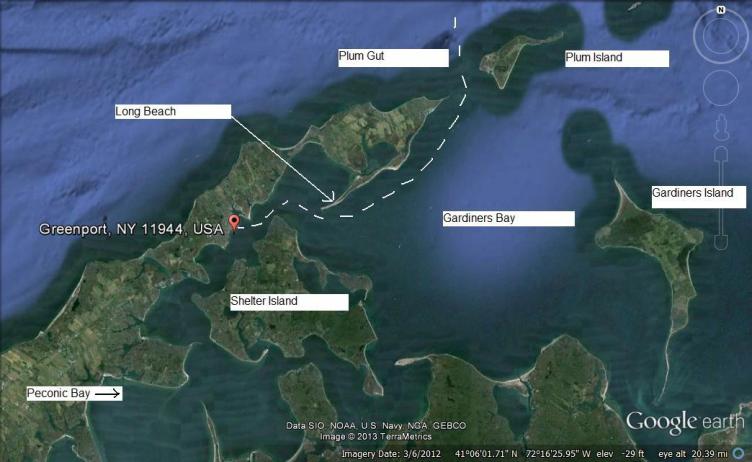 Left Niantic Bay about 7:30AM, a light southeast breeze gradually veering right, and eventually on the nose. Started with the 170 jib and halfway across had to drop it and motor sail with main only. Decided to take pictures of lighhouses.

In the hazy distance on the western horizon are the Connecticut River entrance lighthouses with Cornfield Point in the center - way in the distance. There's a breakwater between the lighthouses - below the horizon and not visible. It is a long breakwater but not as long as it seems it must be. Below is a 'file' photo that makes the breakwater seem shorter than it is...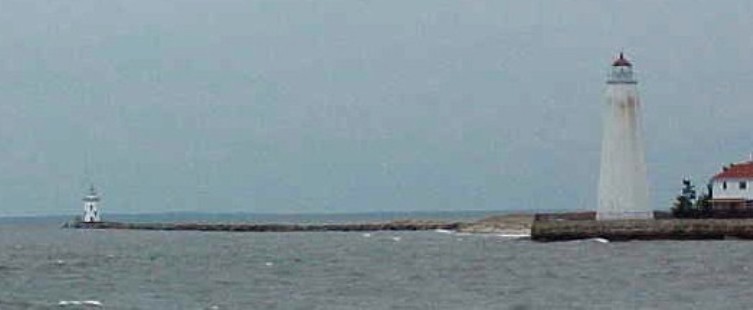 Pictures can be deceiving - Lynde Point Lighthouse right - Outer Saybrook ('Spark Plug') lighthouse left
Approaching Plum Gut is interesting. Lots of fishing going on in this narrow cut with very strong ebbing and flooding current that can reach 5 knots. Lots of ferry traffic between Orient Point and New London and Orient and Plum Island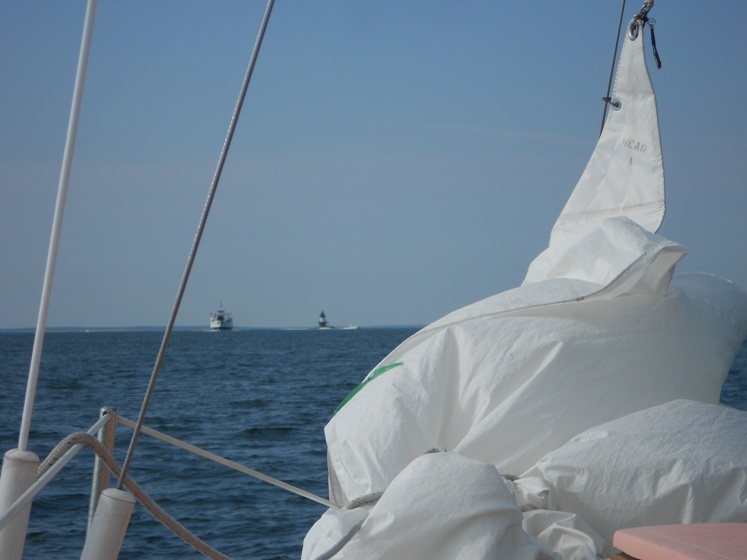 Plum Gut lighthouse straight ahead - and a New London ferry. Who has the right of way??
He does, of course!! The big boat rule...
| | |
| --- | --- |
| Plum Island Lighthouse | What's in those tanks? |
Plum Island is a special place - always shrouded in mystery. Its a US government research center, 800+ acres, which is due to be closed in coming years to be replaced by a new facility that will be located somewhere in Kansas. Anthrax research as well as germ warfare projects are rumored to have been conducted there. Big No Trespassing signs everywhere on the edges of the island.

In 2003 the Department of Homeland Security became the official owner of the island although the Department of Agriculture still works there. There is a controversial effort to sell the island. The New York Times recently had an article about it that you can see by clicking here.

Here is a quote from the article

"For sale: prime waterfront property off Long Island's North Shore. 1.5 miles from northeast tip of Orient Point. Upside: waterfront views on private 840-acre island, architectural ruins, rich history. Downside: longtime site for federal biosafety Level 3 pathogen lab that studies foot-and-mouth disease and other contagious animal diseases. Multimillion-dollar cleanup needed."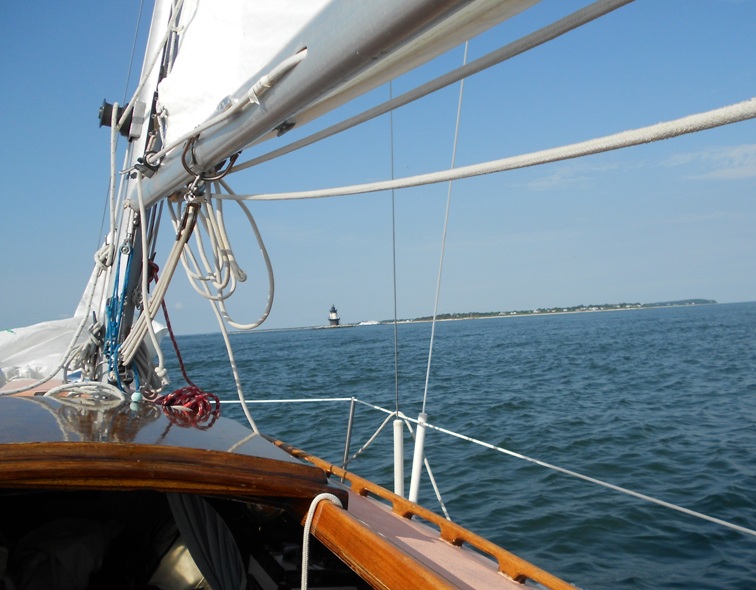 Ok, back to getting safely through Plum Gut dodging ferry boats and fishing boats. At least the current was with us!! The other side of the narrow Gut is protected by the Plum Gut lighthouse. In the above picture is the lighthouse and the tip of Orient Point, and in the distance that white object is the ferry just docking at the terminal.

The Plum Gut lighthouse at left, is sometimes called the Orient Point lighthouse. A quote from LighhouseFriends.com best describes it

"Not one of the most attractive lighthouses ever built, the brown and white structure was nicknamed "The Coffee Pot" by local mariners. Orient Point Lighthouse is similar in design to a number of other Coffee Pot lighthouses built around this time – starting in the early twentieth century, after automobiles became a common sight, they became more widely known as Spark Plug lighthouses"
Still very light to no breeze. We rounded the 'Coffee Pot' and motor sailed down the south shore of Orient Point and along Long Beach (see chart near top of page) - now against the ebbing current. At the tip of Long Beach is still another lighthouse, known as the Bug Light. It guards the long sand bar behind which is Orient Harbor.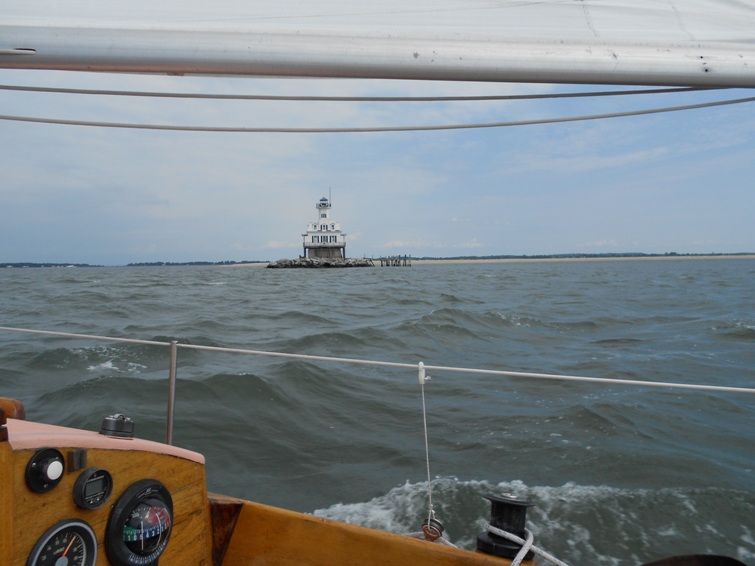 Past this point we enter the narrower channel between the mainland/Long Island and Shelter Island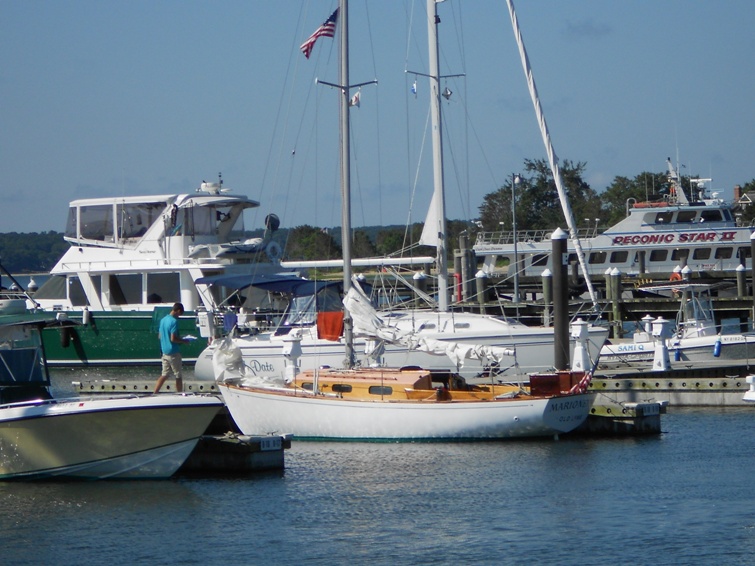 About 4 1/2 hours later - Marionette at Mitchell Marina in Greenport
Took the ferry over to Shelter Island to check out old haunts, have a beer, etc. Then a walk around Greenport and especially Greenport Shipbuilding/Shipyard - a boneyard of old boats - checking for, well, old boats that I have a special interest in, and known to be hiding, abandoned, in remote corners of boatyards like this one. No luck this time...

Light rain, then heavy rain and thunderstorms overnight forecast, early dinner at Bill's BBQ, an upstairs bar overlooking the water, set up the 'storm tarp', and in my v-berth bunk by 8:30 (really)
Next morning, clearing up, nice breeze, walk to the Coronet coffee shop for breakfast, and then down the dock to checkout Aurora.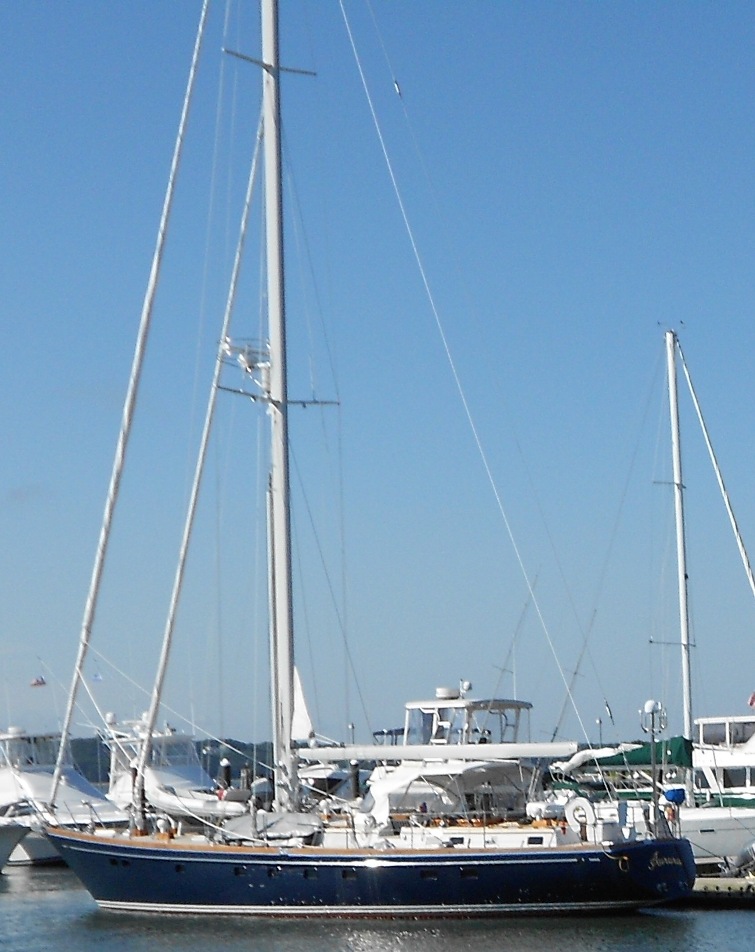 There was a guy working in the center cockpit, who I figured was a hired hand. Nope. He was Mike, the owner, and from San Diego. He has had Aurora for about 2 years, bought her in Newport, Rhode Island, was finishing up an extensive restoration, and he was getting her ready to set sail in a few days for the Cape Cod Islands. This to be followed by September cruising in Maine Aaarhhhh...!!!.
She is a Little Harbor 62, designed by Ted Hood, fiberglass, keel/centerboard, cutter rigged, and built in 1982. She has a beam of 16', displacement of 91,000 lbs, ballast of 31,000 lbs and draws about 6' board up, 14' board down.
Mike had just finished varnishing the toe rail and we talked about how he and a couple of friends installed a bow thruster - cutting the hole with a saws all, etc. She is powered by 2, 125hp engines with twin props, all electric winches and furlers. He and his wife hope to spend the winter in the Caribbean.
Mike had never sailed in Maine so, in parting, I painfully told him about all the great places not to miss and then went back to Marionette and made ready to sail.
After exiting the Marina I set the small jib and full main for a nice broad reach around Shelter Island, and in a freshening breeze and ebbing current consistantly hit hull speed (5.7/5.8) on the knotmeter, verified by the GPS which added the 1/2 knot of favorable current.
| | |
| --- | --- |
| Through the water | Over the ground |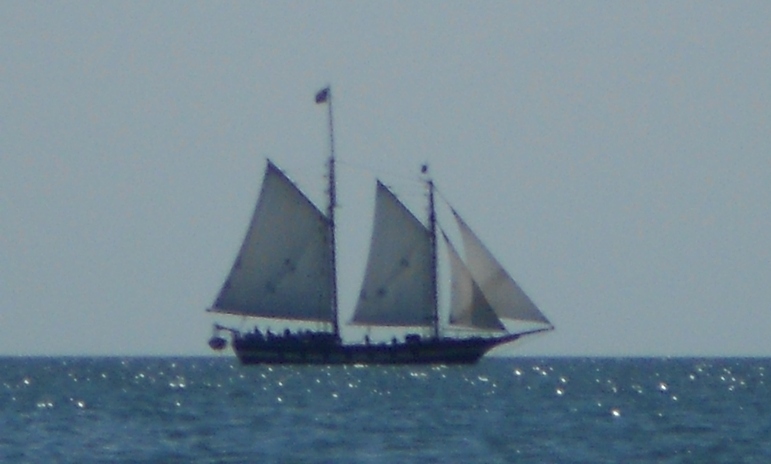 Maine's not the only place that has schooners - here's one in Gardiners Bay
I would be remiss if I did not mention my crew - Otto. Very reliable, does not drink my beer
| | |
| --- | --- |
| Otto at work. "Bug" Lighthouse in the distance | |
We rounded Plum Gut Lighthouse close trying to stay out of the really heavy current ebbing out of Long Island Sound, and had a nice close reach across the Sound. The landmark on the north side is plainly visible - Millstone Nuclear Power Plant and its red and white stripped stack mark the east entry into Niantic Bay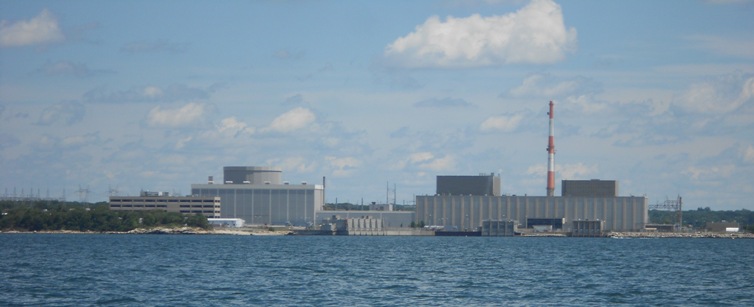 Millstone - we know whats in those buildings...don't we?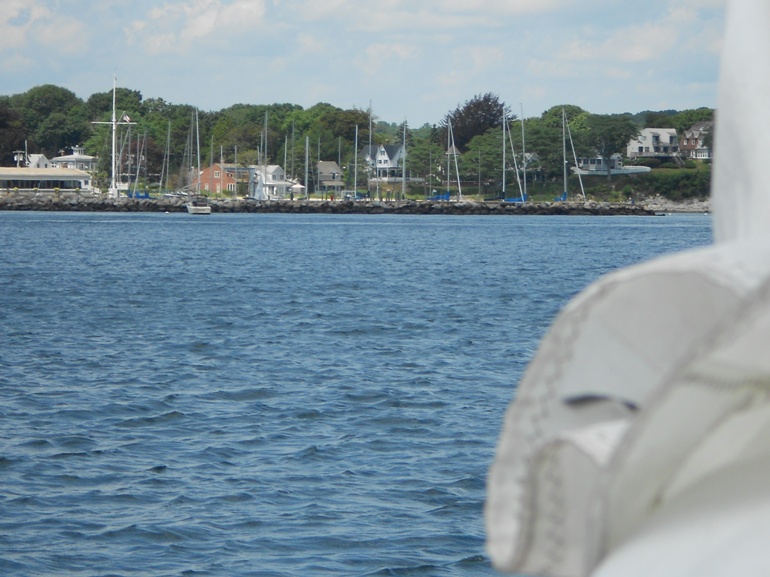 Niantic Bay Yacht Club - just under 3 1/2 hours breakwater to breakwater