| | July 13, 2013. Marionette's classic galley hand pump had lost its prime, and it generally needed some TLC. However it was 'stuck' in place, the nut underneath the counter just would not turn - getting it out was a wrestling match using 2 pair of vice grips. A mess plus badly stripped threads on the shaft below the counter surface was the result. |
| --- | --- |
Here is the pump as she came out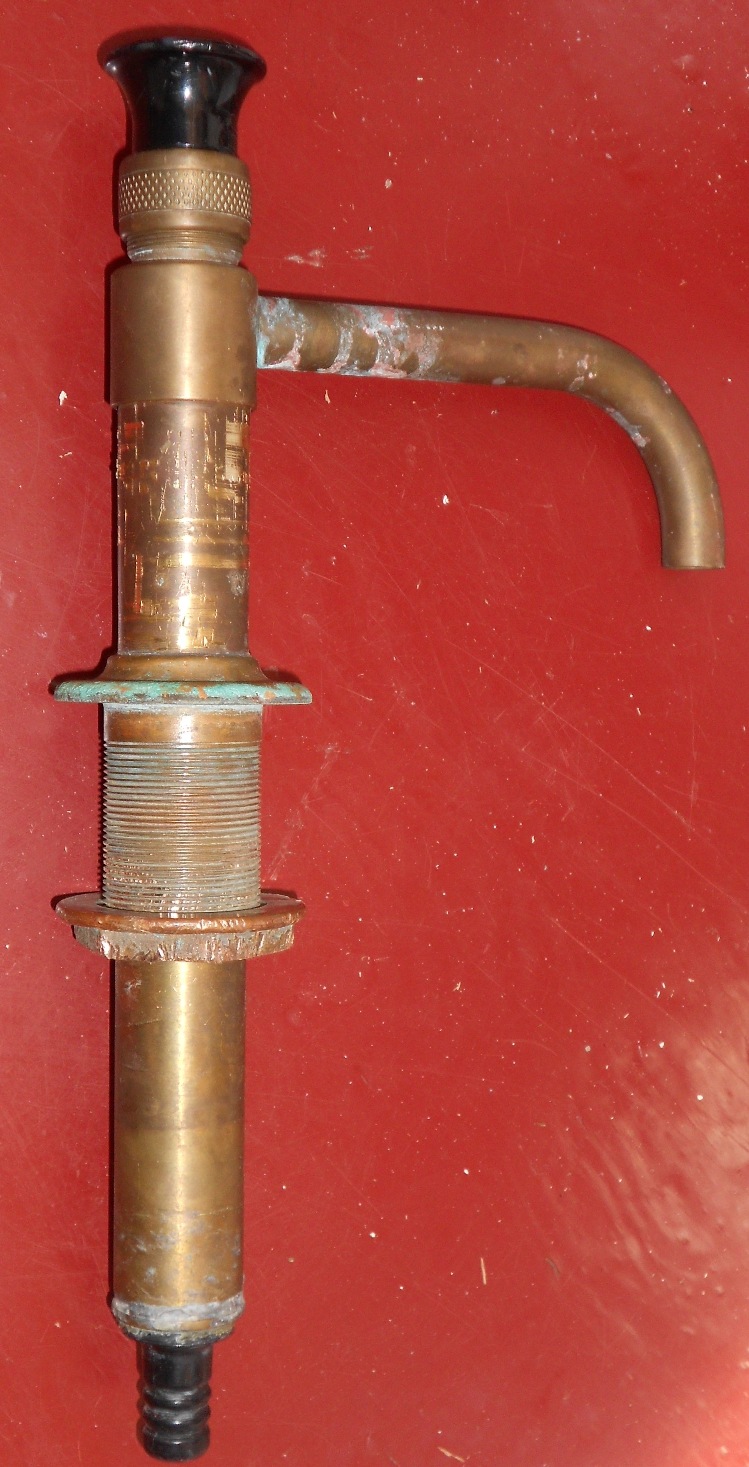 Damaged threads and heavy scratches and nicks on the barrel, corrosion...
The countertop is 3/4" thick, so getting rid of a lot of excess, stripped, damaged, future strippable, damagable thread seemed like a good idea. Scuttlebutt on the docks led me to a fellow club member/sailor/machine shop owner who a couple of days later, produced the following. More scuttlebutt produced the fact that he drinks Dewars White Label Scotch....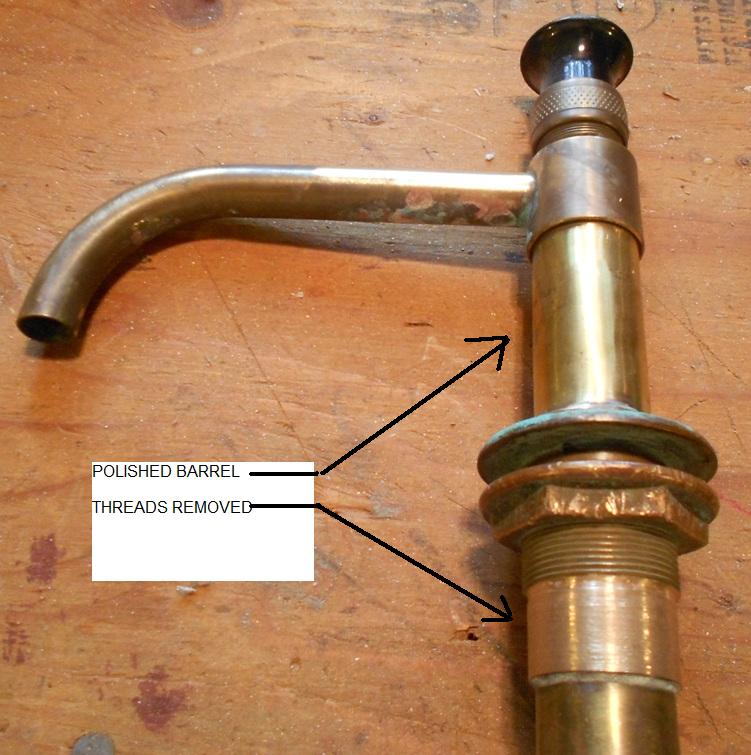 Next step was to set up my brass polishing gear in the barn loft workshop - a high speed drill and a 3M scotch brite polishing disc mounted in a wood vise.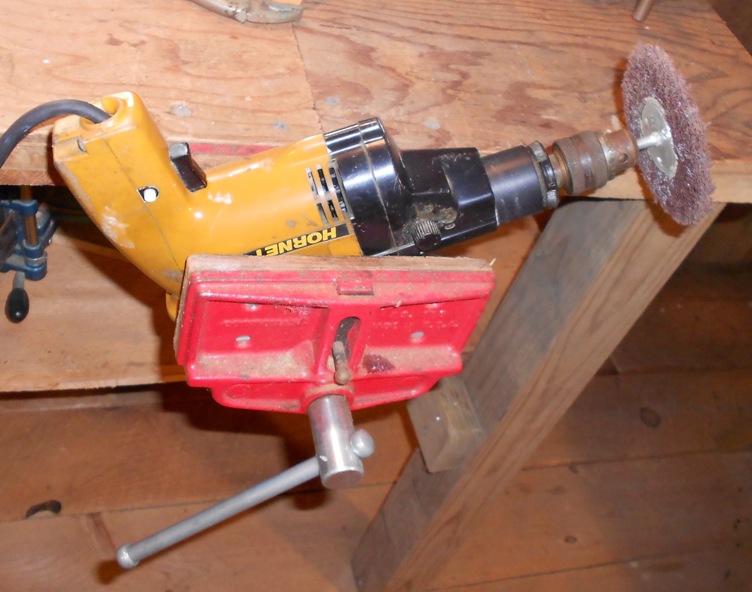 The flexible 3M disc/pad works wonderfully around corners and rounded surfaces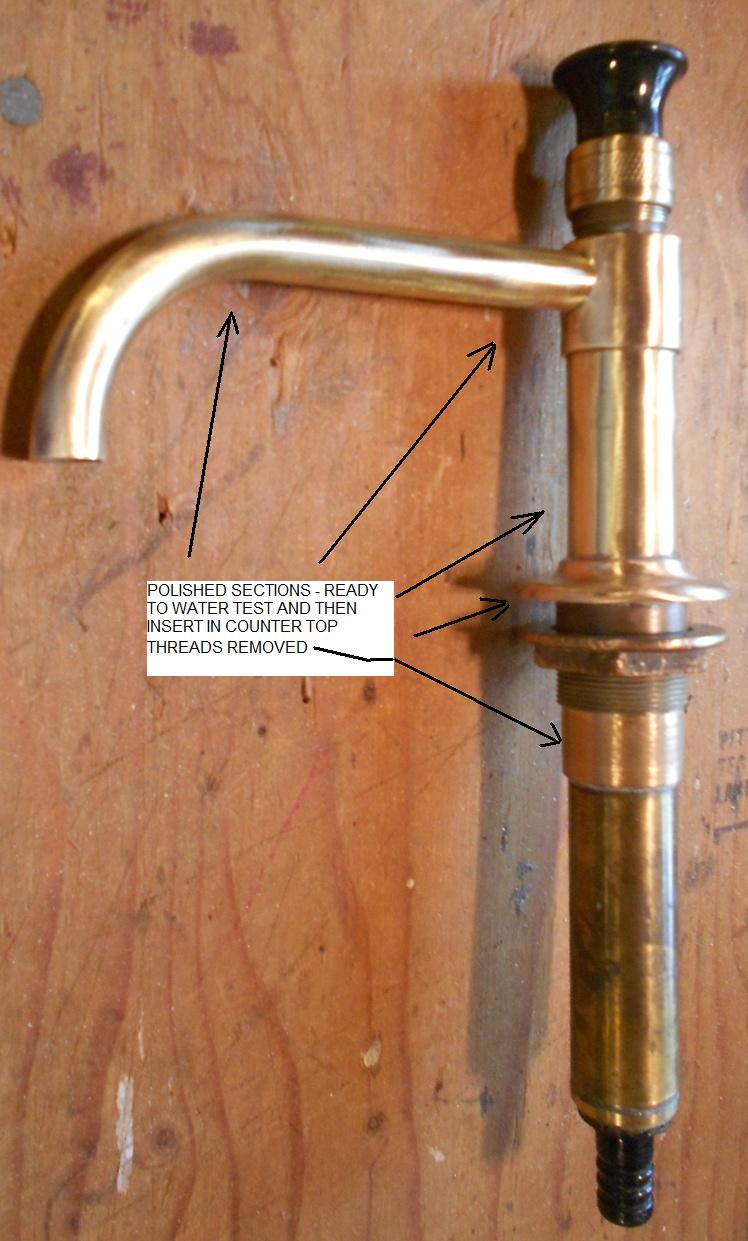 I inserted the bottom of the pump in a bucket of water and worked the pump handle a few times - it worked fine! Wonder why it did not work on the boat? Maybe I just didn't pump it enough? The at-rest water level in the hose connected to the bottom of the pump is about 12 inches from the pump bottom. Maybe the knurned cap at the top of the pump was not quite tight enough and the pump could not self prime?
Next step was to hand polish with a magical polish named Flitz.. A small but important diversion here - this polish can even be used to polish and clear up the clouded plastic dome on your compass!
This is not a commercial! We use this polish on high heat enameled stove grates, and surrounding stainless on the burner to remove stains baked on. It works wonderfully on brass and bronze, and even on plastic

'After' photo of the compass - see below
Truth telling time . See that tiny bubble at the top of the dome? That, coupled with the cloudy compass face led me to decide that after 18 years maybe it was time for a new compass.
So, laboriously I removed it from the bulkhead and contacted a compass guy who happens to live in my area - he said Plastimo compasses are sealed and difficult to repair/add fluid. He recommended replacement with a Ritchie compass which have a fluid valve. So, I drove to Defender's and looked at new ones - a replacement Plastimo - $250, a Ritchie - $300. But, in a discussion with the Defender sales guy, who had just bought a new Ritchie for his own boat, he said 'try using Flitz polish on the face - it might clear it up".

I didn't know Flitz could be used on plastic! I use it all the time - and I even can read! Missed it. My credit card safely in my wallet, I immediately went back home and went to work. Applied with a soft, clean cloth, rubbing it well and clean.

I could have polished it in place and saved a couple of hours of labor and angst, plus driving, etc...But I did save $300!! Here's the result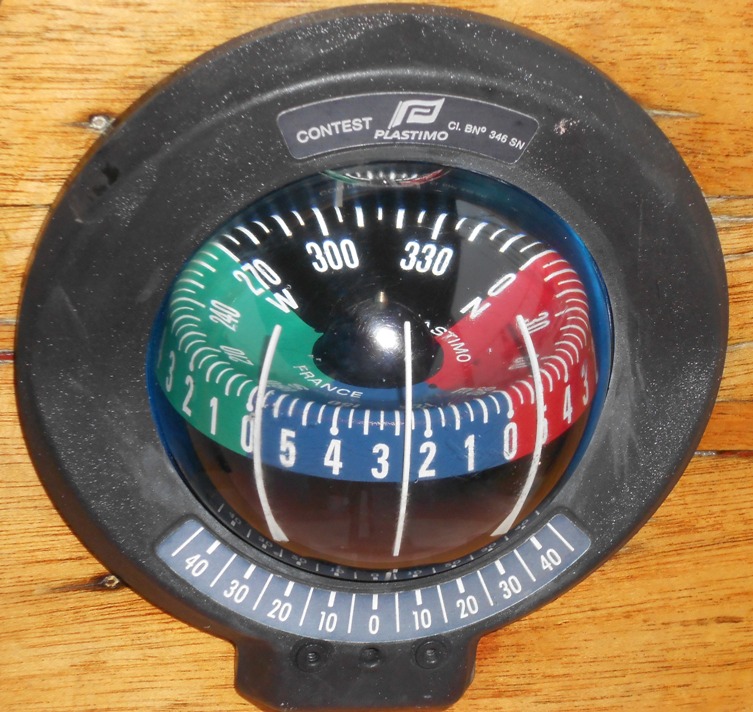 Magic
Like new!! The little bubble is still there but its been there about that size for several years. Maybe it won't get bigger? Right.
This effort got me thinking about the portlight in the v-berth on the port side. It's plastic and that side gets a lot of sunlight and it was pretty 'cloudy'. So here's the outcome with a single polish application of Flitz.
| | |
| --- | --- |
| Before | After |
The other portlights are nowhere near as cloudy but I'm going to buy another Flitz and do them all
For more on how to deal with cloudy plastic portlights click here
Ok, time to set up the pump in the galley and see what happens.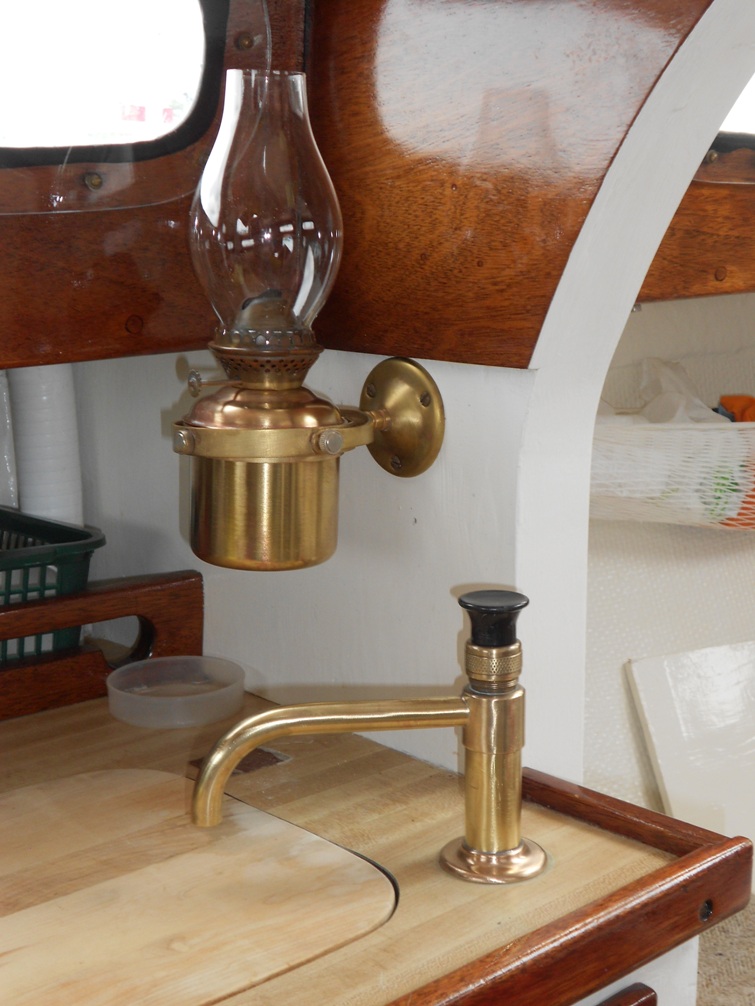 See why I like this pump? It matches my polished oil lamp! And, what's more, its now pumping water beautifully. It probably was rebelling at my failure to maintain its appearance, especially next to that oil lamp!
********************************