July 10, 2020 We just got the following email from Ross Libenson (minor edits)
This Dolphin 24 had just ran up on the rocks at Treasure Island in the San Francisco Bay as I was preparing to launch on my windsurfer. I didn't get a clear explanation from the sailor, who was off the boat unhurt but slightly damp, as to what occurred.

He said he had no engine on the boat and when trying to come about he lacked sufficient speed and was pushed into the rocks - the tide was flooding and it was blowing about 22mph at the time. After I identified it as a Dolphin, he told me he recently purchased it from two brothers working on it at the Berkeley Marina. This leads me to believe that this is the hull previously named Faith & Hope.

What a shame.

Ross

Stay tuned
July 11, 2020 - Responding to a webmaster follow up, Pablo sent us the following email.
Hi Ron

Thanks for your interest. Well, it sure was very unfortunate.

i had an absolute blast for the 4 months i owned the boat. It seems, however, not worth to try to fix it as there's so many affordable newer vessels in the market these days.

So, not proud about it but Monday I have to have it disposed off, cannot incur any more costs for keeping it in the yard.

All the best

Pablo

Postscript: The boat was towed by the salvage company to the bay model Sausalito yard. Can't wait to resume sailing,
We'll see

P




****************************

******************************************

***************************

This is the information we have on Faith and Hope up to this point in time
March 23, 2020 - We have a new/updated Craigslist ad.
https://sfbay.craigslist.org/eby/boa/d/emeryville-1973-yankee-dolphin-24/7097448855.html
******************************************
October 27, 2019 - We got the following update from Chris (emails merged and edited)
Hi Ron

We have dropped the price to $3,000 and we've had a couple people interested. We'll have to see how that pans out.

I'll try to connect the new owner to the website once we find someone.

Thanks for all that you do with the Dolphin community

Chris

***********************************
July 15, 2019. Chris Brooks checked in with the following email and news that Faith and Hope is For Sale. His email also solves some mystery about this boat
Hi Ron,

I have been meaning to email for a while but time just gets away. I believe we have this boat on the website: http://dolphin24.org/lorca's_SF_Bay_Dolphin.html

My brother Jesse and I have been working on fixing her up, but due to changing circumstances we have decided it's time to
sell. We've done some work on her and do love this little boat. Our ad on craigslist is available here:

https://sfbay.craigslist.org/eby/boa/6933988219.html

When we were doing a bunch of work we weren't ever able to find a hull number. One fun fact is we got written up in the local sailing magazine, latitude 38. You can find a copy of the magazine here:

https://www.latitude38.com/eBooks/2017/L38201708.pdf

Webmaster Note: We had it!! See August 12, 2017 entry below

We were featured on page 62 and 63. The formatting is weird, but if you look at it like a magazine it makes sense.

Let me know if it is possible to have the posting up on the website. I've spent hours looking through everything on the site. What a great resource, thanks for all of the work maintaining it as a resource.

Best,

Chris and Jesse
1973 Yankee Dolphin 24

- $5000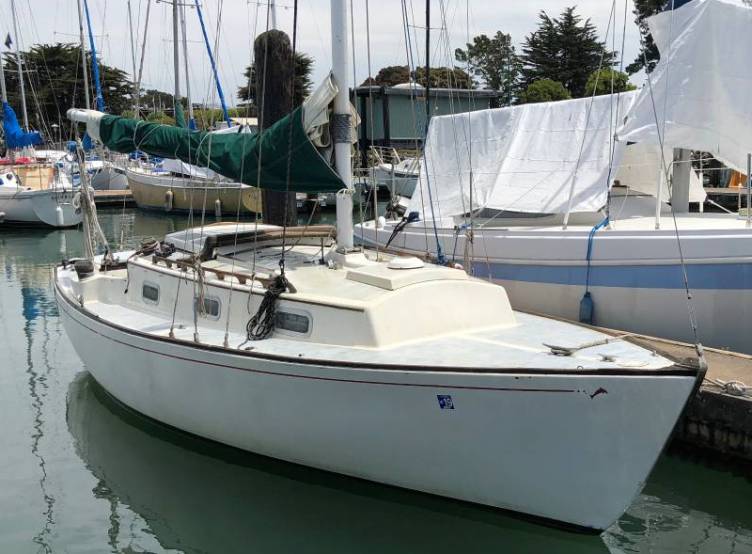 More pictures on the Craigslist ad
We are selling our 1973 24 foot Yankee Dolphin. These are great little boats with a close following. Check out dolphin24.org for a great community. In this small package the boat has a marine head with holding tank, a galley, and the ability to convert the settee into a berth as well as a nice v-berth up front. These are outboard driven, but the outboard is nicely hidden in the lazarette (stern/transom locker). They also feature a full keel with a retractable center board, giving the boat a 2.5 foot draft with the center board up and around 5 or so feet with the center board down. Many people also get a trailer for these boats. This boat in particular also features a tabernacle mast allowing you to drop the mast much more easily.

We did a bunch of work on this boat in the two years we have owned it:
- Haul out and complete bottom job. We sanded back down to the gel-coat and primed and pained with some very high-quality bottom paint.
- Haul out included re-doing the through-hulls and strengthening the rudder mount and replacing the centerboard tackle.
- Mast and boom were fully stripped and repainted
- Completely new standing and running rigging

Comes with a fully battened mainsail, a genoa, and two jibs. Has a near new Mercury 3.5hp outboard engine. There is also a dodger frame that needs new canvas. There are cushions for the interior and exterior.

If interested let us know and we can arrange a showing. Currently berthed at Berkeley Marina on M dock in a transferrable slip.

Contact info/reply on the craigslist ad

*********************************************************************
August 12, 2017. Steve Fruth (Melia, Yankee #158) brought this boat to our attention. The following article appeared in the August issue of Latitude 38 magazine. Faith and Hope is our 230th newly found Dolphin, (Steve's 2nd) earning him a chevron on his much coveted DFI badge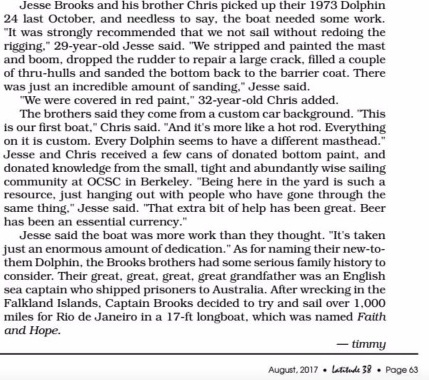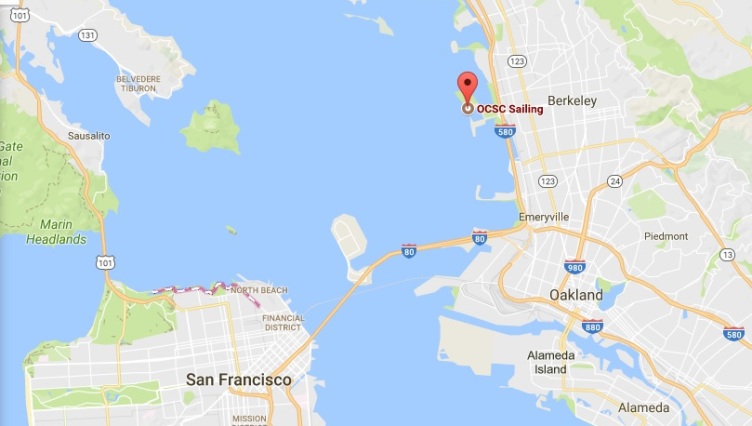 Home waters - click here for info about OCSC Sailing - interesting club....
We stand by for more info about Faith and Hope