August 28, 2010. Bryan checked in with the following email (minor edits). We first found out about this boat when we searched the remnants of Jim Huxford's old Dolphin 24 site. There was a string of emails from 1999 worth reading - click here to go to Matt and Liz Mitchell's Elixir.
Dear Ron,

I am, and have been, since April 2007, a PROUD owner of my Yankee Dolphin, hull #242. I purchased "Elixir" from Matt Mitchell in Cushing, OK. It had been in storage in his barn for about 5 years. After researching the designers and builders, along with the history of the Dolphin 24, I was very impressed! When I saw the boat for the first time I absolutely fell in love with her lines of her! I live in Guthrie, Oklahoma, and the boat is on Hefner Lake in Oklahoma City.

Bryan Greer

***********************************
February 28, 2016. We got the following email and update from Bryan (nee Brian - our website editing staff was, as usual, out to lunch - sorry Brian :-)
Just checking in. Also maybe we could check & correct the spelling of my name on the roster & articles. My name is Bryan Greer.

I still have #242 here in OKC Okla. She is still on the water at Hefner Lake. We have weathered a 3 year drought so she hung on crane straps most of that time to keep her out of the mud. She's a little weather beaten & since the slips are made from poured concrete back in the day, stroke of genius NOT, she got a little concrete rash on port side hull.

Another sad note is that someone has taken to removing deck hardware for what ever reason. I'm missing my starboard winch and would love to find another one like it to replace. My chainpipe cover is also missing. It was all OEM hardware which I liked very much. I have searched all the sources I can find with no luck. Any help would be appreciated. Love the website, thanks so much.

Calm winds my friend

Bryan

ps Thankfully, the lake is full now - here's a few photos that show how much we needed the water
Laker Hefner - effect of a 3 year draught (click the above photo for a larger view)

This is a new concept for having your boat in slings - click on the photos for larger views

Webmaster note: We thought we'd ask Google Maps to show us Hefner Lake. This lake is actually a 2500 acre reservoir, roughly circular, about 2.2 miles in diamete, located in the city limits of Oklahoma City.

Click on the above images for a larger view
When Lake Hefner is full she looks like this
*********************************
Postscript - we just received a few more pictures - click on the photos below for a larger image, click the return arrow on your browser to get back here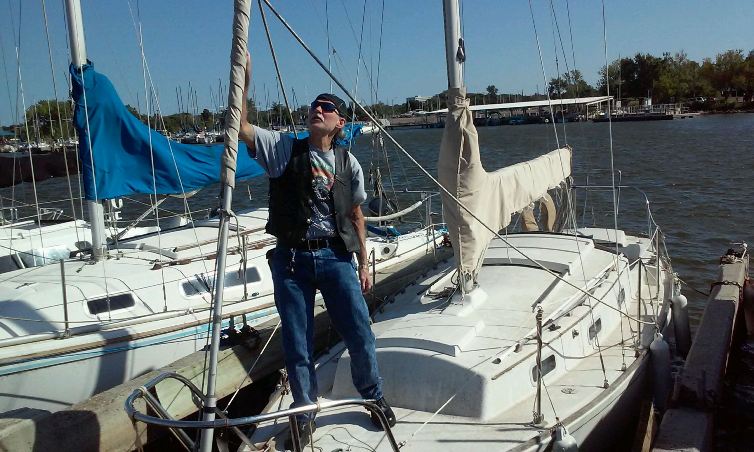 Another Elixir crew - with the latest in western nautical atire. Can't tell if he's packin...
***********************************************