We had some webmaster confusion on this boat. Hopefully, it's now straightened out. On December 29, 2010 she was Buck Owens' boat and on February 19, 2012 it was reported sold to Stepan Ludwig. Click here to go there. But, years ago she belonged to Arnold Sharpe and he kept her in Eureka, California.
Yankee #80 was the photo boat on Yankee Yacht's 1967 sales brochure. Someday, we'll get some more history about this boat. Its available - we just have to figure out how to get it. Here is an excerpt of an October 9, 2010 email from Joe Sharpe, Arnold's son, on a trip they made to find another Dolphin to buy.
The one for sale at Eureka is indeed El Gitano, confirmed by repairs my father had made. The name had been removed and not replaced. I have a video my wife shot as we looked at the boat, but remarkably enough I neglected to take a single photograph.

The internet ad for the boat is (http://www.sailboatlistings.com/view/19565 Webmaster Note: November 28, 2012 ad expired). There are some problems with the image that make the hull look grey, which it's not.The current owner is asking $7500. If anyone is interested in a more thorough description I can give them one or email the video - at over eight minutes long, it's kind of huge.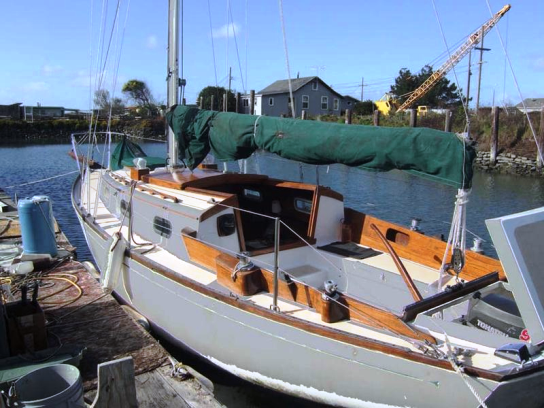 Below is a picture of that Yankee brochure. The Sharpe's did find a Dolphin to buy Yanqui, Yankee # 197 - click here to go to her