its rare to have a true technology breakthough but here is one. If you have a wood combing Dolphin, and typically are single handing, not able to have crew standing by as necessary to take your a cold brew as you quickly respond to a wind shift and retrim the main or jib, take an emergency call on your cell phone from your stock broker, or any number of other possible interruptions.
Of course, the West Marine catalogue has available all kinds of insulated drink holders at prices ranging up to $30.99 (pages 870, 997-998). While your webmaster believes the following is an original, patentable design he has magnimously released and provided it free for use by all Dolphinites. Of course, it has been thoroughly field tested - an 8 week cruise to Maine - photographs of it in use reside somewhere among the thousands of photos on file and will be presented when found.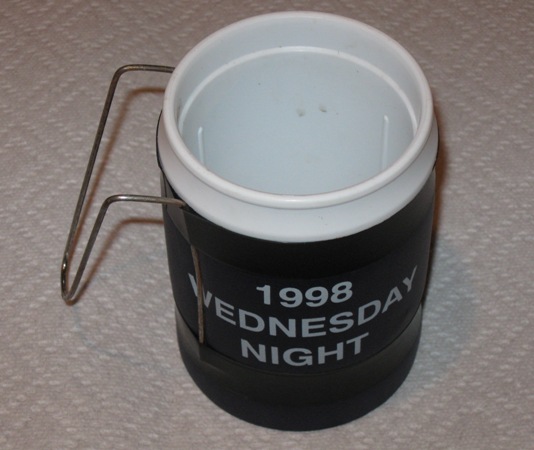 A wire frame handle secured to a cozy by plastic electrical tape**
Several versions are possible including using your basic low cost foam cozy - several of which are no doubt sitting in various corners of your boat. This version is the high end design, having had at least 10 years of hard use before being rescued by this technology. Given careful placement of the tape, it will continue to amaze guests and crew with its printed message and story (In this particular example we are looking at "Winner of a Club Wednesday Night Series in 1998" ....Details of this incredible victory in excruciating detail are happily provided over a 2nd or 3rd round by the Dolphin owner.
The handle is, of course, a mug type handle that conveniently fits over the combing. The dimensions of the handle are carefully determined so as to not only function as a secure 'hanger' on the combing but also as a comfortable mug type handle for drinking. Real Dolphinites, of course, do not hold these devices by the handle but, in the time honored mug manner, by simply grasping the body of the holder/cozy.
This particular cozy, being made of a durable plastic, has a dual use potential, assuming its is properly cleaned, to be a coffee holder (this is a thorectical claim not having been tested at sea). It also has the disadvantage of being plastic which turns some coffee drinkers off. The search is on for a suitable, incredibly low cost, insulated, handleless, ceramic mug, whose internal dimensions will also accomodate a Bud Lite can.
The cost issue, dear to any Dolphinite heart, is the key to the Dolphin Drink Holder (DDH) design. The following picture is instructive.

That's it folks. Your standard wire hanger, a cozy, and a roll of duct tape or electrical tape. The hanger is bent over your combing (or a similar size piece of wood) cut with a pair of wire cutters - you surely have a pair of cutters on board to cut through your shrouds if your mast goes overboard, a cozy selected from your collection, and tape strips placed to be sure visitors will see the printed material. Estimated cost, ex labor about $.005. No license fee or royalty involved.
Designer Note: if using a foam cozy be sure to have a 'plug' in place when you tape the handle. Otherwise foam compression may make can removal a bit of a problem.
** It is permissible to use either duct tape (standard) or black plastic electrical tape (high end version) Both have been successfully sea trialed. Duct tape, wonderful as it is, has that annoying habit of losing its silver outer layer.