November 10, 2019. We have been advised that the 2019 Designer Series event honoring Sparkman & Stephens scheduled June 27-30 at Newport, Rhode Island is being cancelled.
******************************
June 29, 2018. Yesterday, your webmaster attended a Designer Series presentation at the New York Yacht Club in Newport, Rhode Island. Their 2018-2019 Honoree is Sparkman & Stephens. The following images are from their website (click on them for larger views, and/or click this link to go to their website https://designerseries.org/. This page is intended to give Dolphin 24 owners and website readers a heads up on this project.


The subject of this 'kick off' event was "A Conversation With Renowned Sparkman & Stephens Alumni"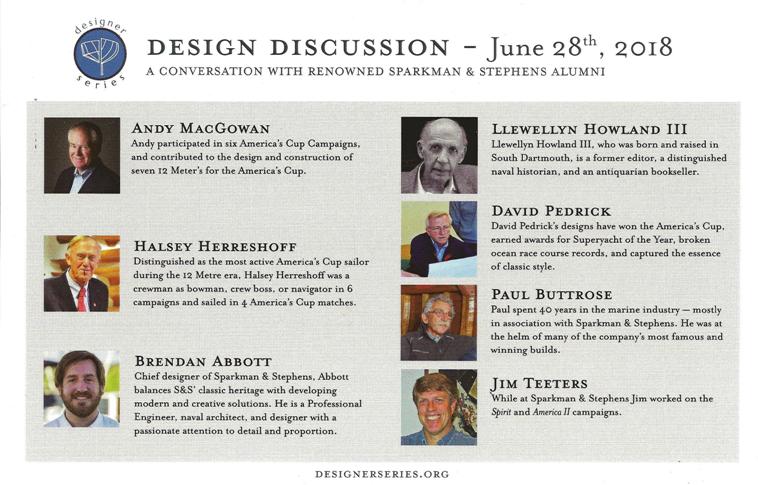 The meeting took place at the Sailing Center building on the NYYC campus and lasted about 2 hours and was followed by a cocktail hour at the Ida Lewis YC (http://www.ilyc.org/) a short walk away. This event kicks off a year long effort to recognize Sparkman & Stephens and will culminate in a 2019 Rendezvous of S&S boats in Newport.

Stay Tuned
August 30, 2018 - Yesterday, Marionette formally entered this June 27-30, 2019, Sparkman & Stephens happening. S&S will be celebrating its 90th year - we were present for their 75th year celebration in NYC and Mystic Seaport in 2004 - click here to check that out.
Its early days and details of the program are still to be worked out. Below are some excerpts from their website.
click here to go the Designer Series website and to check out entries to date. Click on the entry photos to see the Bios
---
2019 Sparkman & Stephens Rendezvous
ALL S&S DESIGNED BOATS ARE INVITED TO PARTICIPATE IN THE RENDEZVOUS & SAILING EVENTS

.
When: June 27-30, 2019 Where: Ft. Adams, Newport, Rhode Island


What: The Designer Series signature event is a 4-day rendezvous which attracts a broad spectrum of vessels… old/ new, big/small, classic/modern, power/sail. Together we connect all who share in the love of yachting: a diverse group of boat owners, the marine industry and the public to celebrate the designers' contributions to the yachting world, while enjoying spirited on-the-water and land-based festivities.
Dolphin 24 pricing is $425 and Includes: swag bag, race entry for all races, 2 tickets to all social events except Saturday. Does NOT include: Dockage and Saturday night tickets. Crew package at $200/pp Includes all days and events EXCEPT Saturday night Tickets sold separately.

*REGISTRATIONS CONFIRMED PRIOR TO DECEMBER 15, 2018 WILL RECEIVE A 10% DISCOUNT PLUS HAVE FIRST CHOICE OF DOCK SPACE AT SAIL NEWPORT.

Click https://designerseries.org/registration/ to go to the owner registration page
Stay Tuned