February 26, 2014. Dana Sonnenberger has checked in as the new owner of Yankee #115, formerly, Tony Howard's Surora, Cocoa Beach, Florida She has spent the past 2 years restoring her. Here is her email (edited)
We'd love to have a page set up for her and tell you about all the work we've done. I am so proud of her. Yes, I did change the name but didn't tell Tony because I didnt want to hurt his feelings. She is now the DANA JEANNA. She will end up belonging to my kids.

She will be at the Bertie Bay Boat Club near the Point Abino lighthouse on the eastern end of Lake Erie (Fort Erie). I do have more pictures showing her as I did the work on her.

Thanks Ron,

Dana

Click on the photos for larger images

**********************
May 5, 2014. Your webmaster and Dana had a long phone conversation last night talking about toe rails and rub rails. Her boat does not have a toe rail but she has some Brazilian hardwood left over from her replacement hand rail project and was thinking of using it as a rub rail. When pressed as to why she explained that, while she is very careful and does not hit things, her beautifully painted topsides needs some protection from the 'launching/retrieving monster' they use at her boatyard!
When I expressed surprise that the 'monster' does not have protective cushions that get inserted between the slings and the hull, and that maybe she could provide them in her own protective interest, we found out Dana is an expert seamstress and makes cushions for boats!! And she will make the cushions
The conversation veered to maybe a segmented toe rail would be better, reinstalling a safety feature designed into all Dolphins. I think we are there but Dana will report more on this. In the meantime she has sent in lots of pictures of her restoration efforts on Dana Jeanna - some of which follow.
First, there were a couple of problems in the rudder area.....
Click on all photos for a larger view - click the back arrow on your browser to get back here
Besides noticing the beautiful shiny newly painted finish - Dana rolls and tips (more on this later) - this unusual rig mounted off the transom is how Dana raises and lowers her 8 HP outboard motor. Its made of wood, weight supported by the piece at the bottom that is bolted through the transom, and secured at the top of the stern rail (ok - pushpit...). The mounting plate slides up and down with the help of a mechanical advantage system
described only by Dana's comment to me - I crank it up and down. Dana said this feature was installed on the boat by Tony Howard, the previous owner..

We definitely need more info and pictures about this system!
And Dana said she's send them.
Continuing on -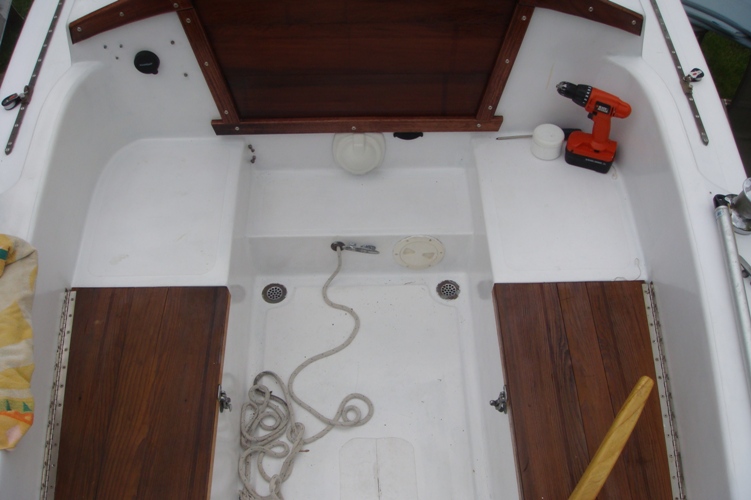 Nice

We don't have any interior pictures yet of Dana Jeanna, so we're going to borrow a few from her past life as Sorora pending arrival of the latest.
Stay tuned