May 17, 2010 - Jim Robinson, Aquila, Pacific Dolphin #273 sent in his 'remedy' for Aquila's acid corroded battery box
Battery Compartment /Box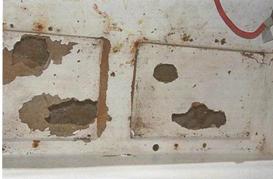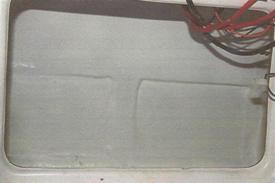 Before After
Small caustic drips over thirty years can have serious side effects. Replacing those plastic battery boxes every ten years and simple battery maintenance would have gone a long way. (Note to self; rinse this area out on a regular basis). I had placed some plywood pieces between these eroded insets and replaced the battery boxes since I bought the boat in 03. Not a remedy for the long term remedy, indeed.
Did some awkward grinding and fiberglassed in ¼ inch plywood floors for the insets.Lots of fiber (mat) in this diet. West System epoxy – only way to go.
Next: through bolted pad-eyes for strapping.