October 19, 2017. Don Lindsay is officially checking in as the new owner of this Marscot/O'Day Dolphin. She was sitting in a back lot at German Brother's Marina at the north end Canandaiqua Lake near Rochester, New York. This is the Finger Lakes region of New York state. We are still in early stages of getting info on this boat. She was owned by the Horrocks family and originally from Sayville, Long Island, and according to Ed Horrocks, she is hull is #17. We believe she is a Newly Found Dolphin - our 231st.
Welcome Aboard Don!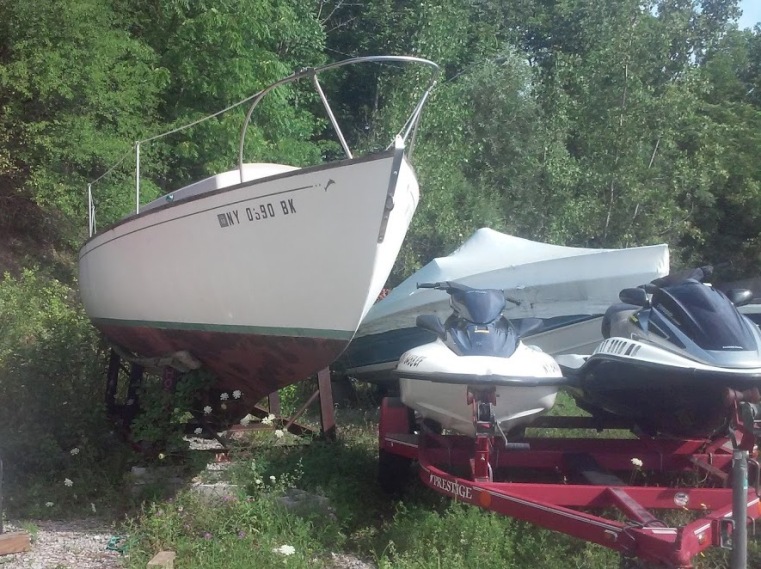 She has been out of the water for perhaps 7 years, and according to the marina folks, has been here in Canandaiqua for about 25 years. Above, she is sitting on what may be her original steel frame.
Don has been working on finalizing this acquisition for several weeks and has exchanged several emails with your webmaster. Here is his latest email (minor edits).
Dear Ron,

Yesterday I got the bill of sale and the old NY registration. The boat will be transferred to a repair shop to have the decks redone.

The owner, Edward Horrocks, told me that they went out of the way to get a Marscot boat because the Lund boats had soft decks. He believes it was purchased in NJ and trucked to Long Island for their use. He is not able to climb aboard at this stage however, he assures me she is hull number 17.

The boatyard will remove all deck hardware. Any suggestions that, through your experience, might make the boat better would be greatly appreciated. The shop is about an hour and a half from my brother's home. I could go up and stay at his place and refinish the wood, polish or refinish metal fittings, etc., arrange for new plastic or glass for the port lights, etc. I know that there are quite a few pages devoted to repairs on the website. I'm planning on looking at these. However, if you in your experience recall any that would be worthy of consideration it would be much appreciated. It's not my plan to ever have any of this hardware off the vessel again once the work is complete. Any good reference for deck and house colors would be appreciated. The current one is too chalked out to tell the color.

Best,

Don Lindsay

Here's a few pictures - she needs help....
Stay Tuned