October 5, 2017. Max Sheppard, Sea Fox, O'Day #35, sent in a great photo of his blooper. This prompted an exchange with your webmaster.
Hi, Ron

I know you mentioned that you had some interest in a dolphin with the blooper. Here is the Sea Fox flying its blooper in about 10 to 12 knots of wind (a little light for using the blooper in my opinion) still always fun.

This picture was taken in celebration of winning the solar eclipse race that took place during the 2017 Solar eclipse.

Max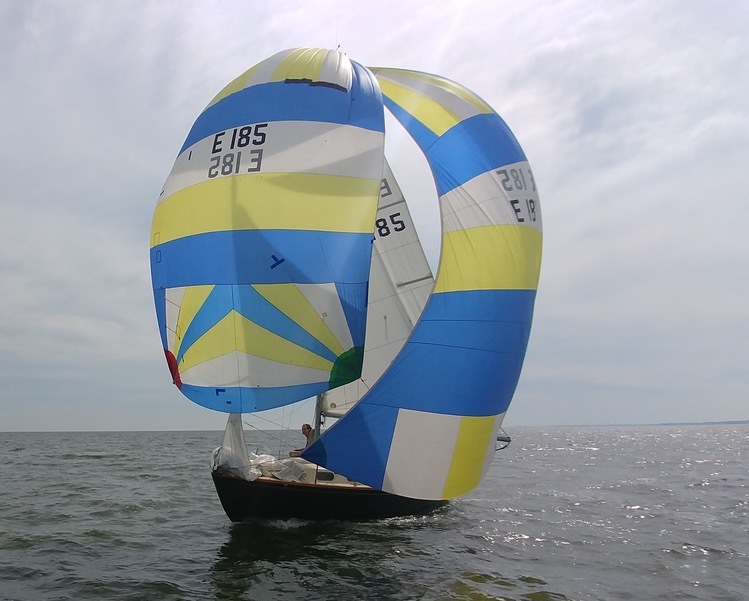 Ron Replies

Thanks Max - I reviewed your photo and email comments with 'staff' and have the following comments


1) great picture!!
2) usually, blooping is better done at or very near near dead downwind - it looks like you a reaching a bit. Best to have the spinnaker pole all the way back
3) we assume the blooper sheet is led to the port quarter? - we sometimes rig a block to the end of the boom and try to get the blooper out of the main 'shadow'
4) we sometimes partially lower the main to get better air on the blooper

Ron

Max replies

Thanks Ron! I am always interested in better blooper practices! We do usually use the blooper going dead down wind. The wind was pretty light that day so we headed up to keep it flying for the photo shoot.

In our experiences with the blooper we found that it works best in winds above 15 kts. And really cuts down on the boats tendency to start rolling when heading so low with heavy chop.

Also we have had some luck with raising and lowering the halyard to catch air underneath the main... (YES!) but it is quite rare that we get a chance to use it in short windward leeward racing as it makes us pretty helpless and requires additional crew.
Max and your webmaster have been at this subject over the past couple of years (edited)
October, 2014

Hi Ron I was wondering if you know the answer to this question. This weekend I will be racing in the Trans-Winnebago 30 mile race. The Wind here in the summer is usually out of the south and the race is 30 miles straight north this year.

Early Forecasts are predicting 20knts of breeze from the SSE. Anyway I was hoping to fly my Blooper with my Spinnaker to help with stability and try to stop the "Death Roll", also maybe gain a bit of speed. The question I have is: Will Flying a Blooper affect my PHRF rating? We are racing a under Lake Michigan PHRF

Thanks,Max

Webmaster replies

Hi Max - Good question - years ago I raced with a guy on a Morgan 36 one tonner - and flew his blooper for him (let it way out!!!!!! both sheet and halyard - practically in the water ahead of the boat!!) He told me it was a 'free sail" meaning no additional handicap. However, I have not kept up with handicapping so I don't know. I'd check with your local handicapper - it would be a shame to win, then get protested out.....Webmaster Note - check out http://www.sailingscuttlebutt.com/2016/03/15/bloopers-are-back/

Let me know what happens

Ron

Max replies

Hi Ron, I am finally getting back to you on the Blooper and how we did in the Trans Winnebago race. I have good news! We took first place in the spinnaker division and first place over all! The 30nm race was down wind the whole way and we where able to use the blooper. I found that at points in the race when the wind picked up and the boat became less stable i.e. on the verge of death rolling we would deploy the blooper, which work great to stabilize the boat, then as the wind lightened we bring it in and use only the main and spinnaker.

Comments from other Dolphin bloopers welcome!