January, 14, 2008. Simon Graves spotted this Yankee in Placenia, Belize while cruising the Caribbean in his Supernova in 2005/2006. Until we find out more she will bear the name Belize Yankee. Getting more info on this boat may difficult.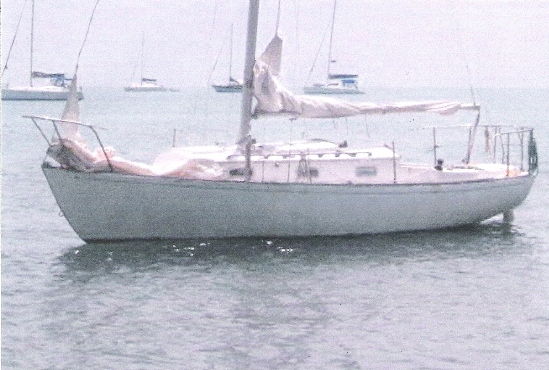 February 22, 2012. For nearly 2 weeks our international staff has been working on a Dolphin 24 that new owner David Gobiel checked in from Belize. Initially we thought we had her in our Roster, then we determined that we did not, and then we found out that we did, we think. Yesterday, your webmaster thought - I wonder if our website search engine could locate a Belize Dolphin? Lo and behold here she is!!
I will try not to hang out our dirty linen of 2 weeks of back and forth emails. Suffice to say at one point we thought she might be Yankee #205. Anyway, here we go. David checked in on February 9, 2012. Here are excerpts of his emails, consolidated and edited.
Hi Ron

I found your website after I recently bought my Dolphin. I bought the boat from a very nice couple here in BELIZE, yes that's BELIZE.


These folks bought the boat from a fellow who owns a car rental company here in Belize and he likes to buy and sell stuff and has been doing business here in Belize for over 20 years. He is from Texas and buys most of his rental vehicles there at insurance auctions before he imports them to Belize.

I just got of the phone with Jay the owner of Crystal Auto Rentals here in Belize. Jay says he did in fact buy this boat at an insurance auction in Texas..... it was after a hurricane around 1982! Which means he had owned the boat for about 25 years before he sold it to the owners prior to me.

The name Princess on the stern was part of the name Jay had given the boat..... "Crystal Princess". He says it was named "Pacific Dolphin" (that was it's name) when he got it. Unfortunately that's all the relevant info he could provide in regards to the hull number.....Webmaster Note: Hmmmm....

But before I give my theory on which hull number this is, let me tell you what's happened since I bought the boat.

First, a little background - . I've owned about 15 sailboats of all sizes in my 40 years, from 8 foot Sabots to a Cal 39. I sailed from Victoria, B.C. to Baja Mexico, then around the Pacific on a Grampian 26 when I was is in my early 20's, then did it again on a Cal 33 after I sold the Grampian on Guam in 1996. In over 20,000 miles of blue water cruising, I've NEVER had a serious mishap, eg grounding etc, not even so much as a slight anchor drag, which is why I'm VERY embarrassed to say what recently happened with my 'new' Dolphin.

I "docked" the Dolphin on the Sittee River with it's stern tied to a dock and the midships held off the bank with lines tied to trees.(I couldn't tie her along the dock since the dock has a six foot overhang to shelter power boats which usually dock there)

Well, as Murphy's Law might eventually get everyone, he got me, and the boat was holed by an unseen stump on the bank and sank! It sat there, submerged under about three feet of muddy river water, for 19 days before I was able to get the time and figure out how to raise it - which is another story. But, suffice to say, 19 days in a muddy fast flowing river filled her with quite a bit of mud, and also caused most of the topside, interior and bottom paint to start to lift.

So after re-floating her and thoroughly power washing her inside and out, I immediately got her out onto the hard here in Dangriga, where I live, and began to refurbish her; see the following pictures for the nightmare I was faced with.


I think if this had been a Catalina 22 or some other mass produced, cookie-cutter boat I probably would have just scrapped it and sold off the mast and other parts which were basically unaffected by the sinking, but something about this boat called me to undertake "saving" her.......

| | |
| --- | --- |
| | Structurally she was basically unscathed except for the minor damage we caused while dragging her to the surface, most of the interior woodwork is okay although some will need to be replaced. The hole (which was just below the water line, see picture) only took me about three hours total to make it look like new.... |

I found this site after I realized that the centerboard was missing... it appears the pin which mounts at the top of the trunk inside the boat at the garboard sheared the fiberglass and fell out taking the board with it. Someone had added a fair bit of glass to both sides of the trunk in the bilge, so I think the previous owners were aware it was missing although they told me it was just "stuck" which is why it wouldn't drop when I bought the boat.....:

I want to relocate the pivot pin for the centerboard down from it's current position just inside the bilge. There is much more fiberglass down lower, but I am just guestimating as to where I will drill the hole through the keel. I think your boat has the lower mounting point? Could you take some measurements to give me an idea so it might help me to avoid hitting a keel bolt or drilling into ballast.

Webmaster Note: The Yankee Dolphin and the O'Day Dolphin had different centerboard trunk designs so some caution is necessary. Marionette has a bolt on keel whereas the Yankees, except for early production, have an encapsulated keel and more ballast. We'll work on this...meantime check out the Technical Section - Centerboards.

The new drop keel has been cut from 3/8 steel and I encased it in "coal tar epoxy" and i've cut a jig of the drop keel out of 1/4 inch plywood to dry fit and mark the hole in the keel(once i figure out where to drill it!) which i will use to mark on the steel plate to drill it out.
The refurb is coming along nicely, we've finished painting all exterior surfaces with Petit Easypoxy (my paint of choice since i've used it many times over the years and know it well), and the bottom with Trinidad Professional. I have stripped all strippable woodwork from the interior and am painting the interior now.

All the woodwork will be re-varnished. I will also post pictures of the new drop keel this weekend before I mount it.

Warm Regards,
David Gobeil,

Stay tuned
June 1, 2012. We got pictures of Sophie from David and a couple of emails (consolidated and minor edits)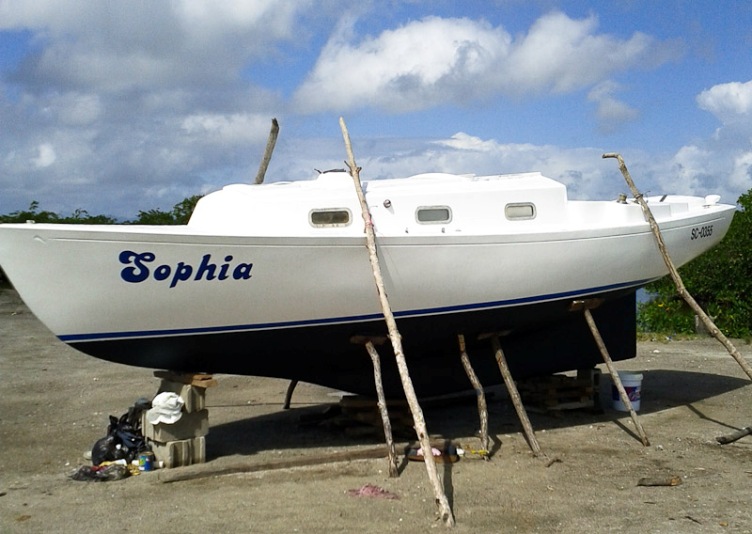 just love those poppits...
| | |
| --- | --- |
Hi Ron,

I just happened to tune into your site this morning and saw the new update regarding Wada's centerboard replacement.

Exactly what I just went through!

I"ve been very busy with work the last few months so I've only been able to spend an hour here, and hour there, working on it. But as you could tell from my previous emails regarding my desire to re-locate the pin down the keel, I had a gut feeling this was the proper thing to do. (and it is, according to S and S!)

So, being a glutton for punishment I undertook the job myself and can attest.... it was an absolute b*tch drilling through all that lead. I had the added excitement of breaking an extended bit while it was almost fully buried....lots of fun!!!

How did I overcame the broken bit? I no alternative but to estimate the exit on the opposite side of the keel and drill in from the opposite side so I could hammer it out. I was off by about half inch, so, as you will see from the pictures below, I ended up making quite a mess lining up the new hole with the original hole. This added several hours (and much swearing) to the job.

| | |
| --- | --- |

The other "problem" I encountered was the new board which I had cut from 3/8" steel plate according to the measurements I took from somewhere on the site didn't fit properly. I made an exact plywood copy of the steel board to fit and properly locate where to drill the pin hole and also make sure it would raise and drop correctly..

I ended up having to cut off a fairly large chunk off the front bottom corner of the board to allow it to drop to the specified amount, this was probably due to the new pin hole in the keel not being in exactly the right spot since i just eyeballed it.

Then I had to trim 1.5 inches off the length of the board so that it would fit all the way up into the trunk (i had nighmareish visions of grounding and the top of the trunk absorbing the entire weight of the boat from the centerboard protruding out the bottom of the keel.....)

Yesterday we dry fitted the board one last time before painting it and we will mount it today! Here it is!!

Warm Regards,
David Gobeil


*******************************************************
June 6, 2012. Sophia is launched - Here's dave report, and some great pictures!
Evenin' Ron

We got the boat back in the water this afternoon and I thought you and your faithful readers would like to see how we do it in Belize! There actually is ONE travel lift at Cucumber Beach in Belize City but nothing of the sort anywhere else in the country. Here's the link http://www.oldbelize.com/index.php?section=4

We had planned to use spreader "bars" comprised of a 2X6 with a 2X4 nailed together for good measure, but upon lifting they started to bend alarmingly, so we just went with the straps... the same way we hauled it out. (This is great testament to the build quality of these boats... I'm quite sure a Catalina or Hunter would collapse on itself if lifted like this).

The heavy equipment company charged me $300 bzd ($150 usd) each way which I thought was fair.

Anyways, I was pretty much holding my breath until she was safely in the water because I really didn't want to see anything go wrong now after all this work!

Warm Regards,
David Gobeil,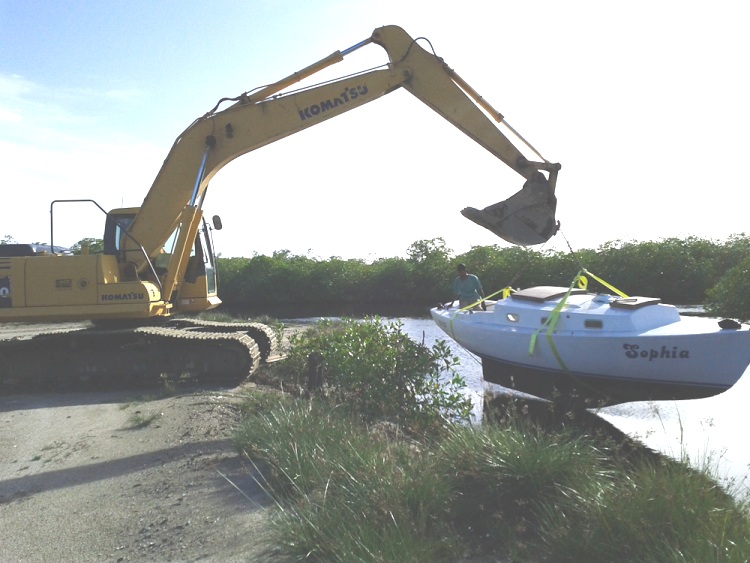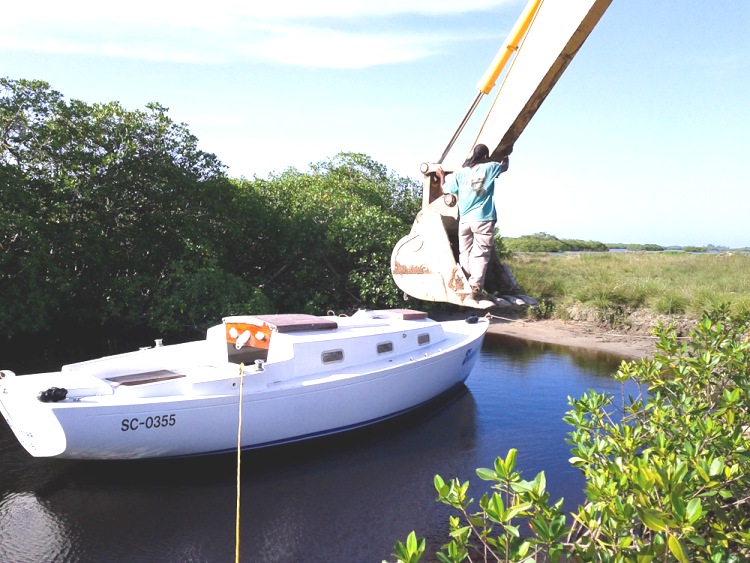 all done - next...