July 30, 2013. Recent activity in Anchor Lockers by Jerry Slaughter on Rowdy (see http://www.dolphin24.org/rowdy_vberth.html) prompted a review of our technical data base on this subject. It was found wanting so here's more detail on Marionette's anchor locker.
We'll start with the basics. Except when racing, Marionette carries her Danforth 12 lb hi tensile on deck. Its attached to 10' of 5/16" galvanized chain (maybe its 1/4" ? will check) and 150' of 7/16", 3 strand, nylon rode.
I always worry about sails and sheets getting caught on this anchor, and also tripping on it when someone goes forward to take or cast a line....

Note the little white rubber end tips on the bar.

As I get older I prefer moorings and slips anyway!

Ok, I also see the loose taped end....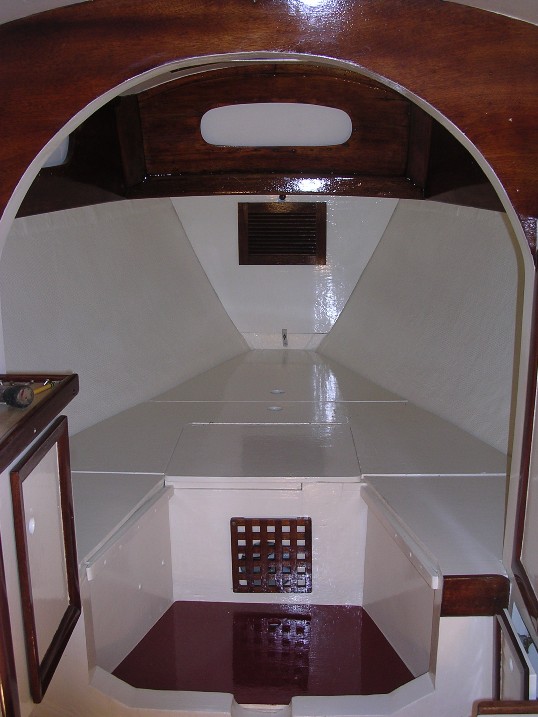 Marionette's V-berth
The above picture was taken about 5 years ago. Marionette's V-berth was freshly painted, her cushions removed in preperation for another, area related project - Marionette's V-berth, head and holding tank. Click here to go there.

The picture shows the anchor locker in the forepeak behind that forepeak panel. The panel has 2 pins in the top edge on either side that fit into mating holes in the overhead beam

A simple swivel plate (at left - a bit fuzzy - maybe we'll do a retake) with a wing nut, that when tightened, presses against the lower cross beam and secures the panel base.

The mahogany louver provides circulation, and access, as it too is easily removable.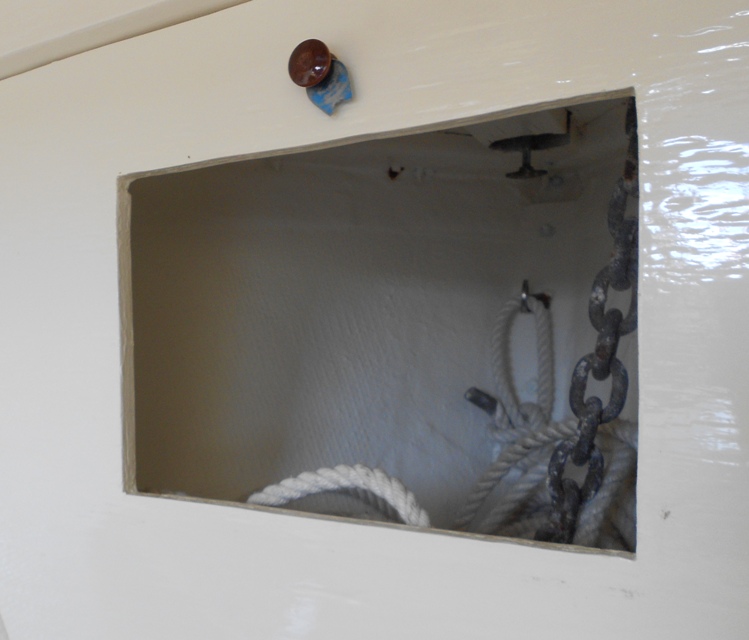 The anchor rode dead ends at the ring. There is a mushroom vent at the very peak
The knob is attached to an old dog tag (I kid you not!) which, when rotated, fits in to a slot cut in the top of the louver, holding the louver in place.
| | |
| --- | --- |
| up position - unlatched | down position - latched |
*********************************