It had been a while since the America's Cup had been in the US. Our connection to the Cup is through Olin Stephens whose firm, Sparkman & Stephens, not only designed the Dolphin but many America's Cup defenders. Olin also teamed up with Starling Burgess to design Ranger in 1937 - the last of the famous J Boats that competed for the Cup early in the last century. Click here to go to her.
In September, 2007, your webmaster was in Geneva, Switzerland and had the opportunity to check out the then resting place of the Cup - the Societe Nautique de Geneve - and took the following pictures.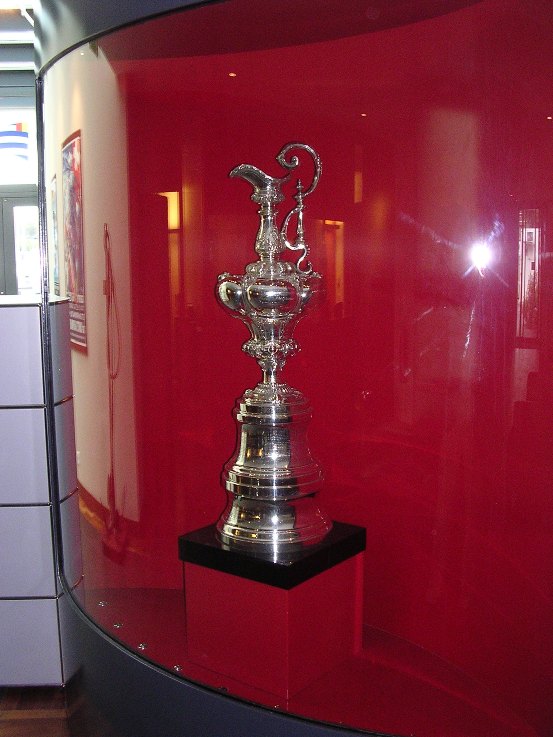 The Cup was located in the entry hallway of the Club Nautique de Geneve. This is a modest club on the southwest shore of Lake Leman just outside Geneva.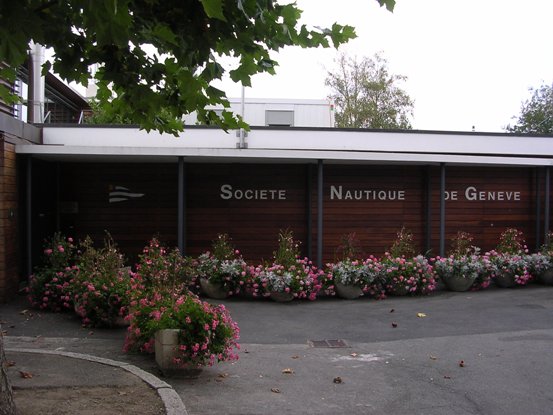 The last time I saw the Cup it was on the pedestal in the main entry hall at the New York Yacht Club. Looking for a picture I took but no luck so far.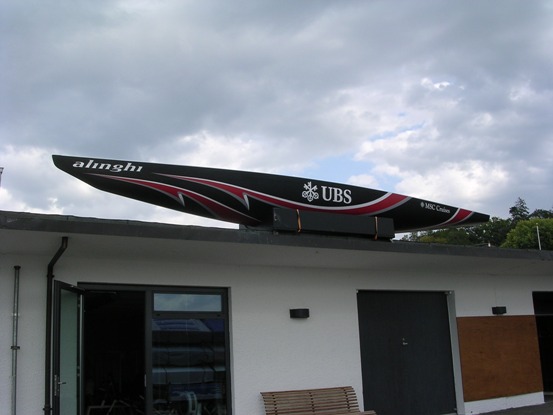 A large scale model of Alinghi was on the roof of the club annex. This yacht club is a working sailing site - just out of view to the left was a 49'er Olympic hopeful working on his boat.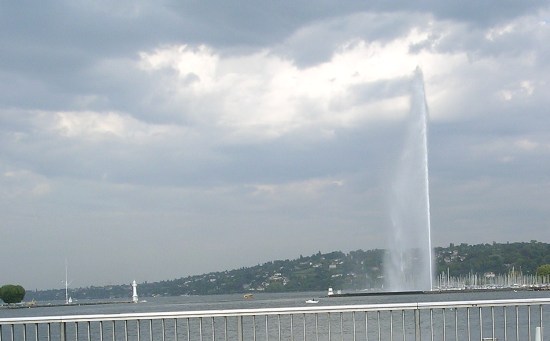 Geneva's famous Jet Eau
************************
February 22, 2010. There is , of course, a sequel to this story...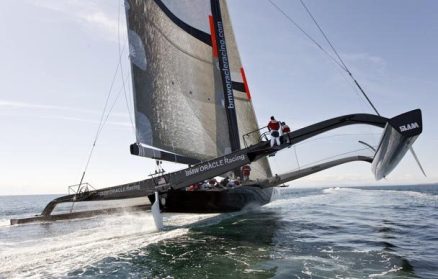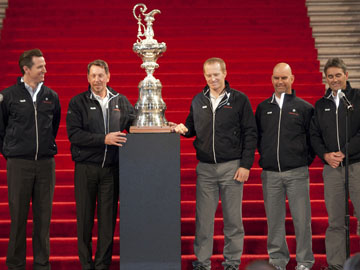 The America's Cup arrives in San Francisco (photo at SF City Hall), (l-r): Mayor Gavin Newsom, Larry Ellison, James Spithill, John Kostecki and Russell Coutts (©Gilles Martin-Raget / BMW ORACLE Racing)
*********************
January 12, 2013. We still don't have a picture of the Cup in its current resting place, but our DFI's are working on it. Until we do these will have to suffice. Click on the pictures for a larger image.
| | |
| --- | --- |
| Golden Gate Bridge, San Francisco | Inscription |
******************************************
May 20, 2013. Things have been heating up on this years' America's Cup regatta. Mike Zint (Grand Finale) sent us this picture of Prada training on San Francisco Bay - from today's edition of Sailing Anarchy. I wonder how much time she would have to give a Dolphin?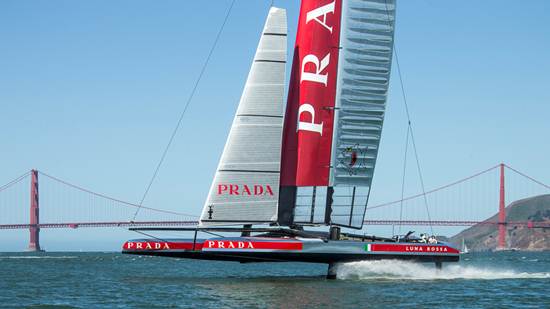 ******************************
September 13, 2013. Things are not looking good for America's Cup defender Oracle. The standings after Thursday, September 12th's two races are 6-1(-1) in favor of the Kiwis. Again, thanks to Mike Zint here is Oracle crossing the finish line in her one winning race (Race 4), so far.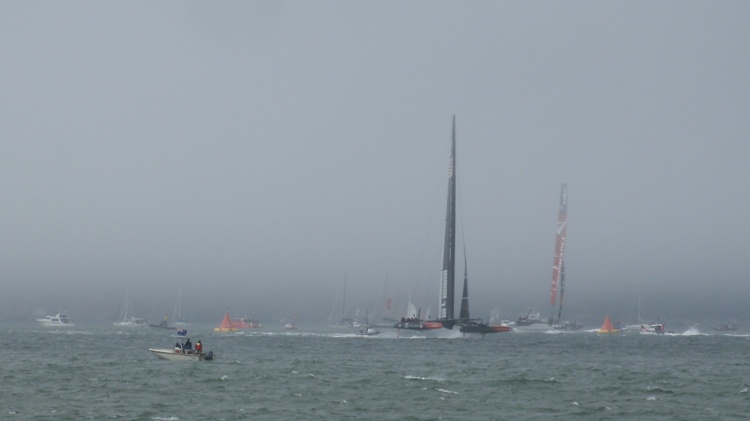 It might have been foggy but its still a pretty picture
**************************************
September 25, 2013. From the New York Times
Oracle Completes Voyage to History, Winning America's Cup
"Trailing by 8-1 to the challenger, Emirates Team New Zealand, and within one defeat of losing the Cup, Oracle continued to upgrade its boat and its confidence and — against overwhelming odds and a team of veteran sailors — proceeded to win an unprecedented eight straight races to defend the trophy.)
Oracle Team USA completing its victory in Race 19 of the America's Cup in San Francisco Bay. "They just got better and better," said Grant Dalton, the managing director of Team New Zealand.
******************************************