This yellowed ad was found on the website www.iheartodays.com. It appeared in the March, 1960 issue of Yachting Magazine. It sums up George O'Day's vision of the "made in fiberglass Junior Ocean Racer" that he and Olin Stephens discussed on December 8, 1958. We are working on improving the image, but until we do you might find the almost complete reiteration below it helpful.
Webmaster Note: On April 18, 2011 Karen Larson, Editor of Good Old Boat Magazine 'made our day' sending in a clear copy of this ad found in their files. Click here to go to it in a larger format. We leave the original ad copy we posted back in 2007, and our original reiteration, as a reminder of how far we have come....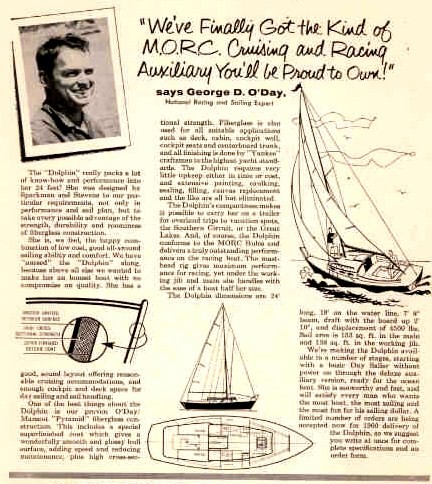 "We've Finally Got the Kind of
M.O.R.C. Cruising and Racing
Auxiliary You'll be Proud to Own!"
Says George D. O'Day
National Racing and Sailing Expert
The "Dolphin" really packs a lot of know-how and performance xxxx (into) her 24 feet! She was designed by Sparkman & Stephens to our particular requirements, not only in performance and sail plan, but to take every possible advantage of the strength, durability and xxxx (roominess) of fiberglass construction.

She is, we feel, the happy combination of low cost, good all-around sailing ability and comfort. We have xxxx ("nursed") the "Dolphin" xxxxx (along) because above all else we wanted to make her an xxxx (honest) boat with no compromise on quality. She has a good, sound layout reasonable cruising accommodations, and enough cockpit and deck space for day sailing and sail handling.

One of the best things about the Dolphin is our proven O'Day/Marscot Pyramid fiberglass construction. This includes a special xxxx xxxx (superfinished coat) which gives a wonderfully smooth and glossy hull surface, adding speed and reducing maintenance., plus high cross-sectional strength. Fiberglass is xxx (also) used for all suitable applications, such as deck, cabin, cockpit well, cockpit xxx (well) and centerboard truck, and all finishing is done by "Yankee" (prophetic !!!) craftsmen to the highest standards. The Dolphin requires very little upkeep either xxx (in time) or xxx (cost), and extensive painting, caulking, sealing, filling, xxxx (canvas) replacements are all but eliminated.

The Dolphin's compactness makes it possible to carry her on a trailer for overland to vacation spots, the Southern Circuit or the Great Lakes. And, of course, the Dolphin xxx (conforms) to the MORC Rule and delivers a truly outstanding on the racing beat. The masthead rig gives maximum performance for racing, yet under the working jib and main. She handles with the ease of boats half her size.

The Dolphin's dimensions are 24' long, 19' on the waterline, 7'8" beam, draft with board up of 2' 10" and a displacement of 4500 lbs. Sail area is 153 sq ft in the main and 138 sq ft in the working jib.

We are making the Dolphin available in a number of stages starting with a basic Day Sailor without power on through the deluxe auxiliary version ready for the xxxx xxxx (ocean beat). She is seaworthy and fast and will satisfy every man who wants the most boat for his sailing dollar. A limited number of orders are being accepted now for 1960 delivery of the Dolphin; so we suggest you write at once for complete specifications and an order form.
Thanks Karen!
********************************************