August 29, 2014
Yankee #140's new owner, Barry Rynk, checking in. Here's his email
Hi Ron:

I wanted to let you know that I am the happy new owner of Yankee Dolphin #140, Avri Ellis. This weekend, I'm planning on moving her from Wilmington up to Marina del Rey on the same dock as two other Dolphins: Aspara and Robin Lee. I've often admired these two Dolphins while I was taking breaks from lessons at Bluewater Sailing School.

I'll send some photos of three gals on the same finger soon, and thank you for all the information and history about these sailboats on your website. It was a major factor for me in looking for a Yankee Dolphin in the first place.

Best Regards,

Barry
Welcome Aboard, Barry!!

*************************************

August 29, 2014.

We got the following reply from Barry (consolidated)
Hi Ron:

Glad to be aboard!

I'll send some photos as soon as I've moved the boat to her new slip. I'm hoping to get the sails up for the first time during the move! Yes, I am planning on changing the name of the Dolphin. The current name "Avri Ellis", as you know, is Eric Barnett's daughter's name. This was a very personal, and beautiful, gesture from Eric, but I feel I have no connection. I actually like the original name "Mistress", but is it considered bad luck to re-name a boat back to it's original name? The last thing I need is the wrath of Neptune coming down on me 20 miles offshore!

Thanks again,

Barry
September 8, 2014.

Update and name change (not really...)
Hi Ron:

I hope you are well and enjoying the sailing in Maine this summer! I've decided to keep Dolphin #140 in Wilmington and will try sailing to Catalina from this point a few times. It is the closest distance to the island and I'd like to try the wind from this angle. I'm sorry, but it may be awhile before I reunite with the pod at Marina del Rey!

Also, I've decided to change her name back to her original Misstress. I like the portmanteau of the words "miss" and "stress", ie. spending time aboard helps you miss stress; as well, I like the defintion of "mistress" as the romantic connection between a man and his sailboat. Attached are a few pictures taken at the dock before taking Misstress out for her spin this past weekend. Thanks for all that you do keeping track of these wonderful sailboats!

Best Regards,

Barry

Click on the photos for a larger view

Maybe we'd better rinse her off before the close up...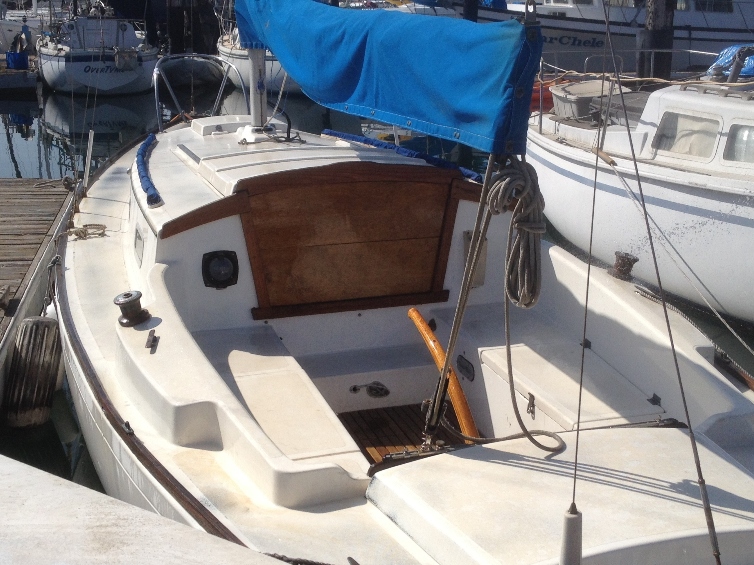 ***************************
April 25, 2016. We got a couple of project reports from Barry. The first is a novel way to store your outboard motor. Below right is a picture. Click here for a larger image. And, Click here to got to the Technical Section for the complete report and more photos.
The second report is covered in Barry's email below (minor edit)
Hi Ron

Below are a couple of photos of renovations underway with my '69 Yankee Dolphin. I am in the process of removing, refinishing or replacing, and re-bedding all of the exterior teak trim on the boat. Some of the teak is too far gone to be saved, such as the handrails.

New handrails are shown in the photo, finished with three coats of Sikkens Cetol Marine Natural Teak sealer. I'm planning on using the old teak handrails as stock for new eyebrows, and perhaps some other pieces. I think making some canvas snap-on covers to protect the teak trim will be another set of projects for the future.

I have also started making backing plates for all deck hardware from a G10 fiberglass stock I found at Jamestown Marine. I've read G10 is very strong and resistant to moisture and corrosion problems.

My plan is to re-bed all deck hardware with backing plates this year during topsides painting.
| | |
| --- | --- |
| | |
I'll keep you up to date on progress with Misstress renovations, and, hopefully I'll be able to still do a Catalina Island cruise in July.

Thanks again for keeping track of your pod of Dolphins!

Barry

*********************************
September 7, 2016 Replying to a follow up note Barry sent in the following update and photo

Hi Ron:

Thanks for the note. I was able to solo to the Isthmus Cove (Catalina Island) from the port of LA about a year ago and I'll send you a photo of myself aboard Misstress from that trip soon.

Recently, I moved my Dolphin from a marina in Wilmington to Marina del Rey, and had the boat hauled for much deserved bottom paint, sealing all three thru-hulls below waterline, and mast/rigging restoration. She was splashed just before Labor Day and my buddy snapped the attached photo. The name Avri Ellis still graces her transom.

There's still a great deal of work needed on the teak and deck painting, but, overall I'm happy to get my Dolphin in a solid "usable" state right now.

Cheers,

Barry

Click here for a larger image
Postscript: We got the following note and photos from Barry

Attached are a couple of photos of Misstress on that first sail to Isthmus Cove on Catalina Island.

Click the photos for a larger image
***************************
April 5, 2017. Barry's on the move and taking his Misstress with him - from California to Florida
!
This move requires a good trailer - so please spread the word - Barry is looking for a good one. Here is his email - minor edits.
Hi Ron:

I'd like to take you up on your offer to add Misstress to the "What's New" alert that I'm looking for a road-worthy trailer for moving my Dolphin from CA to FL. I'd prefer to find one on the West coast, but would consider any and all trailers nation-wide, depending on logistics and shipping costs.

Please have people contact my via e-mail or cell phone, barryr03@gmail.com or 561-558-6947.

Thanks, Ron, ahead of time, for doing this...

Regards, Barry

*************************************
February 21, 2018 - We got thre following note from Barry, responding to a webmaster mid winter update request.
Hi Ron:

Thanks for the note. I'm still working the plan to move my Dolphin from LA to FL. I'm sorry that there's nothing else new to report. I'm looking forward to sailing her again!

I hope you are well.

Regards, Barry