The following 1999 email from Charles Cardona was found in former Dolphin 24 webmaster Jim Huxford's old internet files.
My Pacific Dolphin 24
Date: Tue, 13 Jul 1999 16:01:14 -0400
From: "Charles Cardona"
I have a S&S Pacific Dolphin 24 that I recently acquired. It is such a nice boat and sails quite well. It is number 257 made in 1976 by Pacific Dolphin. It has an outboard well and a Honda 4-stroke 10 hp. I have a picture of it - http://www.owlnet.com/chaz/boat2.JPG. It has roller furling Genoa, electric head and it (is) much bigger and quite sturdily built.
I have noticed that she has considerable weather helm with just the mainsail up but with just headsail or both , she steers very nicely. I have only just put her in the water and already have fallen in love with this little boat. She is sailed in Southold, NY in the Peconic Bay of eastern Long Island

Charles Cardona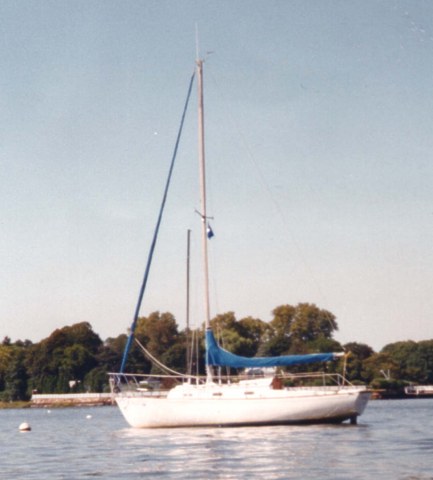 ***************************
We have been trying to find this boat and came close, we think, a couple of times. Charlie sold this boat to a Steve Letterman in this area. Steve also sold the boat...Stay tuned.