June 20, 2021 SOLD! We got the following email from Hilary, and will standby for the new owners to check in
Hello Ron,

It's a bittersweet moment in my life, reporting that Delfina has SOLD. I'm happy to say she will be remaining in her slip in Monterey Bay and the new owners are Dolphin enthusiasts. Also have plans to improve her even more.. and most importantly SAIL her often. I loved them immediately..... after a couple of weeks of wasting time with people not genuinely appreciative of what she IS...nor the history of these boats..

Thanks again for your help. I will continue to follow "Dolphin" news on this site.. because once they're under your skin.. we'll .. YOU know.

Take care.. be well,

Hilary

FAIR WINDS HILARY!

*************************************
May 31, 2021 In over the transom we got the following email from Hilary.
Hi Ron,

I was going to email you ages ago in response to your email asking about my boat Delfina. Then Covid happened.... and a lot of other things.

Anyway.. sadly, I'm putting my boat up for sale and wondered if you could post on the website. I have a detailed ad on Monterey Ca Craigslist. She's a Yankee Dolphin 24 "Delfina" #181 I've owned her 5 years and have greatly improved her. She's priced to sell well below what I've put in. Hopefully a Dolphin lover will buy her!

Thanks so much and keep up the great work you do!

Hilary Mackenzie

Click here to go to the Craigslist ad and lots of pictures

"Yankee Dolphin 24"
Keel/centerboard sloop in transferable slip in Monterey Harbor.
5 hp Honda low miles
Main and jib in new condition
New topside paint 2020
Last haulout bottom paint June 2019
Rigging and interior cushions excellent
Centerboard needs repair or replacement
Look up "Yankee Dolphin 24"website for more specs and history of this boat
SERIOUS INQUIRIES ONLY
****************************************
**************************************************************
*************************************
January 22, 2016. Hilary checked in today as the new owner of Yankee #181, formerly Vision. Below is her email (minor edits). We'll standby for pictures and stories.
On Dec 10th 2015, I became the proud owner of Yankee Dolphin #181 (77'?..not exactly sure) She is living in a slip in Monterey Harbor..coincidently near a Pacific Dolphin owned by a Mr Lugo. I have renamed her "Delfina"...from "Vision".

I am completely new to the sailing world, so it was fun discovering what a following these great boats have.....and finding your site! Not sure if this is an old site, but wanted to let you know where ol' #181 is hanging out! I can't wait for the weather to improve and start having new adventures on the old gal.

All the best

Hilary


Welcome aboard Hilary!

**************************************************
March 2, 2018. Hilary's been working these past 2 years - here's her email reply responding to a webmaster follow up (minor edits)
Hello again,

A nice rainy day to reply to emails and later go check the few tiny leaks that still have me stumped on that boat!

It's been a little over 2 yrs since I bought my Yankee Dolphin and a lot has happened. I went in with ZERO sailing or sailboat knowledge. Bought her to fulfil a lifelong dream at a late(er) age. She came with an awesome slip where there's a 10 yr waiting list, I'm a hands on gal.. I've owned salt water boats in Amsterdam, but never a sailboat. She was cheap.. ha! Let the games begin. Boy have I learned A LOT!

What history I know of her: she came to California from Florida via the canal carrying drugs, was confiscated and sold at auction where she was bought by the owner of our local Chart House restaurant some 30 yrs ago. He had her for some yrs., sold to bartender, who had her 6 yrs. HE sold her to someone who had her 15 yrs, only sailed her 3... used her as a "man cave", storage unit.

When I saw her, owner was in financial trouble, boat was FULL of wet junk, mainsail in tatters, electrical and motor shot, rigging in bad shape, hadn't been cleaned in years, growing interesting "things"....

And I fell in love and bought her. It was the "potential". Gets me every time.

After filling a dumpster and stripping her down to pretty much an empty hull, I've got her back to what she was meant to be.. a pretty little sailboat back out on the bay.

She emptied my bank account first..... new mainsail, rewired, new standing rigging, new interior cushions, refinished all woodwork, painted bottom and hull up to deck, painted interior fiberglass white, new outboard.. added a boom vang, new outhaul system, many hours scraping paint off, and polishing brightwork.

There is a dolphin on her mainsail which she proudly flies. In this time I also learned to sail and race(crew) during the season (on another boat.)This year I may race a couple with the ol gal.I also use her as a fishing boat when it's too rough for kayak fishing. She is a fast and fun boat to sail!


This season's project will be to finally paint the deck. I took a breather last summer to just ENJOY and sail.. but it needs doing.. and I do all that work myself, so..... back to sanding!


I've met so many wonderful people throughout this adventure, a lot of knowledge and help have come my way. I'm a member of the "harbor family", it's my favorite escape. Coincidently, I'm almost directly across from that "Pacific Dolphin", owned by Frank Lugo who bought her NEW. So the Dolphins are hanging together.

I'll include a couple of pictures. I really appreciate that you keep up this website. I keep meeting people who are impressed with these boats! Now I know why.

Hillary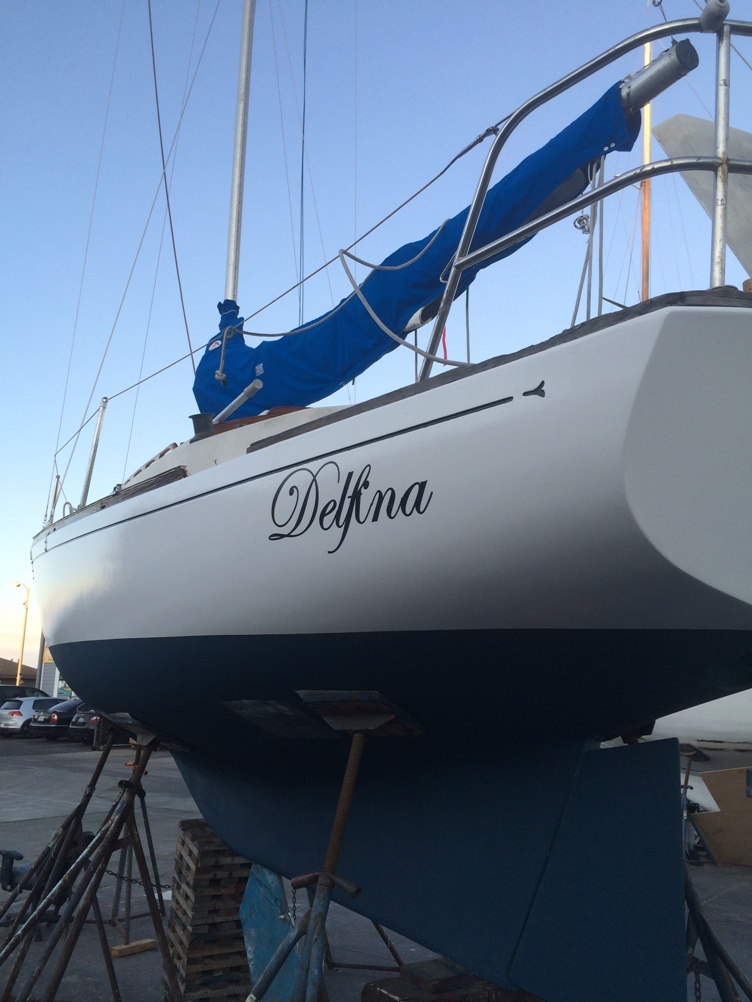 *************************
******************
*******************************************
*************************
This is what we had on Vision to this point.
On November 4, 2014. Kerry Lugo (Root Beer Float, Pacific Dolphin #294) sent in an email regarding this boat. We are trying to get more information. We first heard of her back on April 28, 2012 when Kerry advised us that there was another Dolphin at his marina in Monterey, California. She is in slip #E37. The harbormaster advised her name is Vision
Vision is a newly Found Dolphin
Hi Ron,

Attached is a couple of photo of a Dolphin 24 located on "E" Dock in Monterey, California just 2 slips away from my boat, the Root Beer Float. This weekend I noticed a For Sale sign had been mounted on the boat and thought you might be interested in knowing about it. The area code is 831.

Best regards,

Kerry Lugo

ps There is no name on the transom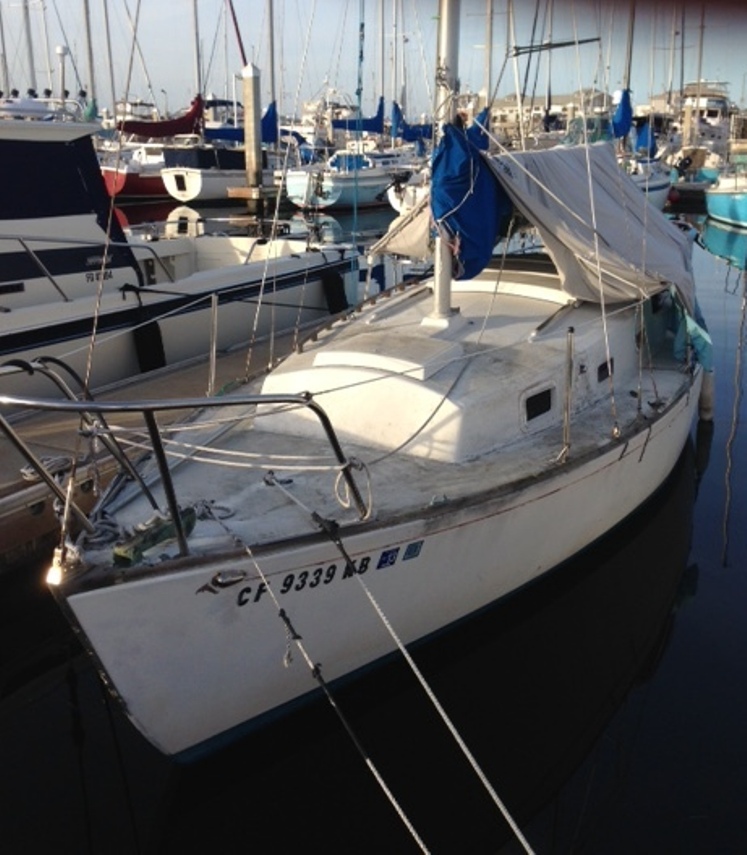 *************************
Webmaster Note, February 19, 2016 - 'Technical structure changes to this page"