December 14, 2013. Part I. Bob Pitt, the new owner of MELE, Marscot/O'Day #16 had to get her from a backyard in Mayo, near Edgewater, Maryland, to Bradenton, Florida. With the help of a couple of friends he did it - and it wasn't easy. The whole story will probably come out over time, but these pictures tell a lot. Here is an edited/consolidated clip from Bob's emails
Ron, We did a 3 day marathon trip from Tampa Bay area, Florida to Maryland to get the boat loaded off the ground. Lots of jacking, rolling and wallering in the mud. The trailer info on your web site was more than helpful to prepare balance and poppet location prior to loading. This is one heavy boat.

Here are some photos of the loading of #16 in Maryland, Bob
Mele in the backyard - photos from the Craigslist ad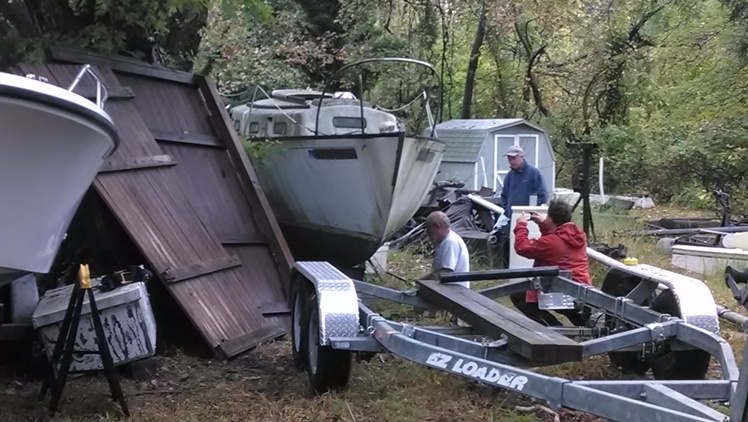 The team - click on the picture for a larger view, then click on the larger view to move around; Click the back arrow on your browser to get back here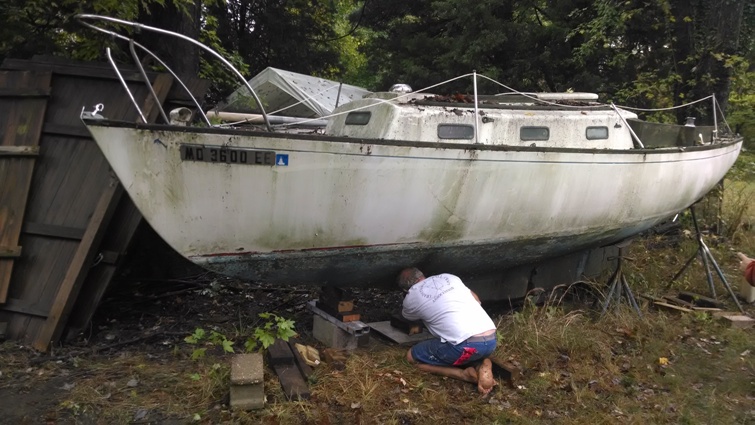 Please remove shoes before boarding...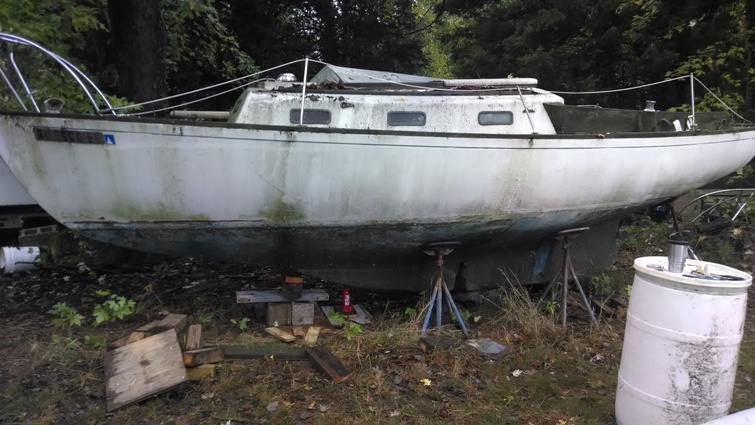 I have a 'house jack' just like that, and a 'no travel lift' system I'll bet they wish they had - click here to see it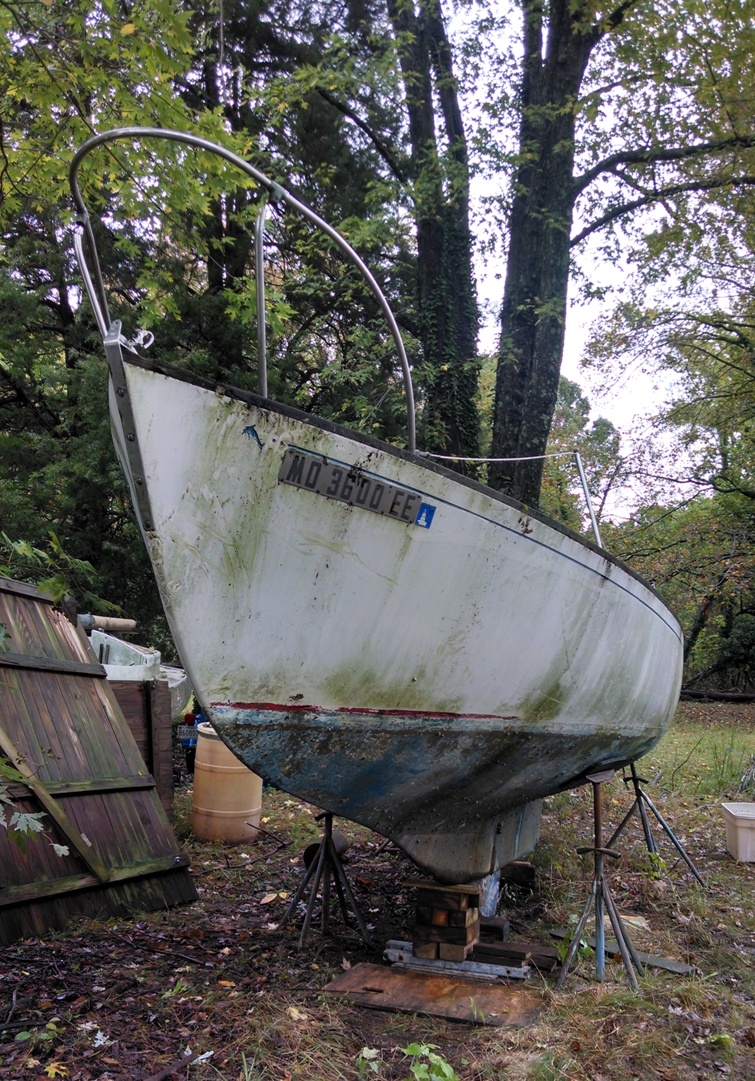 Standin' tall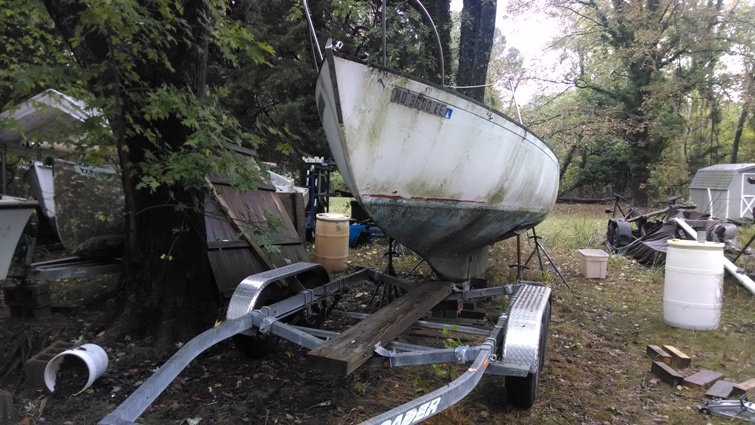 here we go!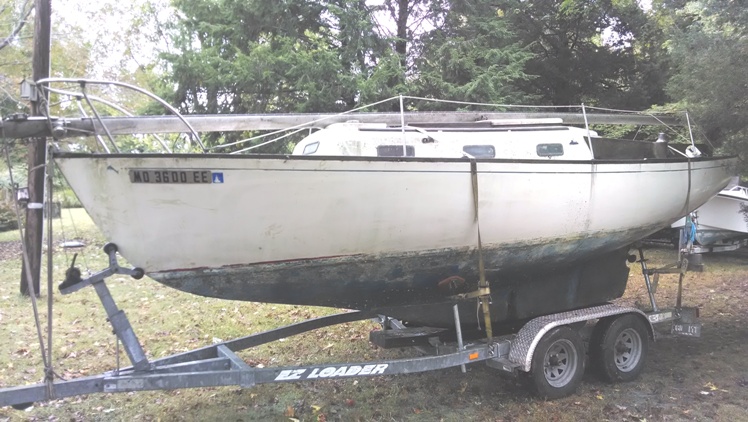 Just exactly how she got from the above 'here we go' picture to this picture remains a mystery
Stay Tuned
December 15, 2013. Part II. We followed up with Bob and he came back with Part II. In addition to having friends in the right places, It helps to know what you are doing - Bob has a day job as he told us above - he's a carpenter/rigger/glue boy (resin/glass repair) in a boat yard. Here is the text that glues together the above pictures (minor edits)
Ron, I don't know how much of this story that you want , but here it is . Feel free to edit anything you like . After arriving in Mayo, we crashed on Todd's Morgan 41.

At about 6am, I got up in the drizzle and dark, setting of with a flashlight to find the boat. This is a small boatyard with boats and boat parts everywhere. After a certain amount of stumbling around , I found her. The photos from the craigslist ad are about 4 years old, and I was not prepared for what I found . Under a pile of shrubbery and fence I saw her . My first thought was to load everybody back in the truck and go home.

So I started digging. If these boats weren't so damn good looking, I would have walked away. Moving away the branches and mast, which was bent, things started to look better, and by the time the guys and the sun got up , things started to look better. The boat was in a hole, where all that nice, heavy lead had settled into the mud. Luckily, we brought some scrap steel to bridge the hole, and we started jacking.

I have jacked and loaded many boats in the past years, so it helps to have lots of stuff - jackstands borrowed from a Cortez boatyard, hydraulic jacks and cribbing, which is never the right size.I wanted to jack the boat up to the trailer height and use rollers on the center plank, as we have done in the past, but there was too much flex in the trailer to put that much load on the tailend . So we moved the forward jackstands as far aft as possible and backed the trailer by hand under the boat. About half way under, the trailer was hooked to the truck and we used the center plank as a jacking surface. Jack and move . Repeat as neccesary .The measurements on trailers from the website was very helpful, as we put it in the right place the first time.

After 6 hours she was tied down and ready to head south. You have to understand that this would have taken about 20 to 30 minutes with a Travelift.The only mishap on the trip back was a flat tire that we changed before it was a problem.


The main objective with one of these projects is to not get anyone hurt and not drop the boat. It is best to only have one person under the boat at a time, and always have a clear way out. The work areas need to be cleared after each movement, which means lots of block stacking.The helpers are just as important as their leader. Eyes everywhere are the name of the game. Some of the best input comes from people you don't expect it from, so don't discount any info. This work is kind of like felling a large tree.It is dangerous and intimidating. Stay focused on the task at hand, and always have a clear path behind you.

Hope and Courage, Bob Pitt

Thanks Bob - a great story. Some of these ladies have had tough lives but, you're right, they are beautiful and it shows through even when they are at their lowest. And after they find their restorer their stories only add to their beauty.