November 1, 2019. We got the following email from Lauren Kabler
Hi Ron!

Letting you know that my brother, MIchael Kabler, and I bought Blue Dolphin (hull number 169) from Bill Gordean late last year. Her new name is Joli Coeur (named after the boat given to our grandparents, Hugh and Carol Kabler, on their wedding day). Joli Coeur is berthed in Tilghman Creek on the MIles River (Chesapeake Bay). We did some work on her over the Spring (repaired centerboard, installed C-head, refinished all interior woodwork, painted bottom, electrical upgrade, bilge pump,) and got a little bit of sailing in over the summer. This winter she is getting hauled, painted (interior/exterior), having her rigging (standing/running) replaced where necessary, and whatever else pops up.

Next summer Joli Coeur can be found racing in the Miles River and cruising the Upper Chesapeake Bay.

I love your website,

Lauren Kabler
Postscript Photos
Sending a few pics from past spring and summer. She's still rough around the edges but won't be after this winter!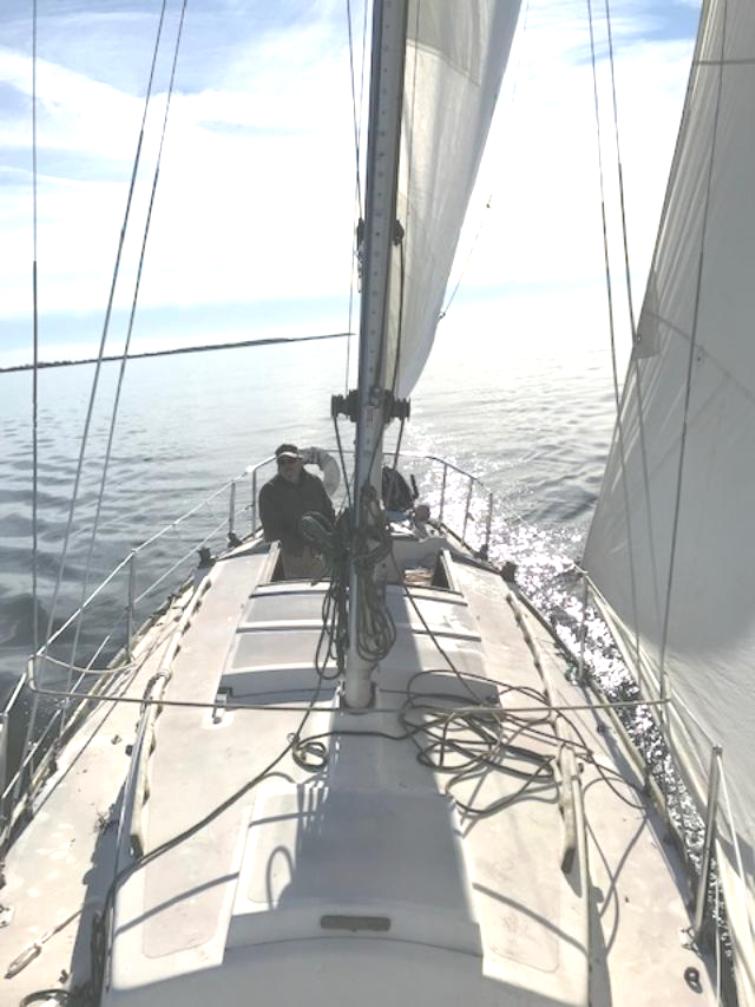 The boy is my 12 year old son Teddy and the girl is his best friend. Michael is sitting on the cabin behind them and I'm the photographer.

Click on the pictures left and above for larger images

Welcome Aboard, Michael and Lauren!
In keeping with our efforts to familiarize our readers with where our Dolphins sail, here, with help from Google maps, is a look at Tilghman Creek and the Cheapeake Bay area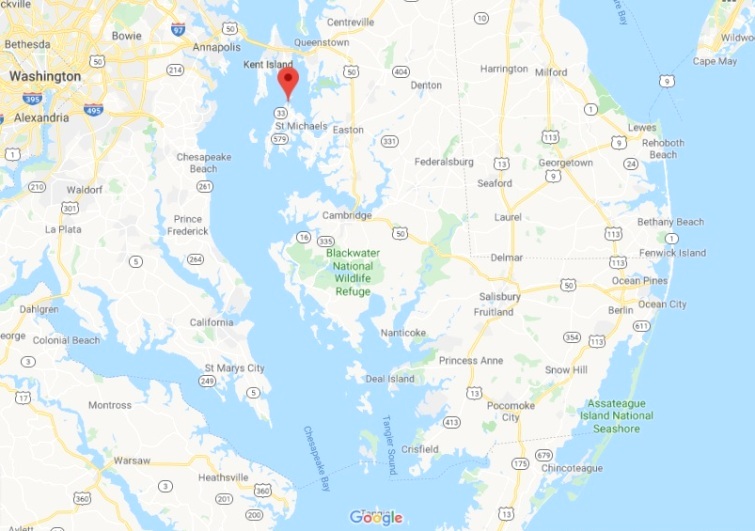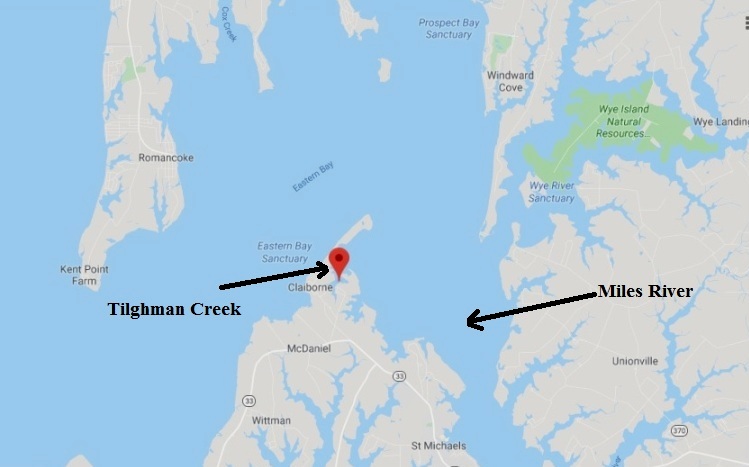 Stay Tuned
****************************************
****************************************************
*************************************
Here is more of the history we had on #169
July 5, 2018. Bill Gordean checked in as the owner of #169. Click here to go there.
***************************************
September 9, 2008 We picked up information that this boat sold in June to someone who lives in the Chesapeake Bay area. The new owner was told about the website and hopefully will contact us. Webmaster Note: Dave advised that to his knowledge the boat did not have a name but had a silhoulette of a Dolphin on the transom. A previous owner, Steve Baksis, simply referred to his boat as "the Dolphin" and apparantly this carried on...
***********************************
April 15, 2008 The following was posted on the Forum on April 15, 2008
Hi All!

Personal circumstances force me to sell my Dolphin - Hull #169. It is located near Lake St. Clair in Grosse Pointe, Michigan. I have listed it on Craigslist, Detroit:

http://detroit.craigslist.org/boa/643168001.html You can look there for details and pics.

Asking $3200 w/o Motor.

email me directly at dalden@comcast.net if interested.
Yankee Dolphin 24ft Sailboat 1971 Classic Sparkman & Stephens Design - $3250 (Grosse Pointe, MI)


This is a 1971 Yankee Dolphin (Hull #169) designed by Sparkman & Stephens and built by Yankee Yachts. It is very sturdily built and is considered one of the best ocean capable "pocket cruisers" ever designed. It has a full keel with a retractable centerboard giving it a very shallow draft of 2'10" which makes it ideal for Lake St. Clair and the Great Lakes. It comes with a compliment of 4 newer sails, all still crisp and in very good condition (Main, 150 Genoa, Storm Jib, Gennaker)

Structurally, it is in excellent condition but depending on your tastes will benefit from some cosmetic work to the deck and cabin. The hinged aluminum deck plate that the mast sits on was broken during hauling last fall and will have to be either replaced or repaired before re-stepping the mast. (It was a clean break and can probably be welded). A good scrubbing and some varnish on the brightwork will also help.

I bought this boat early last season with the intention of sailing it while I worked on the cosmetics but my circumstances have changed and I need to sell it so all serious offers will be considered.

It has a nice outboard well accessible from the cockpit and can be pushed along at hull speed with a small outboard (4-10 hp, depending on the physical size of the motor. A motor IS NOT included in the asking price but I have an almost brand new (3 hours) 6 hp 4 stroke Nissan Marine long shaft outboard available separately for about $1200.00 if you are interested. We can make a deal if you want both.

I have many items not shown in the photos including a blue canvas "Cockpit Dodger" (canopy with windows), full cockpit seat cushions, etc.

If you like the sturdier build and stability of the older sailboats and don't mind a little work to clean it up, then this boat would be a great buy.

The boat is currently on land at a local marina so it can be fully inspected. Reply by email and I will send you my phone no., or give me yours and we can talk about it.


Location: Grosse Pointe, MI