December 28, 2014. Senior DFI Mike Zint (Grand Finale, Pacific Dolphin #300) on assignment over the holidays sent in this picture of Beluga - she's a beauty!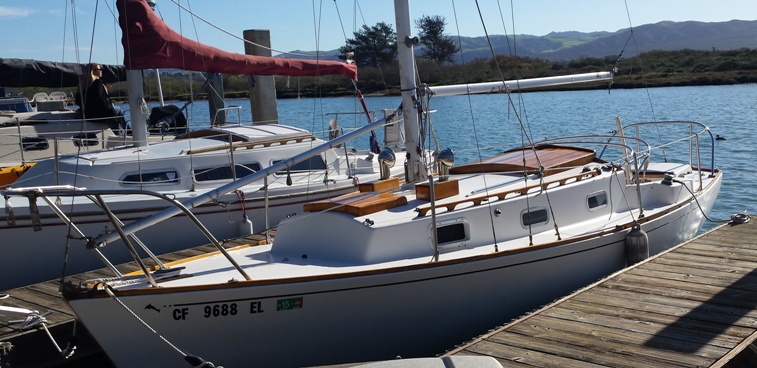 Click here for a larger view
September 19, 2009. Dolphin Field Investigator (DFI) Jim Robinson (Aquila/now Jasmine) brought this boat to our attention. This appears to be a 'newly found' Dolphin and if confirmed (confirmed!), will be the (is) 162nd on our Number of Dolphins Found List. Here is his email (minor edits) and the CraigsList ad and link.
Ron,

I found a Yankee Dolphin for sale in Morro Bay. I believe it's the "Beluga", slipped in the same marina as my Dolphin. If it is the Beluga she has sailed out of Morro Bay for about 30 years.

Jim Robinson

ps February 17, 2012. A follow up with Jim produced the following (minor edits)

Hi Ron,
I've been looking for the current owner of Beluga when I'm in Morro Bay. The previous owner, a teacher at Cal Poly in San Luis Obispo, Ca. passed a while back. I can tell you I ran across he and Beluga all along the central and southern coast of California in the late 70's, early 80's. He kept her in Bristol fashion. I was sailing a Nor'sea 27 then and I was impressed with Beluga, no doubt influencing my current sailing of a Dolphin. I'll keep an eye out for the current owner. Beluga is still berthed in Morro Bay at the state park marina, about 100 yards from Jasmine.
Hope all is well with you.
Jim Robinson
Jasmine

1969 Sparkman & Stephens Dolphin - $9500 (Morro Bay)

Date: 2010-09-14, 3:56PM PDT (February 17, 2012 - listing expired)


Reply to: sale-d5nmx-1954281024@craigslist.org

1969 Sparkman & Stephens Dolphin near coastal pocket cruiser. 24'-9" LOA, 8'-9" beam. Built by Yankee Ship Builders, Long Beach, Ca, Hull No. 143. Good condition, always in the water, no leaks, needs some tlc.

Location: Morro Bay
it's NOT ok to contact this poster with services or other commercial interests

PostingID: 1954281024

***********************
but he has not yet connected with the owner. Its not known if the boat had been sold.