August 12, 2017 John Laplant checking in as the new owner of MOONSHADOW, Yankee #120, a newly found Dolphin, our 229th! Below is his email, (minor edits). We standby for more history of #120 and pictures.
I can only assume her name is represented in the picture

Dear Ron


As promised I am getting back to you regarding number 120 built by Yankee in 1969. Her name is and will remain MoonShadow. She was in Rockport Ma on granite Pier where I first looked at her.

She'll be going in for refreshed deck fitting and the like within the week - it's a good time of year to get it into the paint department

The hull in still in good shape and was newly Awlgripped 10 years ago. She survived her rigorous survey with an overall fair to good condition for her age.. A few areas showing higher than normal moisture but what do you expect for a boat 50 years old. There aren't any soft spots frankly it's built like a tank

I believe I may be the 4th owner. I will keep you informed of her new mooring location. I suspect it will be on the South Shore of Massachusetts pending mooring installation in 2018

Please let me know if you need any other information. Feel free to give me a call anytime if you care to chat

John Laplant
Sutton, Ma
Welcome aboard John!!
September 16, 2017 Work has started on MOONSHADOW'S new dress. John sent in the following 'in process' pictures. Click on them for larger images.
Here are some work in progress photos of MoonShadow. Photos are of the Fresh Deck primer coat.

Sincerely, John Laplant
Stay Tuned
August 18, 2020 Getting ready - lifted from the Dolphin 24 Facebook Group (https://www.facebook.com/groups/dolphin24sailboats)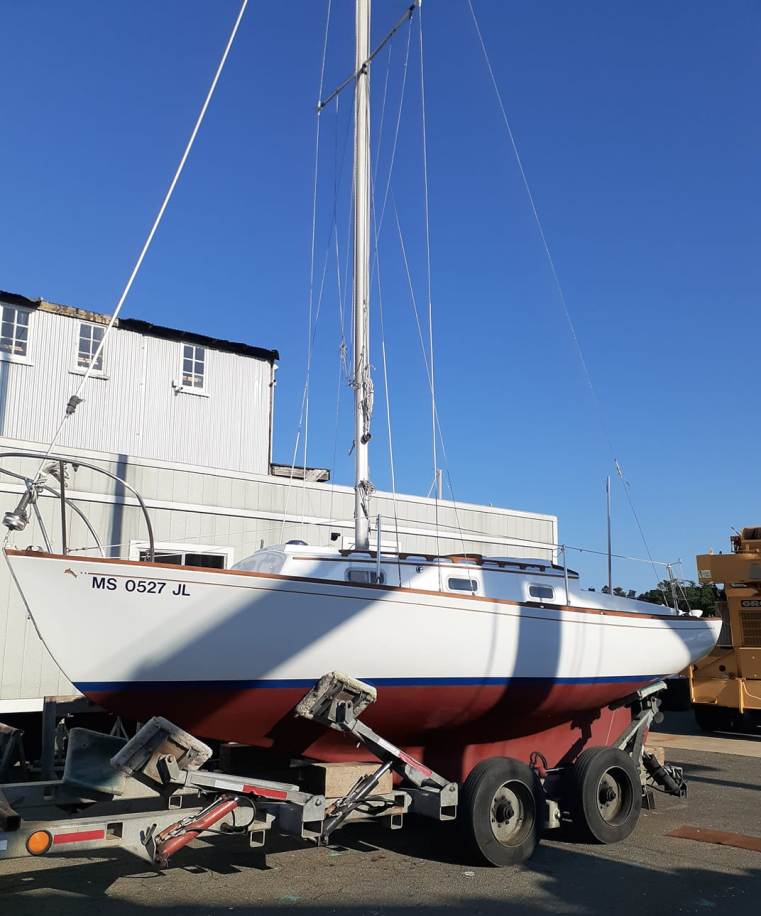 "Getting close to splash down....".

Stay Tuned
August 24, 2020 Posted on the Dolphin 24 Facebook Group (minor edit)
"Sails rigged today on MOONSHADOW, #120. Just a few more things on the punch list. Need centerboard instruction/operation advice please. Before I just drop it and realize I cant raise it up" - http://dolphin24.org/technical_centerboards.html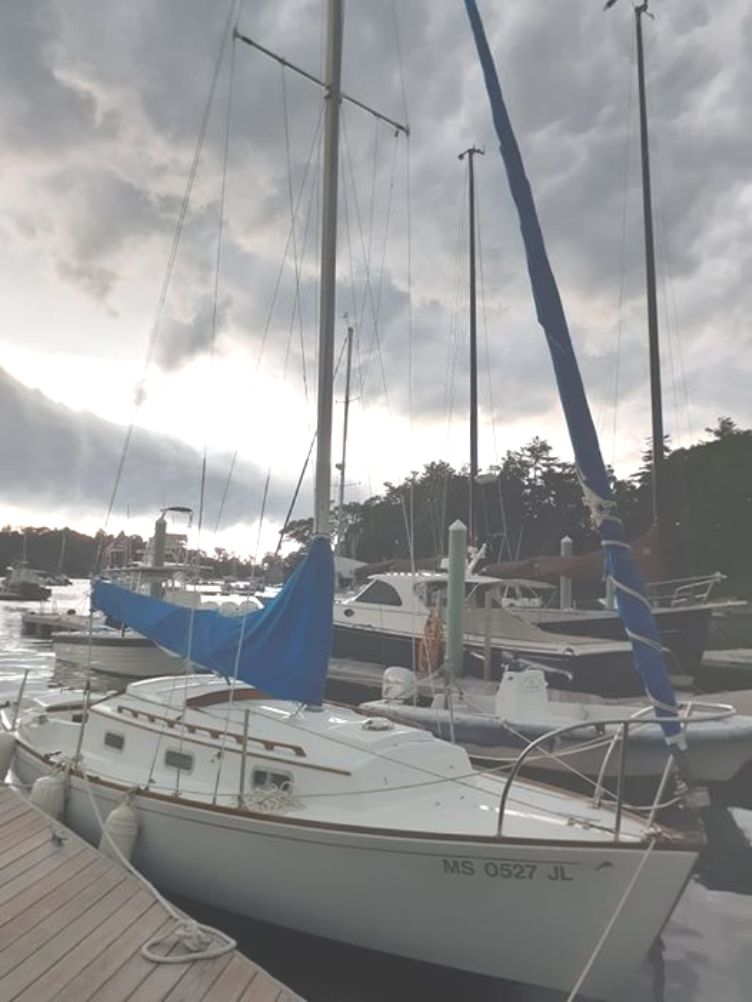 Webmaster Note: I hope those clouds are not messaging....

*****************************************
September 5, 2020 John posted MOONSHADOW'S Manchester to Mattapoisett voyage on Dolphin 24 Facebook (https://www.facebook.com/groups/dolphin24sailboats)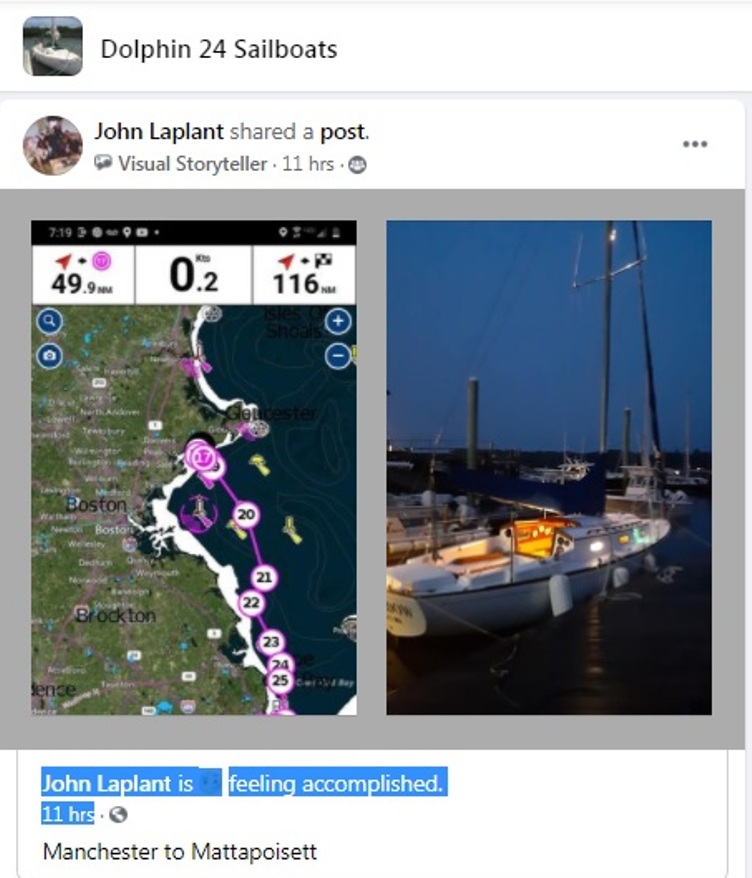 Website staff thought readers might like a better view of the trip and geography - below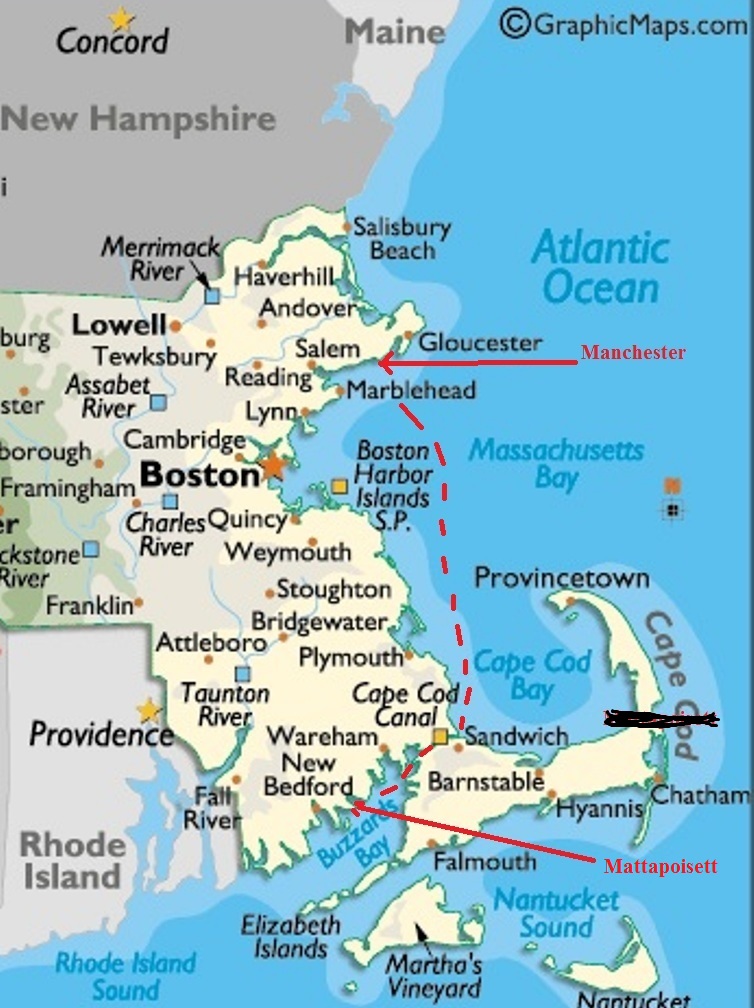 *********************************