May 15, 2022 After the 2021 Camden Classic Cup regatta the decision was made to winter Marionette in Camden, Maine at the Lyman Morse boatyard, and have a 2022 season on the Maine coast. Alas, not to be and on May 10 she was transported back to Connecticut. Thanks to neighbor, John Williams, we have a photo of Marionette peeking out of her boatyard berth before her winter cover.
Peaking or Peeking

Webmaster Note, May 20, 2022 - John Williams - the neighbor - has an interest in 24' boats - He has a Bridges Point 24. He understands the need/desire to care for pretty boats - he saw us working to prep Marionette for her return to Connecticut road trip - and brought us snacks!!

Thanks John!

****************************************

Right - Given 20+ winter years in her barn we're not sure how Marionette liked her white coat but such is life.....

On a long weekend, made manageable by several $30+!! lobster rolls, your webmaster and Marionette crew son Mike undressed her and got her ready for her 350 mile road voyage to Cove Landing Marine on Hamburg Cove, Lyme, CT.

Driver Mark arrived May 10th and we left Camden at 11:30 - 'TEER in the pick up truck bed, drove thru Camden, stopped at Taste of Maine for parting lobster rolls, and arrived safely in Lyme at 5:30

Above - Patiently waiting while crew devour their lunch lobster rolls at the Taste of Maine restaurant, Woolwich, Maine

Right - Arrived safe at Cove Landing Marine - ready for wash, bottom sanding, topsides waxing and down below clwanup - stay tuned

Click on the photos for a larger image

*****************************
June 2, 2022 - Bottom painted, topsides waxed, deck 'touched up', transom hatch sanded and revarnished - stay tuned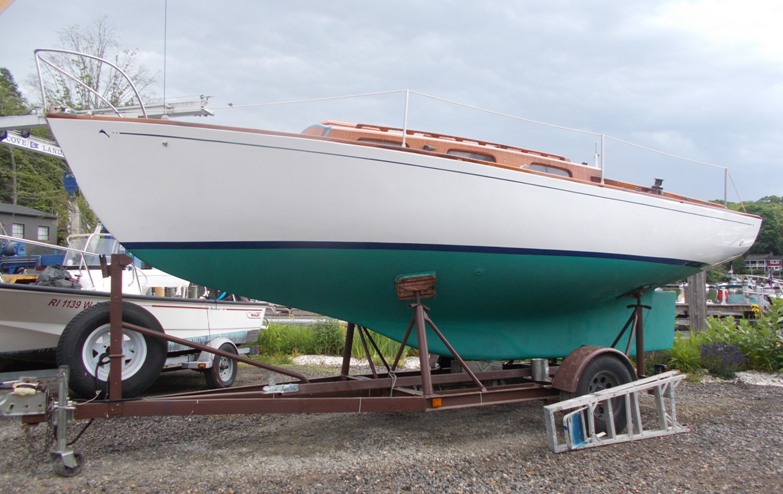 ***********************************
June 3, 2022 - Launched, mast stepped, stay tuned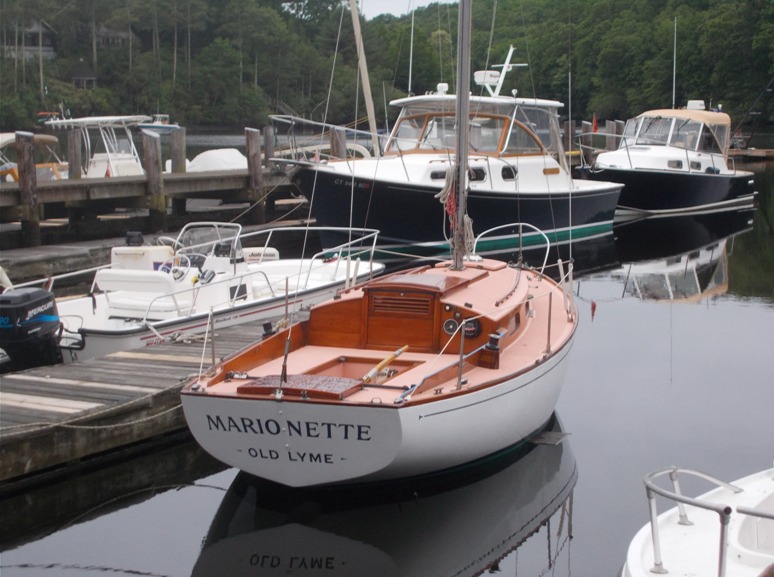 ******************************
June 14, 2022 - getting closer - she'll rest here for the next few days then down the CT River, round Griswold Point then east on Long Island Sound to her summer home at Niantic Bay YC.- stay tuned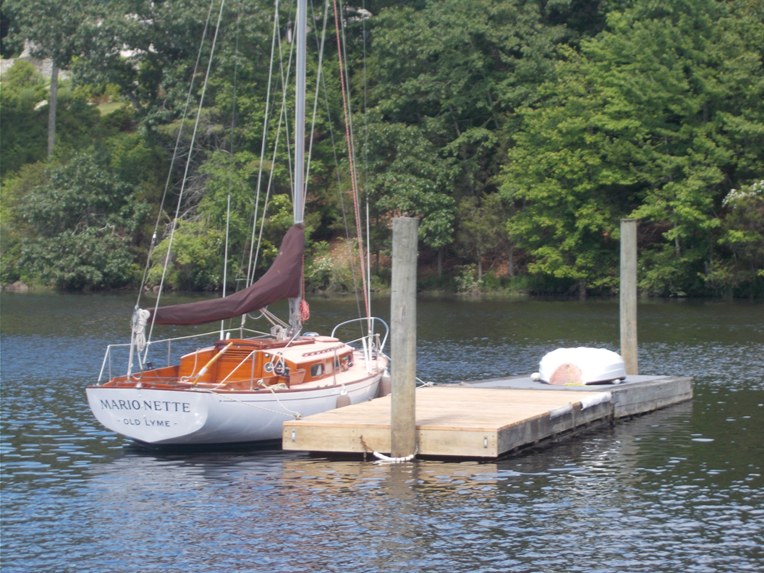 Marionette and 'TEER at Cove Landing/Hamburg Cove - click here for a larger image

Marionette's slip at NBYC - click here for a larger image

**************************
June 27, 2022 - Beautiful sail with Marionette crew Nicole out of Hamburg Cove, down CT River, east on Long Island Sound to Niantic Bay. Wind 12-15 kots,favoable current (+ 2 knots) - left at 6AM, arrived at 9:15.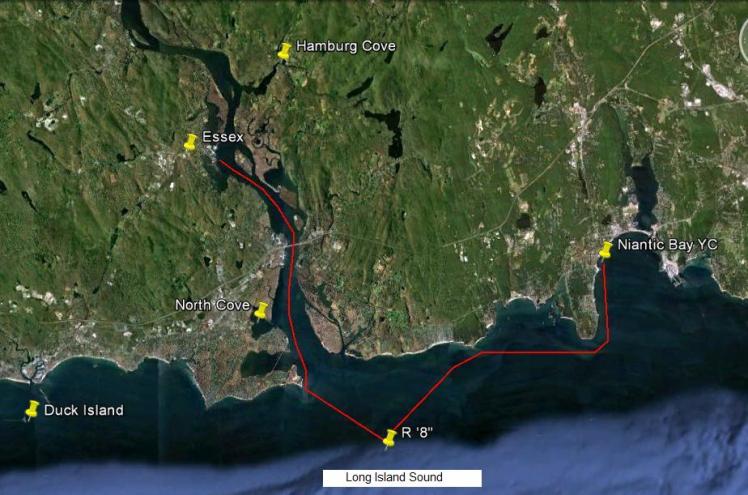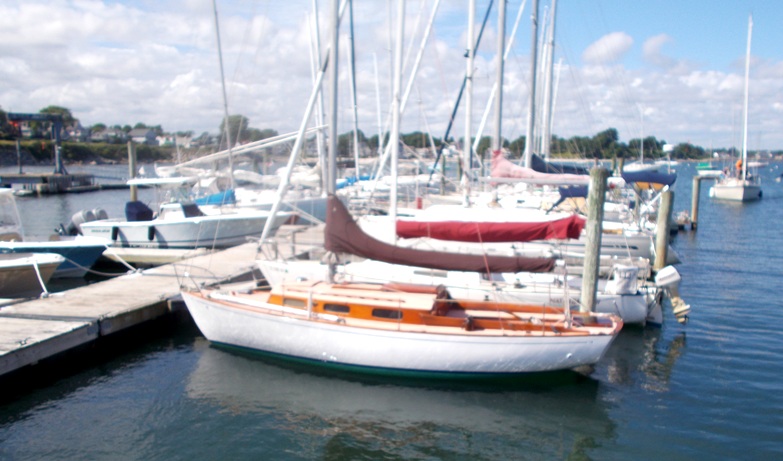 Arrived!!!
Lots of work needed down below - hi temperatures - set up her cockpit/cabin cover for sun and expected heavy rain...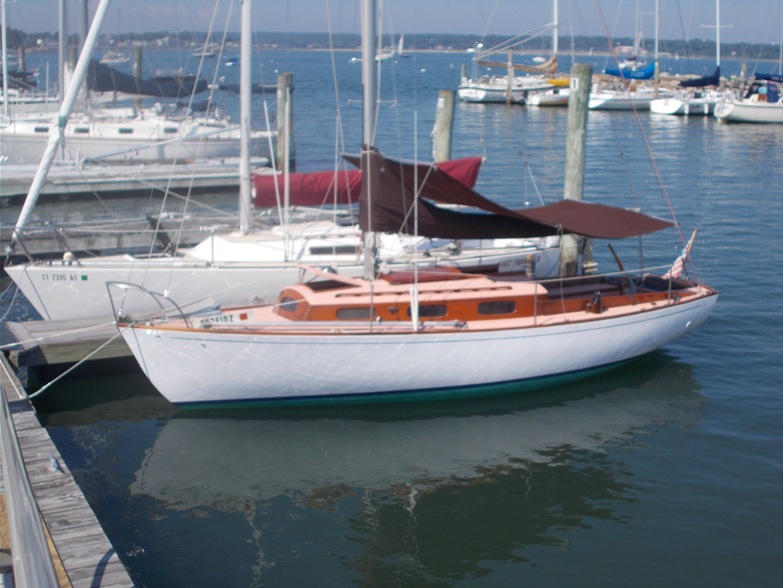 Now heavy cleaning below with paint touch up - stay tuned
*********************************