August 10, 2010 - Round portlights are not new to Dolphins. Here is a version that is new.
Alan Mountford been thinking about port lights - here's what he has in mind for Blue Gum, his Falcon 24. Pretty cool, I think (minor edits)
Hi Ron

How do you think the attached would look as a glass leadlight in the front windows of my boat?

My thoughts were to have the outside portlight made of slightly tinted perspex as would be normal, and then sit this leadlight inside the window frame on the inside.

What are your thoughts?

Regards

Alan

**********************
Our gold standard for traditional round portlights to this point has been Jay Picotte's Recovery. Here she is with Jay's comments following.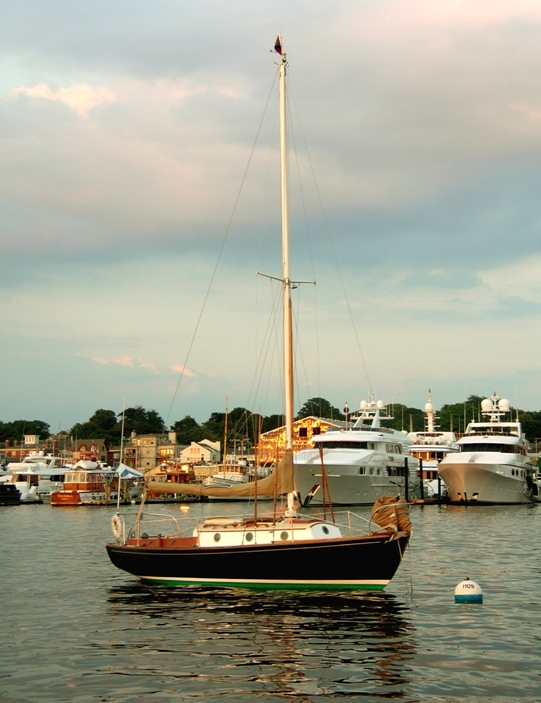 Recovery on her Newport, RI mooring
The round portlights were put in by me, in 2005 I think. The original portlights were oversized (about 5"x16"), and they were Plexiglas with black rubber frames. The Plexiglas was so old and crazed I could barely see through them. From the moment I bought the boat I knew I would do this because they were so ugly and big. They drove me crazy. It was a big job that required reglassing both sides of the cabin trunk as well as the front. I decided on the round bronze portlights because I just thought they would look best (still do).

***********************

Chris Vandersteen's Lezah was our first round portlight submission - a different look

************************************************
September 23, 2014. Here's another one - Lon Zimmerman's Blue Dolphin, Yankee #246. Lon's excerpted email is below.
Click on the pictures for a larger view

THE ROUND PORTLIGHTS WERE MY CHANGE.

IT TURNED OUT TO BE MORE WORK THAN EXPECTED. WE CUT OUT THE LINER IN THE PORTLIGHT AREA AS ONE LARGE RECTANGLE AND THEN REPLACED THAT VOID WITH AIREX FOAM. THEN GLASSED OVER THE AIREX AND FAIRED OUT THE WORK.

THEN I WENT BACK AND CUT HOLES FOR THE ROUND PORT LIGHTS.

************************************